How to Downgrade iOS 12 without iTunes
At times it becomes essential to downgrade iPhone without iTunes, because there is risk of data loss and other associated problems. You might even need to look for an old iTunes backup for traditionally downgrading the iOS. If you find it bit overwhelming, then there is nothing to worry about. We are here to ease off your pain.
In this article, we are going to explain the best way to downgrade iOS 12 without iTunes, turn off automatic notifications for update as well as with iTunes. Keep reading and enjoy!
You may also be interested in:
The Best Way to Downgrade iOS 12 without iTunes
In case you are finding it tough to understand how to downgrade iOS 12 without iTunes, UltFone iOS Downgrade Tool is here to lend you a helping hand. You can seamlessly, install or uninstall iOS firmware for your iOS device without much effort. If you are facing problems or device being stuck when you try to downgrade from iOS 12, you can fix that too. Both upgrade and downgrade of iOS is done efficiently with this tool.
Moreover, you can even experience the beta versions on your iPhone, even if you don't sign up for a developers account from Apple. You lose no vital data in this process nor do you require iTunes while updating or downgrading your device iOS. Until the iOS version is signed by Apple, you can install or uninstall the firmware as many times as you want. iOS Downgrade Tool will help you in this regard. You don't even need the IPSW file for downgrading, when you have iOS Downgrade Tool with you. You can easily restore your iPhone without iTunes.
How to downgrade without iTunes using iOS Downgrade Tool:
Step 1 First of all, download this iOS Downgrade Tool on your computer. Install and launch the software once the download process gets completed. Get your iPhone connected through the USB cable. From the main interface, please select "Repair Operating System" section.

Step 2 As the next step, please choose "Deep Repair>>". The default standard repair mode won't be able to downgrade iOS. One thing to mention that all data and settings will be erased in your device after downgrade. If you have an old backup file, it is easy to restore from backup after downgrading iOS 12.

Step 3 This program will detect your device and display the latest official iOS version that is compatible with it. Please click the Download button to get the firmware file online.

Step 4 Once the firmware pacakge is downloaded to computer, you can click "Repair Now" button to start downgrading the iOS. This program will remove iOS 12 beta from your device and then install the stable iOS to it.
The whole process takes 10 minutes around, please wait patiently. After the downgrade is complete, your device will restart and then you can set it up as new or restore it from an old backup file.
How to Downgrade iOS 13/12 with iTunes
You can also downgrade your iPhone using iTunes. But, for this you will need an iTunes backup with the old iOS. Moreover, the process includes using IPSW files. In this part of the article, we will show how to download the IPSW file first and then how to downgrade iOS from iOS 12.
Here is the guide to download proper IPSW file
1. Go to https://ipsw.me/
2. Select your device you want to downgrade (iPhone/iPad/iTunes etc)
3. Choose a model, iPhone 6 or iPad
4. Select a desired version and tap 'Download'.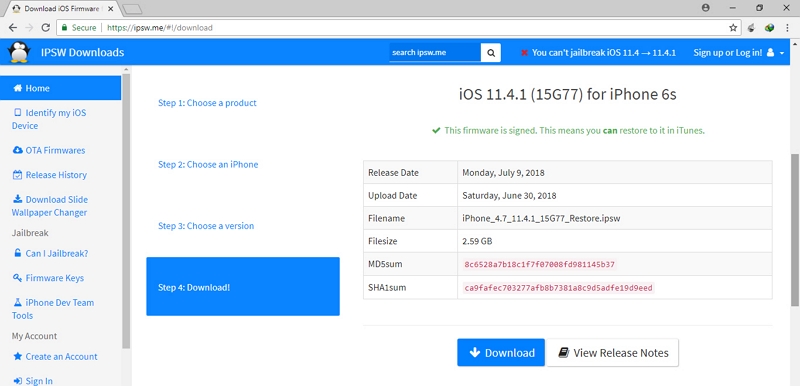 Now, we will see how to downgrade iOS 12 with iTunes.
Before you initiate downgrading iOS 12, ensure to take a complete device backup. Downgrade is possible only within the week of downgrading from iOS 12. After that you need to jailbreak the device to downgrade iOS 12. You need an old backup prior to upgrading to iOS 12, to restore the iPhone post downgrading again.
1. On your iPhone, go to 'Settings' and click 'iCloud'. Toggle off 'Find My Phone'.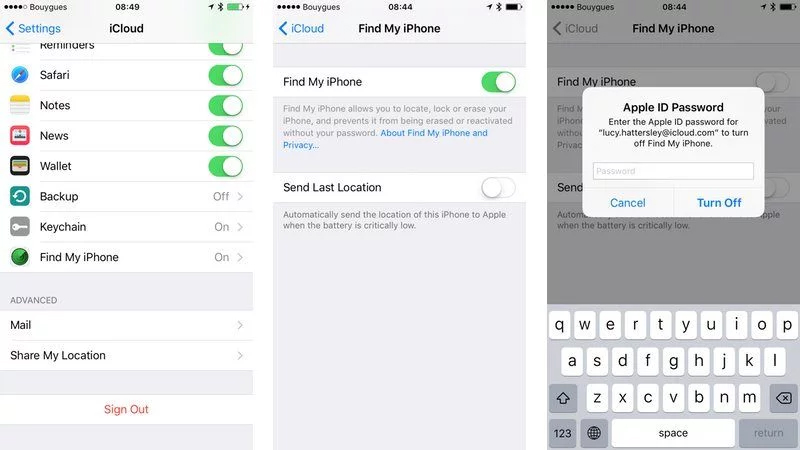 2. Connect your iPhone to your PC and then launch iTunes. Select your iPhone and go to 'Summary'.
3. Press 'Option' (Mac) or 'Shift' (Windows) and 'Restore iPhone' together. Browse for the IPSW file you have downloaded and click 'Open' button.
Note: In case you don't have a backup. After tapping 'Summary' go to 'Check for Updates' holding the 'Option' (Mac) or 'Shift' (Windows) key and upload the IPSW file. iPhone will get iOS 11.4 installed by this.
Extra tip: How to Stop iOS iOS 12 or iOS 13 Update Notification
When you own an old iPhone and iOS 12 update might not be supported, then you need to stop those annoying update notifications on your device. You can turn off the notifications to prevent them from bothering you. This will help you not receive any future updates, but you already got an updated version downloaded on your system, which you can delete.
Here is the detailed guide for turning off iOS update 12 update notification
1. Go to, 'Settings' on your iPhone and hit 'iTunes & App Stores'.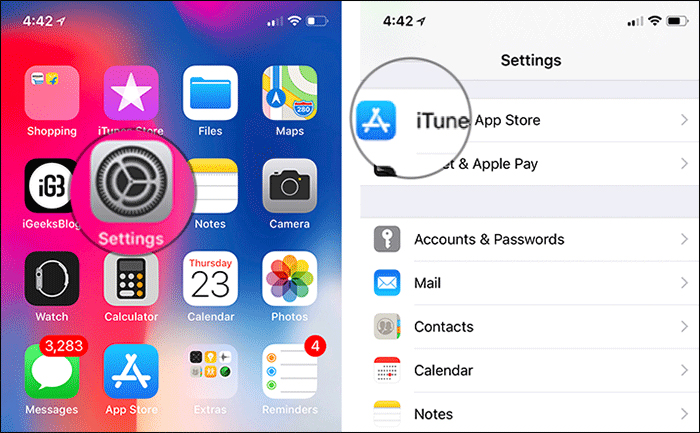 2. Find 'Automatic Downloads' under that and press 'Updates'. Toggle the slider against it to turn it off. It will prevent iOS updates from being automatically downloaded and popping up notifications for updating the iOS.
Summary
That's all about how to downgrade from iOS 12.3/12.2 beta without iTunes or data loss. UltFone iOS downgrade tool will the best choice for you to update or downgrade iOS 12 without iTunes.