How to Stop WhatsApp Backup on Android an iOS
I wake up every day and see that the WhatsApp backup is stuck. Can someone tell me how to stop WhatsApp backup at 2AM? It is getting frustrating, please help!
Though many users enjoy the automatic backup feature of WhatsApp, it can be frustrating sometimes. When the app continues creating backup regularly, it is only occupying empty space on the device as well as Google Drive or iCloud. In such situations, the users would prefer making a backup on the computer. With this guide, we will address how to stop WhatsApp backup and turn off the auto backup in WhatsApp. Let's begin.
Part 1: How to Disable WhatsApp on iPhone?
The two ways how to disable WhatsApp backup on iPhone are explained here.
Way 1. Stop WhatsApp Backup on iPhone using iCloud Settings
The straightforward method to learn how to stop WhatsApp backup in progress in iPhone is to turn off the feature under iCloud Settings.
Go to Settings > [your name] > iCloud. Scroll down to location WhatsApp. Toggle the bar to turn off WhatsApp backup on iCloud. It will disable the auto-backup to the iCloud server.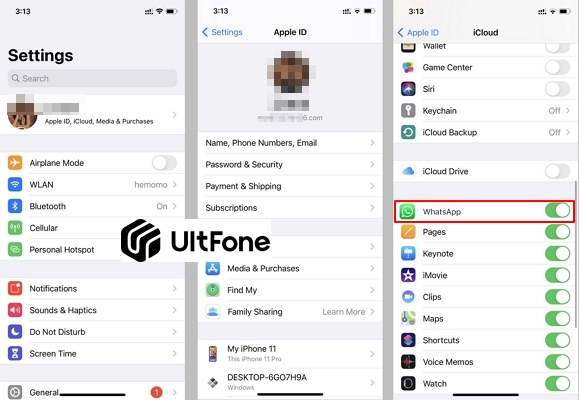 Way 2. Turn Off WhatsApp Auto Backup on iPhone using WhatsApp Settings
Another way you can learn how to turn off WhatsApp auto backup on iPhone is to deactivate the feature within WhatsApp. The steps are:
Run WhatsApp app on your iPhone, and open the Settings option on WhatsApp app. You will see the "Chats" option > Chat Backup > Auto Backup feature will appear. Tap on the option and tick the "Off" option to disable auto-backup.
As the feature is disabled, your device won't create a backup on iCloud regularly. You can enable the option whenever you want as well.
Part 2: How to Stop WhatsApp Backup on Android?
Now, let's discuss how to stop WhatsApp backup on Android.
Way 1. Disable WhatsApp Backup to Google Drive
The first way is how to disable WhatsApp backup to Google Drive. Proceed as here.
Step 1: Open your Google Drive app on the phone and tap on the three horizontal line option at the top. Choose the "Backups" option from the screen.

Step 2: The backup available on Google Drive will appear. Select the backup listed as WhatsApp and tap on the three dots. Choose the "Turn off Backup" from the list, and Google will stop backing up WhatsApp data.
Way 2. Turn Off WhatsApp Backup on Android Using WhatsApp Settings
As we learn how to turn off WhatsApp backup on Android, open the app, and follow the steps.
Step 1: Tap on the three vertical dots and open Settings. Select the Chat option > Chat backup and pay attention to the Google Drive Settings.

Step 2: Under the settings, select the "Back up to Google Drive" option and choose "Never" to disable the feature.
After this, if you need to create a backup, you'll have to do it manually.
Part 3: A New Flexible Method to Backup WhatsApp to Computer
Even after you've turned off all other ways to create a backup, UltFone WhatsApp Transfer presents a hassle-free way to backup. Now that we know how to stop WhatsApp backup, having an alternate method will undoubtedly be useful. It supports creating a backup, data transfer, and restores for both Android and Apple devices. As compared to other methods, UltFone offers significant advantages, such as:
Direct data transfer among WhatsApp and WhatsApp Business
Perform WhatsApp/Line/Kik/Viber/WeChat backup and restore on iPhone and Android
Carry out cross-platform data transfer from iPhone to Android and vice versa
Compatible with all iOS and Android devices as well as iOS and Android OS versions.
There are not many tools that can offer such functionalities. If you decide to get UltFone WhatsApp Transfer, here's a guide to performing the backup.
Firstly, you can download UltFone WhatsApp transfer for free to PC or Mac computer.
Backup WhatsApp on iPhone to PC/Mac:
To create a backup on iPhone, the steps involved are here.
Step 1 Run the software and connect your iPhone. From the home screen, choose the WhatsApp application and switch to the Backup tab from the side panel.

Step 2 From the drop-down list, choose your device and hit the Back Up Now button.

Step 3 Keep your iPhone connected as the software proceeds to create a backup of your iPhone WhatsApp data.
The files will be stored on the system, and you can also look at them within the interface.
Backup WhatsApp on Android to PC/Mac:
In the case of Android devices, you need to proceed as below.
Step 1 Connect your Android phone with the computer and from the home screen, choose WhatsApp. Switch from "Transfer" to the "Backup" tab and select the backup device from the drop-down list. Initiate the process by hitting the "Back Up Now" option.

Step 2 UltFone WhatsApp Transfer will prompt you to create a backup using the standard method and also provide you a guide to carry out the task. Follow the steps and finish it.

Step 3 After backup, you will have to verify your country and phone number linked to the account. Provide the number, and you will get a code that you'll have to enter in the software interface.

Step 4 After the verification, this program will start generating data for backup. Just wait for the process to complete and all WhatsApp chats will be backed up to PC successfully.
The moment verification is complete; the backup will begin. Wait patiently, and the software will notify you that the task is done.
The Bottom Line
Now, we know how to stop WhatsApp backup on Android and iPhone. Moreover, you possess a tool that is incomparable to other backup options. Use UltFone WhatsApp Backup, Resore and Transfer for social media app backup, restore, and transfer and keep the device data protected. Tell others about it and let them use a professional tool for backups.