How to Simulate GPS Movement IOS & Android
Every time your phone is connected to the internet, most of the applications know about your location and hence, you get to see many ads that target a local audience. Well, you can't confront them for it, their main business runs from it as in today's era ads are mainly based on personalizations. However, you do have the alternative to stop them from knowing your exact GPS coordinates by faking your current locations. Here are the 3 most effective ways to stop them from knowing your GPS movement: to simulate gps movement IOS & Android.
Part 1: How Can I Simulate GPS Movement iOS (Use a Tool)?
Spoofing your location on iOS devices isn't an easy task, you can't just download an application to simulate GPS movement, and neither there's any built-in option to turn on this feature. However, the most effective and simplest way to play with your GPS coordinates is to do it using desktop software. The computer programs work best with the iOS devices in order to fake the location. There aren't any other effective ways to simulate GPS movement on iOS without jailbreaking.
As mentioned above, when it comes to iOS devices - iPhones & iPads, there aren't many ways to swift simulate movement gps. However, you can easily fake your location on your iPhone and iPad using computer-based software. It's a pretty simple method to change your GPS coordinates without actually moving. The Internet is full of such software that lets you spoof your location on iOS devices. However, a seamless functionality, self-explanatory UI, and a few clicks of the procedure to set it up is what UltFone iOS Location Changer delivers the best. It supports almost all the iOS running devices including the iPad. Moreover, it enables your phone to automatically change its GPS positioning and move on your selected route.
Features
Simulate GPS Move Along a Route with Multiple Spots
One-Click to Change iOS GPS Location
Work with location-based apps, such as Pokemon Go,WhatsApp and Facebook, etc.
Add GPX files to start your desired routes.
Support the latest iOS 15 and iPhone 13 Mini/13/13 Pro/13 Pro Max.
UltFone iOS Location Changer to Simulate gps Movement with a Few Clicks
Step 1Your iOS device should be connected to computer and switched to the Single-Spot Movement section on the main interface. Tick the disclaimer followed by a click on "Enter" to continue.

Step 2The start point represents your real location. Tap on the map to choose a destination location. You can also enter the destination address in the search bar to position the location.

Step 3Confirmed the start address and target address, you can drag the speed bar to adjust the moving speed. you can simulate walking, cycling or driving speed. Also, you can set up the number of move times. After all is done, just click "Start to Move" to start moving along the two points with the custom speed.
Part 2: How Can I Let Android Simulate GPS Movement
When it comes to the "android simulate GPS movement"- Android is the king. There are many effective and easy ways to fake your GPS movement. You can fake your GPS coordinates simply by downloading an application to your android phone which is quite reliable in comparison to the iOS devices.
Way 1: Use Mock Locations to Simulate GPS Movement Android
You can easily change/ fake your locations using the app " Mock Locations" which is available on the Google play store, an android emulator simulate gps movement. The basic functionality of the app is free, but some of the features are paid, like the ability to save the old routes, gps movement simulation, the ability to hide the GPS simulation activity from other apps on the phone, and disable the ads.
However, when you mock your locations on your phone, your GPS coordinates will be changed for all the applications running on your phone like Snapchat, Google Maps, and other apps that access your location. If you want to hide the functionality of the app from other apps, then you will need to opt for the full version of the "Mock locations" app to enjoy the rest of the paid features.
Apart from the functionality, the User interface of the "Mock Locations" is quite basic and gets the job done with a few clicks. Here's how you can alter your GPS coordinates using an android application.
Download the "Mock Locations" app on your android phone, launch it and provide it with location access for always. To enable the functionality of the app, you will need to enable the Developer options from the phone settings.
How to Enable Developer Options
1. First of all, open the Settings app, select About Phone, open Software Information, and then look for the Build Number.
2. Tap 7 times on the Build Number to enable the Developer Options on your phone.
3. After tapping on the Build number, you will see a toast message saying "You are a Developer Now".
Once you have enabled the developer options on your phone, you are still one step away to mock your location or swift simulate movement gps. Go to developer options, and select the mock application to alter your GPS position. In the end, go to the "Mock Locations" app and select the location to simulate GPS movement.
Way 2: Use Fake GPS Joystick & Routes Go to Simulate GPS Movement Android
This is another android emulator simulate gps movement easily on your smartphone. However, "Fake GPS Joystick & Routes Go" is a paid app on Google Playstore - Meaning you will have to pay for it in order to use it.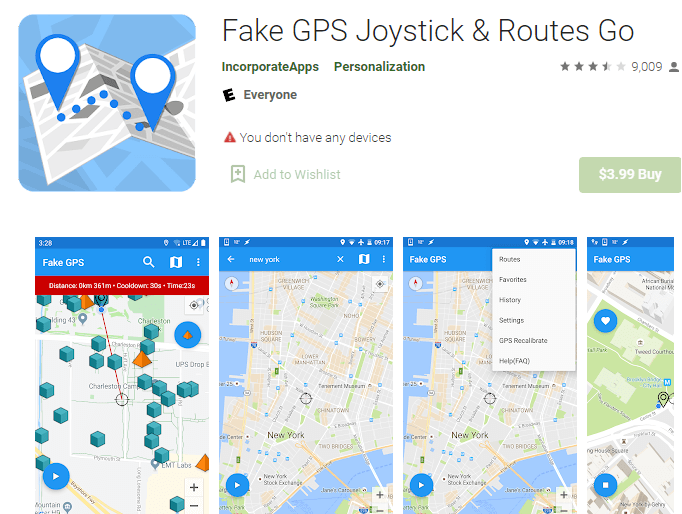 Being a paid app might be the downside of this app for beginners, but for users who want to simulate their locations frequently without any interruption ( like ads), then this is the best app out there available. "Fake GPS Joystick & Routes Go" lets you mock your location easily and supports android version 6.0 and for the previous android versions, you will need to root your phone to enable the functionality of this app - This is because the previous android versions of 6.0 don't contain mock location option to swift simulate movement gps.
Moreover, the operations of the "Fake GPS Joystick & Routes Go" are a little complicated. You can check out the FAQ section of the application on Google Playstore to find out the answers to the technicalities of the app.
Part 3: Is There Any Risk If I Simulate GPS Movement?
The act to simulate GPS movement on iOS & Android isn't a risky thing to do at all until you do it on someone else. Spoofing a GPS position on someone else's phone without the content is illegal and the person behind doing it will eventually end up rotting in jail.
However, spoofing GPS movement on your own phone isn't a big deal as well as it's not risky. The applications mentioned above are completely safe to alter your GPS positioning and they don't contain any harmful content that would make you face any kind of trouble regarding privacy.
Google Play Store has strict policies regarding the apps stealing data or causing any privacy issues for the users. There are numerous popular apps that were banned by Google Play Store, that were either stealing data or were harmful to users' privacy.
Bottom Line
The world of technology is becoming smaller, which raises privacy concerns for humans, from being seen by the cameras at the red light to the stores and even at home, making it quite harder to breathe with the freedom. Sometimes, when you aren't comfortable with people knowing your exact locations and your whereabouts - Spoofing your location or gps movement simulation will be the ultimate solution for it. And UltFone iOS Location Changer can be an easy, safe and legitimate choice for your iPhone. This article was mainly focused on providing the best solutions for GPS movement simulation using the most effective and easiest methods for beginners and pro users of iOS and Android.