How to Get Shiny Pipulp in Pokemon Go
Want to know how you can get Shiny Piplup in Pokémon GO? Then this article is for you. Here, I am exploring Shiny Piplup evolution, the areas where you can find it, and all the other variants of this Pokemon. That's not it. As a bonus, I am also explaining the easiest way to play Pokémon GO as well. So, stick to the end.
Part 1: About Shiny Piplup and Its Evolution
Piplup is a charming water-type Pokemon that is loved by all because of its cute looks and adorable movements. It is not a giant or a powerhouse. According to Pokemon, it weighs only a little over 4 kg and resembles a lot like a baby penguin. Piplup is from the Sinnoh region and has a base experience rating of 66. It has different variants, and one of them is the Shiny one that is rarer than the others.
Shiny Piplup evolution or Piplup Shiny evolution is simple to understand too. Piplup is actually the first form of the Pokemon. When it evolves, it becomes Prinplup. The evolution happens when you reach level 16. When you reach level 36, Prinplup is evolved into Empoleon water steel. Furthermore, you can also try Sinnoh Stone Pokémon GO to upgrade this Pokemon.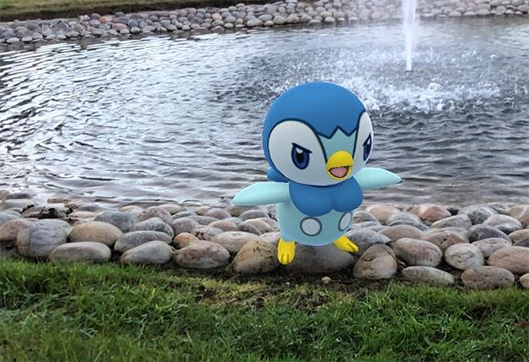 Part 2: Can Piplup with Hat Be Shiny?
There are several Piplup variants in Pokémon GO. One of them wears Lucas's Hat, while one wears Dawn's hat. Regardless of which one they wear, these can be shiny. It is because Piplup being shiny (or not) does not depend on the hat.
However, a Shiny Piplup with a hat won't evolve. So, if you want Prinplup and Empolean, then the Piplup Pokemon with a hat is not for you. In this situation, going for a simple shiny variant should be your strategy.
Part 3: Where to Find Shiny Pipulp?
Shiny Piplup is harder to find than all the other variants. You can spot them near water, wild, and rainy conditions. Out of these areas, the highest probability of finding this Pokemon is in rainy areas. You may also find other Piplup variants roaming in these areas as well.
The best way to find Piplup is by participating in Piplup-themed Community Day or any event (like Halloween). It is because rare Pokemons, like Shiny Piplup, spawn more than usual in them. Also, make sure you have Great Balls or Ultra Balls so that the chances of getting Piplup increase. In addition, you can also trade Pokestops for eggs that can be hatched into Shiny Piplups. Furthermore, using gold coins is another option you can try.
Part 4: How to Get Shiny Pipulp in Pokemon Go?
To capture Piplups, you will have to go to different spots, which can be a hard thing to do. Luckily, we now have location-changing apps that can spoof the current location in games like Pokémon GO easily. Out of the different apps, the best one that is safest to use is UltFone iOS Location Changer.
It is the easiest location spoofer that can change your coordinates within seconds with just one tap. It also lets users create their own routes and export them in GPX file format. In addition to this, you can also control the movement speed and create multiple stop points with UltFone iOS Location Changer. That's not it. You can also keep historical records of your routes and movements.
One-Click to change GPS location to anywhere.
Work with location-based apps, such as Pokemon Go,WhatsApp and Facebook, etc.
Control your movement direction with a joystick conveniently
Import/Export GPX file to create your own routes.
Support the latest iOS 16/iPadOS 16 and iPhone 14/14 Pro/14 Plus/14 Pro Max.
Step 1

Install and launch this software, UltFone iOS Location Changer and click GPS change from the main page. After that, snap the Enter button to continue.

Step 2

Connect your iPhone to your computer via an Apple cable. Then select Next option on the screen.

Step 3

You can pick a location on the map with your mouse or enter an area on the upper left search bar. After doing so, click on the "Start to Modify" option.
Part 5: How to Evolve Shiny Pipulp?
When you capture Shiny Piplup, the next thing to do is to evolve it into a better version. As mentioned above, Piplup first upgrades into Prinplup and then into Empoleon water steel (which is the strongest form of this Pokemon).
To evolve Piplup into Prinplup, you will have to spend 25 candies or reach level 16. Then, to upgrade Prinplup into Empoleon, you will have to feed 100 candies or reach level 36. You can get candies by playing and winning. When the count reaches 25 and then 100, choose the "Evolve" option for Piplup Shiny evolution. It's that simple to evolve this Pokemon.
Part 6: How Rare Is Shiny Piplup in Pokemon Go?
Shiny Piplup first debuted in 2020, but many are yet to catch it because of its rare appearances. The best chance to catch one is in rainy conditions or in those events where Pokemon spawning is increased. Still, according to an estimate, the chance of seeing Piplup is 1 in 24 encounters. It is highly unlikely to see this Pokemon in any other area. So, Shiny Piplup is pretty rare in Pokémon GO.
Part 7: Why Did Dawn Piplup Not Evolve?
Dawn Piplup does not evolve because it refuses to. When this Pokemon met Dawn, both decided that everything would stay the same and they would stay together. So, Piplup refuses to evolve and transfer the energy into attack bide. That is why it is better to capture the Shiny Piplup variant, as it can evolve into Prinplup and then into Emploleon.
Conclusion
All in all, you will have to feed candies for Shiny Piplup evolution. But first, you will have to catch the Pokemon. The best chance is in rainy conditions and in the theme events (as their spawning is increased in these hours). Instead of going to different spots to capture Shiny Piplup, the easiest way is to use UltFone iOS Location Changer. It is a location spoofing app that can change your coordinates with just one tap only. You can also create routes and stopping points to play the game more naturally. The best part? It is safe to use, and Pokémon GO won't even notice that you are using a location spoofer. So, download UltFone iOS Location Changer and play the game without any difficulty.