How to Fix When You Forgot Screen Time Password On iPhone/iPad
With the launch of iOS 12, new functionalities were introduced to the users. And screen time was one of those features that were included in the iOS 12. This feature allows the users to increase the productivity by keeping tabs on their digital activity on iPhone. In addition to this, the feature also allows you to see how much time you have spent on a specific app, thereby keeping you informed about your digital habits. But what if you forgot screen time passcode? People always tend to forgot passwords. Consider the scenario that you need to check an important email. But due to screen time passcode, you are not able to open it. On the other hand, the email has high significance. At such times, users tend to get confused as to how to remove iPhone screen time passcode. Do not worry; we are here to help you. But before we move on to further solutions, let us have some insight on screen time.
Is There A Default Screen Time Passcode?
The answer is no to this question. This password is set the by user itself at the time of setting up the screen time.
Well, as mentioned earlier, screen time allows you to keep tab on your digital activities on your iPhone or iPad. It shows you the data in a graphical way to give you exact information as to how much time you have spent using specific apps on your iPhone.
In addition to all this, one of the major functions of this feature is to set the time limit for apps. For instance, let us say you have set a time limit of 3 hours for using Facebook throughout the day. If you have used up your 3 hours, the feature will automatically lock the app and you will not be able to use Facebook again until the next day. In order to remove this lock, you need to enter the screen time password. If you forgot screen time password, read on and get to know how to remove screen time without passcode.
Recover Screen Time Passcode Without Data Loss
Well, when you are in need of a tool to remove the screen time passcode, there is none other than iPhone Backup Unlocker that comes in mind. The tool is designed to remove a number of passwords, including the screen time password. Hence, this tool will be of utmost help in such situation. In addition to this, the tool does not harm your data, thus keeping it safe while removing your password. Apart from this, the tool is also capable of removing a number of passwords including iTunes backup password. Here are the steps that you need to follow.
Step 1: Begin by connecting your iOS device to computer (PC/Mac). Next, you need to select the "Remove Screen Time passcode" option on the main interface. Some of the users will see a prompt saying to Trust this device. Tap "Yes" and proceed.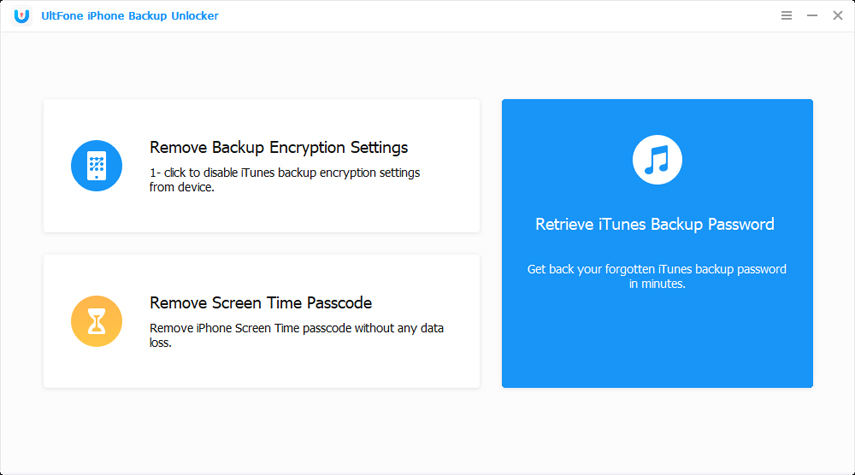 Step 2: After this, you need to tap "Start" button to begin the process of removing the screen time password. This will consume not less than a minute.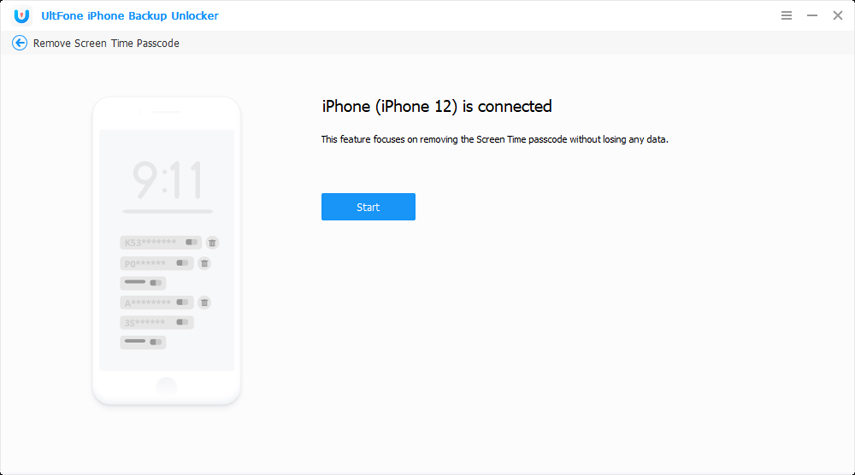 Step 3: Once the process is over, the screen time password from your iPhone will be successfully eliminated.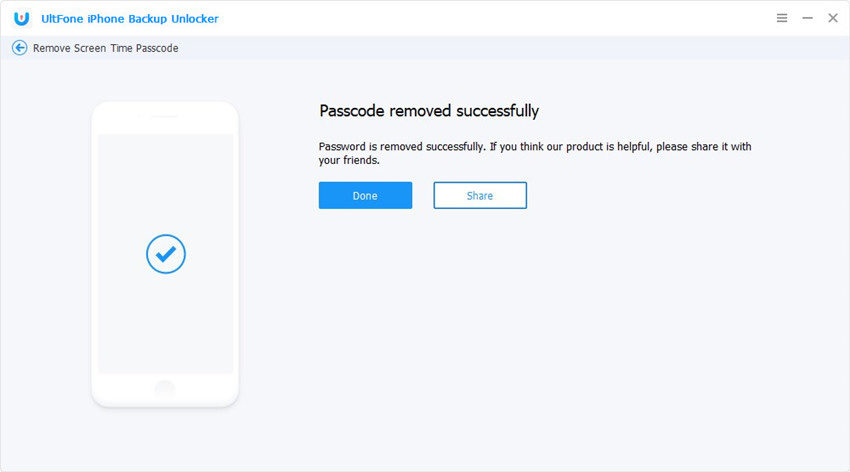 Step 4: But you are not done here. You need to set up your device after successfully removing the screen time password. This can be done by following the on screen instructions.
You may also be interested in:
Erase iPhone to Reset Screen Time Passcode (Data Loss)
There is one more method that can help you remove screen time password. You can erase your iPhone and this will automatically erase your screen time passcode. Even though this method seems to be easy to perform, there is a huge price you need to pay. You will get rid of all of your precious data. This is obvious! If you erase your iPhone the screen time passcode will be deleted along with all of your data. If you are ready to take the risk, here are the steps that you need to follow.
Step 1: Begin by going to Settings and click General. Once you have entered here, you need to click Reset option. Next, you need to tap "Erase All Content and Setting" option.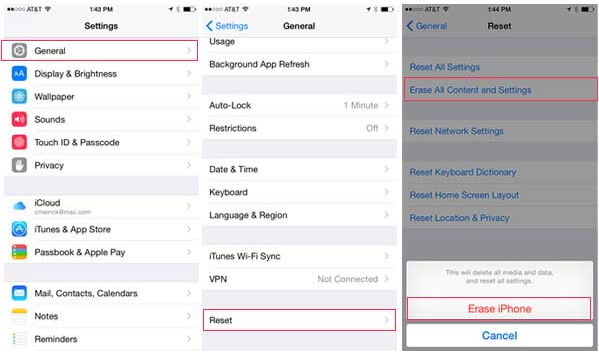 Step 2: Your device will ask for the screen unlock passcode. Enter the correct passcode and confirm that you need to reset your device.
Step 3: Once you have entered the passcode and confirmed your decision, this will start the process of erasing your device. Wait till the process ends. That's it.
But as stated earlier, you will not only get rid of screen time passcode but will also lose all your data. If luckily there is a backup present on the iCloud, you can retrieve the data from the cloud. It is best suggested that if you are opting for this method, always take a backup of your iPhone before erasing it. This might help you a lot.
Conclusion
Having said this, we just had a look at a couple of ways to remove screen time passcode in iOS 12. We saw that you can unlock the screen time passcode by erasing the iPhone. But this method has a major drawback that will lead to erase all your data. Next, we also saw that losing of data can be avoided by opting for iPhone Backup Unlocker. This tool will help you remove different kinds of passwords including the screen time passcode. In addition to this, this software can recover encrypted iPhone backup password.