iAnyGo Review: Price/Safety/Compatibility & Any Better Alternatives?
Anyone have experience with iAnyGo? Was looking into and wondering if it's worth the purchase. It seems relatively new and I cannot find much in the way of decent guides online.
Do you wish to change the GPS location on your iPhone? If you play Pokemon Go, you might want to switch locations with iAnyGo review so you can catch new Pokemon without going outside.
If so, I have the Tenorshare iAnyGo tool, which is perfect for you. You can use it to spoof your iOS device's GPS position and search for greener (and newer!) Pokemon. Continue reading to find out how it functions and how it can improve your gaming experience.
Part 1: What is Tenorshare iAnyGo?
For location spoofing, iAnyGo from Tenorshare is a great application. Both Windows and Mac systems can use it. Users of iOS can change their location using the tool without having to leave their homes.
In plain English, iAnyGo deceives your iOS device's GPS into believing it is in a different location. You may pretend to be somewhere else without even jailbreaking your cell phone. You can select one of three locations with this tool.
You can choose any location on the map and designate it as your location using the default settings. However, using the Single-Spot Movement and Multi-Spot Movement options in iAnyGo makes moving across the map simple.
Along with regulating your movement, you may also choose a speed that is ideal for you, ranging from 1 m/s to 3.6 km/h. The Tenorshare iAnyGo's developers assert that the tool is 100 percent secure and risk-free to use, which is another fantastic feature.
Part 2: Features of Tenorshare iAnyGo
iAnyGo has been leading the pack of similar applications for a while because of its outstanding features. This fantastic tool allows users to:
The iPhone's GPS location can be changed anytime, anywhere. Users can navigate to any location globally with just one click, and this new location is shown across all of your device's apps and services.
Users can simulate a single Spot Movement. In other words, they can focus on a journey's start and conclusion points, two distinct locations. Location-based video games can benefit from this feature.
Users of iAnyGo can also move to many locations. Here, users can simulate a trip between two fixed points with several pauses along the way, which helps map out a precise itinerary for location-spoofing.
In addition to these three key capabilities, iAnyGo offers many other practical features, including the ability to zoom in and out on the map, save locations, access historical data, and modify movement speed. By sliding the speed bar on the map, you may set any preset speed between 1 m/s and 3.6 km/h.
Part 3: Apps & Devices & System that iAnyGo Supports
Location-based apps have grown significantly in popularity and demand over the past ten years, becoming essential components of any smartphone. It supports all location-based apps, including the newest ones.
Your iPhone can be configured to fake the location of:
Facebook
Instagram
WhatsApp
Snapchat
Twitter
All fitness and workout apps
All location-based games like Pokemon Go, Ingress, etc.
The greatest feature of iAnyGo review is its broad compatibility. It works with a wide variety of iPad and iPhone models. As of the time of writing, this program supports the most recent iOS 14.3, the iPhone 12 Pro Max and Mini, and practically all previous generations of both iPhones and iPads.
It's also one of the few location spoofing programs on Windows and Mac. Effectively, it supports 32-bit and 64-bit versions of Windows 10, Windows 8.1, Windows 8, Windows 7, Windows Vista, and Windows XP. It supports macOS 10.11 or later for Mac users.
Part 4: Price of Tenorshare iAnyGo
Do you have to pay for iAnyGo? For its clients, Tenorshare iAnyGo review offers three pricing tiers. All of the plans are reasonable and adaptable. Let's examine the pricing options for this outstanding software product.
Price of Tenorshare iAnyGo [Windows Version]
Part 5: Is iAnyGo Safe/Trustworthy?
Is iAnyGo trustworthy? Tenorshare asserts that using iAnyGo is 100 percent safe and secure, as we have already mentioned. Pokemon players are concerned that they will be banned if they are caught using the iAnyGo tool. Because the gadget maintains a steady walking speed when chosen at the beginning, which can prohibit your Pokemon Go account.
Part 6: iAnyGo Alternative: UltFone iOS Location Changer
Is Tenorshare iAnyGo safe for Pokemon Go? UltFone iOS Location Changer is your finest option regarding the greatest and most complete tool you may use in place of iAnyGo to fake iOS location. Along with having all the capabilities of iAnyGo, this strong location switcher is simple to use, blazingly quick, and flawless on low-end PCs.
Features of UltFone iOS Location Changer:
With a single click, you can change your GPS location to anywhere in the world.
Work with location-based apps like Pokemon Go, WhatsApp, and Facebook, among others.
Start your desired routes by adding GPX files.
Conveniently control your movement direction with a joystick.
Supports the most recent iOS 16.0/iPad 16.0 and the iPhone 13 Mini/13/13 Pro/13 Pro Max.
Steps to Use UltFone iOS Location Changer:
This program is fantastic for hiding your actual location for security or privacy concerns. Let's see how a single click may alter the GPS position of the iPhone.
Step 1

Launch this software after installation. The GPS modification interface is the default interface. Check the box next to the disclaimer and press the Enter key to continue.

Step 2

Select an iDevice to connect on the subsequent screen.

Step 3

Use the mouse to choose a place on the map or put it into the search box in the top-left corner. Then, from the menu, choose "Begin Modification". You need to change the iPhone's location. Additionally, the location will be updated in all location-based iPhone applications.
The accompanying remarks accompany each characteristic:
Note 1: Cooldown time
The new function [cooldown time] of UltFone warns Pokemon Go users not to change their location too often.
By default, the cooldown timer is activated. You may disable it by selecting "Settings" from the menu that appears when you click the icon with three horizontal lines in the upper left corner. Then, the Cooldown Period will begin.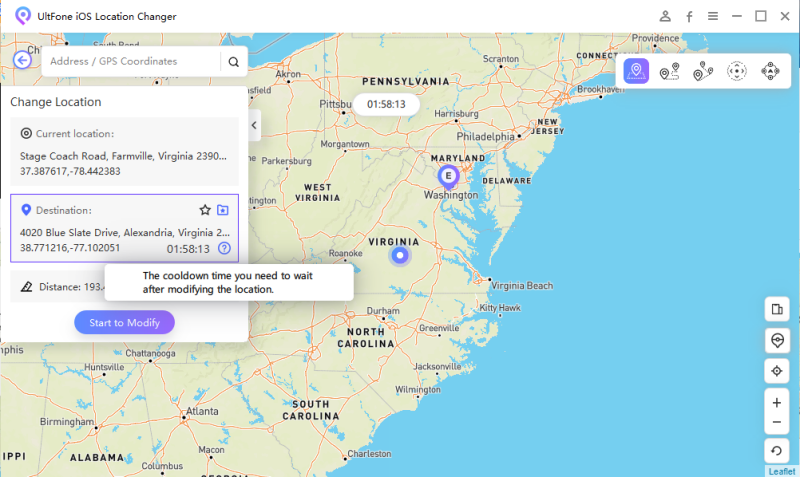 Note 2: Restore the True Coordinate
To restore the original coordinate, hit the button in the lower right corner, which is the second from the bottom. Select "Restart Now" from the popup that appears.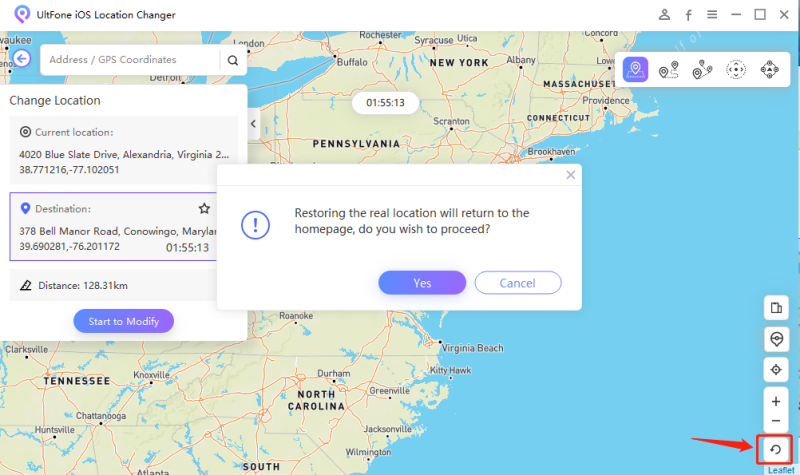 Note 3: Historical Records
Each fake location will be registered, and you may see and utilize the most recent location by clicking the star on a file icon to display the locations. To use them again, click "Use". Click the star symbol in the "Coordinate Collection" column to collect the coordinates.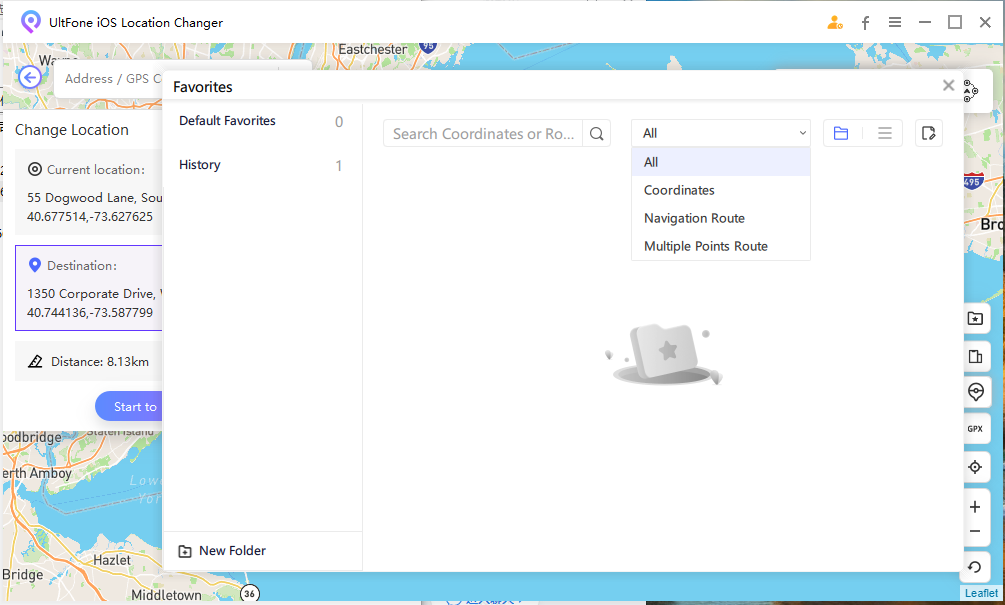 Conclusion
In conclusion, this blog article offers a thorough and frank evaluation of Tenorshare iAnyGo. You would probably agree after reading the post that iAnyGo is the greatest fake location software in 2023.
UltFone iOS Location Changer is superior to iAnyGo review since it has several functions that iAnyGo does not. Utilize it to alter your location, catch new Pokemon, or hatch those eggs. Not only does it provide a quick and easy method to fake your GPS location, but it also gives users the option to alter their false route and pace.