How to Transfer Whatsapp from iPhone to Samsung S22/S10/20/8/9
WhatsApp is one of the well-known App with over 1.5 billion users all over the world. As several people use it for business purposes, so they want to keep the previous chat history even when they change to a new phone. Here, we will guide you on how to transfer WhatsApp from iPhone to Samsung S22 in this article.
Method 1: Transfer WhatsApp from iPhone to Samsung S22 with UltFone WhatsApp Transfer [Quickest]
Generally, transferring data from iOS to Android is not that easy as different operation systems will have different coding agreement. But this is not the case if you can get the help of UltFone WhatsApp Transfer tool. UltFone WhatsApp Transfer is one of the known Android as well as iPhone software. It is useful in restoring WhatsApp data from iPhone to Samsung or any other Android as well.
Powerful Features of UltFone WhatsApp Transfer:
Restore full data of WhatsApp, including photo, video, audio, document attachments as well.
Transfer not only single WhatsApp chat but also WhatsApp Group chat history.
WhatsApp message status is also restored to new phone, including sent, delivered, or read.
One click to backup not only WhatsApp but also Line/Kik/WeChat/Viber to Mac.
Support 5000+ Android phones including Samsung Galaxy, Samsung S22/S20/10/9/8, Samsung Note 8/9.
Support all iPhone models from iPhone 4S to iPhone 11.
Now let's check how to restore WhatsApp from iPhone to Samsung S22 with UltiFone WhatsApp Transfer:
1.Download UltFone WhatsApp Transfer. And then launch the software, after connecting with both devices, iPhone as well as Samsung S22. Now, you will see the device name, select iPhone as your source device. Finally, click the Transfer button to continue.

2. Make sure you have already back up WhatsApp data on Samsung S22. Transferring WhatsApp data from iPhone to Samsung will overwritten the existing data on Samsung S22. If Samsung S22 is the new device, just ignore and go to the next step. If not, you can back up WhatsApp with UltFone WhatsApp Transfer Mac version.

3. Now, the backup of WhatsApp data from the source iPhone will start proceeding. Just wait and keep iPhone connected during this process. This process may take a few minutes.

4. After backup completion, make sure that you have logged on WhatsApp of the targeted Samsung and enter the phone number with your WhatsApp account then wait for the verification code. This operation is very important. Otherwise, your data will be invisible even it has been completed.

5. Enter the verification code that you receive and then click Verify to continue.

6. After the verification is done, the software will gathering WhatsApp data for transfer process.When this process is completed, restoring WhatsApp from iPhone to Samsung will start. The time duration of transferring data depends upon the size of previous data.

7. And finally the process is finished. Follow the steps on the interface and log in the same WhatsApp number that you use to verify, or else the data will not be transferred successfully.
Method 2: Transfer WhatsApp Chats from iPhone to Samsung S22 via Email
If you are looking for any other method for moving WhatsApp data from iPhone to Samsung S22. This method will not be such a helpful one as it allows you to save selected chat only. It does include other files but of small size, about 30MBs only. Just follow the below steps to transfer WhatsApp data from iPhone to Samsung through email.
Step 1: Just open the WhatsApp on iPhone. Now, select the WhatsApp conversation you want to save.
Step 2: Now, click on More option to get various features. Now select the option of Email Chat. You can also save the chat first by clicking on Email chat than choosing the chat.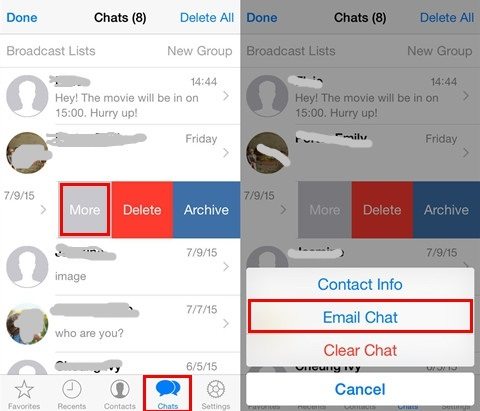 Step 3: Here, you will find two options, Attach Media or Without Media You can choose any of these according to your choice. Please note that most email services have a limit for MB files, over 30 MB cannot be transferred.
Step 4: Now, after choosing appropriate options, the Email interface will launch. Here, enter your Email ID of yourself or the person you want to send this chat. So later you can download these WhatsAPP messages at any time.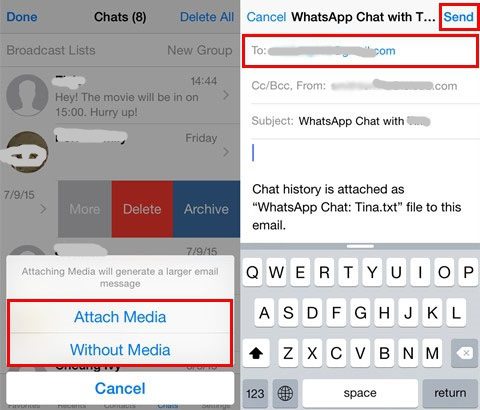 Cons of this method:
The disadvantage of using the email method is that although you can get WhatsApp Data, you cannot open this data in your new device WhatsApp account.
You cannot transfer large files, for example not more than 30MB in most of the cases.
Only selected WhatsApp chat can be transferred but not all.
It requires a lot of time to upload the data while sending the email.
The links of the files must be downloaded within a month because, after a month, these links will expire.
Method 3: Transfer WhatsApp from iPhone to Samsung S22 Via Samsung Smart Switch
Suppose you want to transfer WhatsApp data to Samsung, especially the new Samsung series like Samsung S22. Here the common question is, how to transfer WhatsApp from iPhone to Samsung S22 or any other new models? Remember that Smart Switch is mostly available in new models of Samsung.
By using Smart Switch App, You can transfer your contacts, photos, call logs and other data. It has been complained by Samsung users that Samsung Switch is not successfully transferring WhatsApp messages. Here to learn how to transfer WhatsApp app from iPhone to Samsung S22, which may works in many other models of Samsung as well.
Step 1: Just install and launch the Samsung Switch App on your Samsung phone. Now, choose an appropriate way you like to choose, wirelessly or through USB. While choosing USB, remember that your phone should have been connected while transferring data.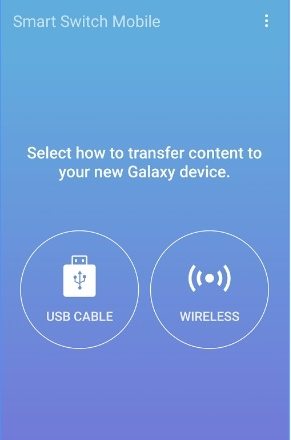 Step 2: Now, select the iOS device for importing data. Or you can choose to import from iCloud storage.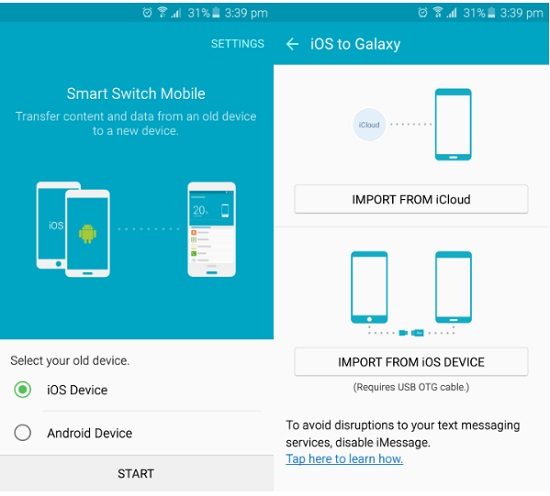 Step 3: If you will choose the iPhone option, you will find pop-up on your iPhone. Now, just tap"trust" for connecting your Samsung phone.
Step 4: If you choose iCloud option, you must be logged in the iCloud account where you want to import data. After that choose the data you want to move to Samsung and if any message pop up on Samsung, accept the items and wait for transferring iPhone WhatsApp to Samsung.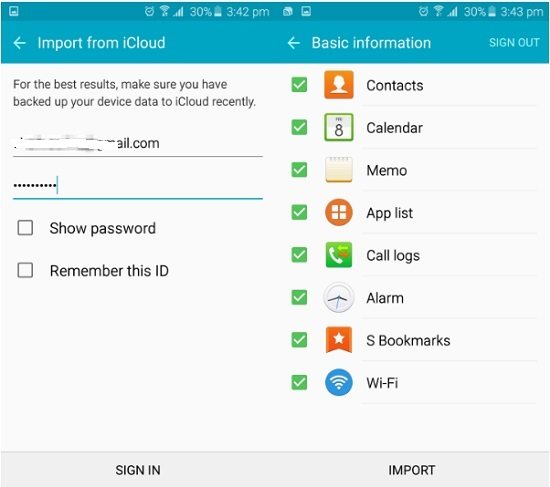 Cons of WhatsApp transfer with Samsung Switch:
This method can only transfer WhatsApp to Samsung but not WhatsApp messages.
You can only use Samsung Switch on new Samsung models.
Samsung Switch is only available on Samsung Galaxy S9, Note 10/9/8, and S20/10/9/8/7.
Conclusion
After discussing how to transfer WhatsApp from iPhone to Samsung in 3 different ways, you will find that the best, as well as quickest method, is UltFone WhatsApp Transfer. And if you are still worrying about the data loss during transfer, you can back up WhatsApp data to your computer with this software and restore to new phone whenever you want.