How to Recover Data from Unmountable Volumes on Mac
"When I boot up my Mac, I get an error that reads as unmountable boot volume. Then I can't get access to this volume but I have plenty of important files in there. How can I restore data from unmountable volumes on Mac? Any professional data recovery software for Mac?"
Part 1: What's Mac volume unmountable and the causes of this trouble
Part 2: How to Recover Unmountable Volumes under Mac OS
Part 1: What's Mac volume unmountable and the causes of this trouble
Mac hard drive is divided into several different logical volumes so that users can arrange software files independently. When Mac boots up, the operating system firstly mounts the local file systems that help OS X to gather information about the corresponding volumes to start system. Therefore, the accessing of logical volume must be mounted properly if you want to boot Mac PC correctly. However, the volumes may unmount and lead the data to become inaccessible due to some unpredictable errors. The most common reasons leading to unmounted logical volumes are:
virus or malware infection in system
file system corrupted or damaged
operation system malfunction
partition error
volume header corruption
hard drive related issues
firmware damaged
catalog record corruption
Now, fortunately these trouble can be settled by using a professional Mac data recovery tool—Windows Data Recovery for Mac.With this unmountable volumes data recovery on Mac, you can get access to your files and folders from unmountable volumes and recover data from repartitioned drives and inaccessible/corrupt/deleted/missing/
formatted/reformatted volumes which failed to mount. The utility allows you to retrieve photos/videos/music/
documents from unmountable hard drive on Mac OS X without any data damage. It works well with Mac OS X EI Captain, 10.10 Yosemite, 10.9 Marvericks, 10.8, 10.7, 10.6, 10.5.
Part 2: How to Recover Unmountable Volumes under Mac OS?
To recover documents from unmountable Mac OS X volumes, you just need to download and install UltFone Mac Data Recovery, then follow the instructions blow step by step. And all lost data will be back with ease and efficiency.
Step 1: Select desired files you want to restore, then click "Next" to proceed.
Step 2: All lost volumes are listed here. Select the volumes where your lost files located then specify the file types you need to recover from drop-down menu. Click "Scan" to start scanning.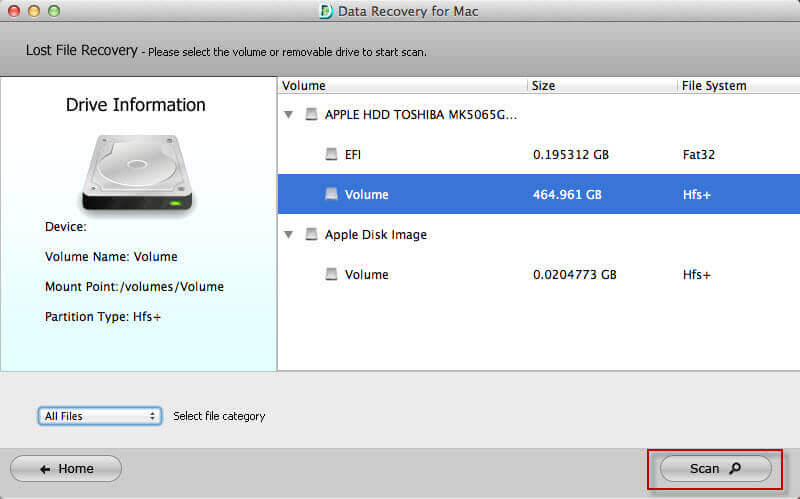 Step 3: After scanning, you will preview all recovered files displayed by file type and file path. Select the desired files then click "Recover" to get back data.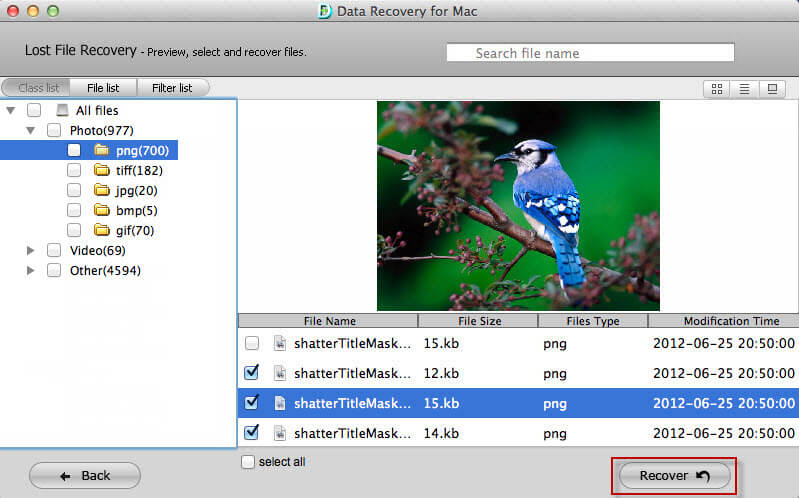 Step 4: Specify a location to save the recovered files. It's forbidden to save them to the volume where your lost files stored before.
That's it! With these 4 easy steps, you will have your lost files back! Come and give UltFone Mac Data Recovery a free trail.