Top Way to Recover Deleted Files Mac without Time Machine Backup
You won't feel any worse than discovering that you have lost all your data. Accidentally deleted the wrong files, overwritten a folder, or faced a hardware failure – happens to every other person at some point in time and then we realize the importance of having a backup solution. You had worked painstakingly to finish the report your boss told to you to write, or the college assignment that took an entire day to complete, or the pictures you valued the most important throwback to your relationship, all are now lost. Is that so? Not really, there are certain methods and tools designed for you to recover deleted files mac without time machine. In this article, we prepared the most popular way, let's check it out!
Part 1: How to Recover Deleted Files from Mac without Time Machine
UltFone Mac Data Recovery is an outstanding software designed to recover any type of lost data from a Mac disk drive. It is a powerhouse in itself and can recover emptied trash, internal and external drives alike, memory cards, everything, and anything. The software can be of great importance and relief for you in situations where you accidentally delete important files, format the whole Mac drive or the disk gets corrupted and is dying its slow death.
It is designed so that even a novice can easily restore all his lost files with 3 simple steps. Capable of recovering any data i.e. photos, emails, PDFs, documents, videos, etc. from a Mac hard drive with macOS 10.14 (macOS Mojave), 10.13 (macOS High Sierra), 10.12 (macOS Sierra) or below.
Steps to recover deleted Mac data without having Time Machine backup
Step 1: Download and install Any Data Recovery on your Mac. Select the hard drive or external drive you have lost data from or you can opt to scan the whole computer for any lost or deleted files. Then press the Scan button, which will start the scanning process.

Step 2: After the scan is complete the tool will present all the lost files it has scanned and can recover with folder and file names. You can switch between Tree view and File view as per your preferred choice.

Step 4: Finally, recover your lost data from Mac hard drive, by selecting all the files you want to recover and then click the Recover button. A window will pop up asking for the location you want to save the restored files to.
Now, all your deleted files of Mac Trash are restored successfully.
Part 2: What Is Time Machine and How Does It Work?
If you don't know what's time machine then take a look this part. Apple's built-in Mac operating system backup solution. This tool is designed to make automatic backups of your Mac onto an internal or external drive. It is super easy to use with its creative user interface and the ability to prune old backups make it the ultimate choice for a first layer backup solution. You can also choose to encrypt the backups, that is, you'll need a password to access your backups.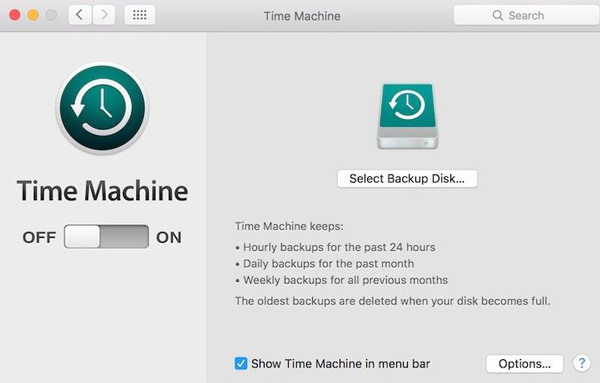 Setting up a Time Machine is pretty straightforward, you just need to select the drive or drive partition which you want to dedicate to backups and that's it. Time Machine will take care of everything else by itself and while you can also select the partitions, folders, or files you don't want to include in the backups. Once you switch "On" the Time Machine and select "Back Up Automatically" it will just do its backup without bothering you in your work. Time Machine performs backups every hour which means in case of any disaster or crash you only lose an hour's worth of work.

Conclusion
Time Machine backup is an amazing method to effortlessly backup and stays safe from accidental deletion and drastic failures. However, if you previously did not set up an apt backup solution and lost or deleted some important files or folders, you can still recover your data with UltFone Mac Data Recovery tool. This powerhouse tool can be of assistance even if you don't have a Time Machine backup to serve in the recovery of your lost files whatever the file type be i.e. photos, videos, music, PDFs, etc. While regular backups are also critical in protecting your data in the long run and without going into the hassle of recovery. Any Data Recovery makes it much easier to recover data when you don't have a time machine backup at hand.