Tips on How to Backup iPhone On macOS Catalina
Most the people who prefer backing up their iPhone on iTunes will find it a little bit frustrating that the new macOS update doesn't feature iTunes. Yes, with the Catalina 10.15 update, the iTunes app on Mac is gone. And if you want to know how to backup iPhone on macOS 10.15, then read this article. Don't worry the backup and sync feature is still available, you just have to follow different criteria for backup.
Part 1. No iTunes in Catalina, How do I Backup my iPhone to My Mac with macOS 10.15?
You might have seen it in the news that there is no iTunes in Catalina 10.15 update. And the news is entirely true. The iTunes app is no more available on the Mac. The functionality of the iTunes application is divided between various apps and menus in order to sort out the data files smartly.
Instead of the iTunes app, you will see Music, Podcasts, and TV apps which were already present on your iPhone, iPad, and Apple TV. Now, all the activities or purchases you do on your iPhone will be reflected in the Mac application as well.
So, now if you want to use Mac for backing up data on iTunes, you don't have to launch the application when you plug in your iPhone/iPad. The device linked to your account will automatically appear in the Sidebar inside the Finder Window. And it will contain all your previous sync settings and backup files.
Part 2. How to Backup iPhone on macOS Catalina (Apple's Way)
In this section, we will read about Apple's way to backup iPhone on macOS. To learn how to backup iPhone on macOS Catalina, follow the steps given below.
Step 1. Connect your iPhone/iPad/iPod touch to Mac with a lightning cable.
Step 2. Open the Finder window by clicking on Command + N keys.

Step 3. You will see your device name on the left side panel of the window under the Location section. For the first time, you have to trust the Mac on your device to pair the device.

Step 4. When the iPhone is trusted on Mac, the device information will appear on the right side of the screen in the Finder window. Tap on the General tab if it is not active.
Inside the General tab, you will see the Backup section with options like: Back up your most important data on your iPhone to iCloud, Back up all of the data on your iPhone to this Mac, Encrypt local backup.

Step 5: Select the option which you want to use to create the latest backup of your device data. Now tap on the Back Up Now option or click on the Sync button at the bottom of the interface.
You can encrypt local backup with a password.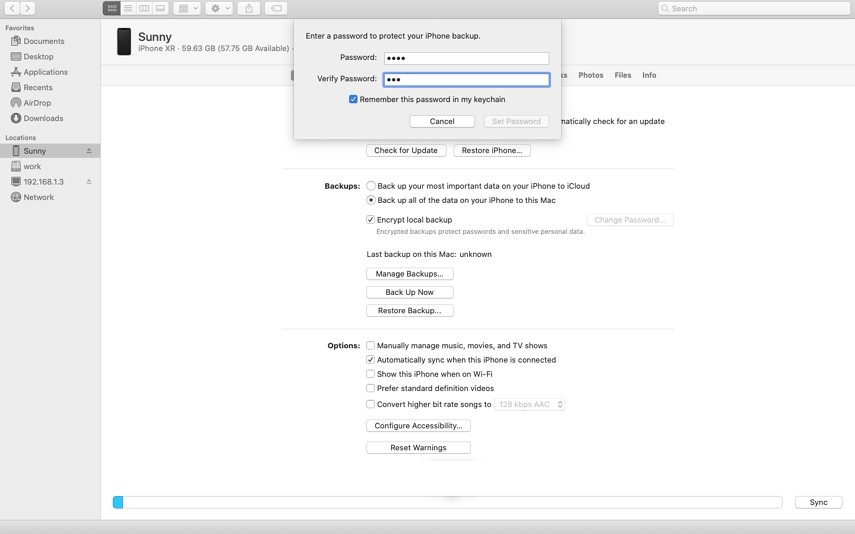 All your data from the iPhone will be backed up on Mac and you will be able to see the latest purchases, downloads, and other files on your Mac. You can now drag and drop the files you want to transfer inside the Finder also.
Part 3. An Easier Way to Backup iPhone without iTunes on macOS Catalina
Like the way in iTunes, backing up iPhone on macOS 10.15 has some downsides also. It does not support selective backup, and you can't view backup file. There are a certain percentage of users do not like this new backup method. If you scour the internet, there are many tools which can serve as a perfect alternative for iTunes. But we have the best alternative you can opt-out which is iOS Data Manager. This software has a free back up feature so that you can easily create a backup. It can also be used to restore and manage the backup files whenever you want.
Advantages of Backing Up iPhone with iOS Data Manager
Backup up iPhone to Mac without any space limitation.
Provide a way to backup files selectively.
Preview feature is available to view the files before backup so you can select target files to backup.
Capable of backing up 50GB of data within one hour.
Supports to backup contacts, photos, videos, music, WhatsApp attachments, app attachments and much more.
Steps to Backup iPhone without iTunes on macOS 10.15 Catalina
To know how to back up iPhone without iTunes on macOS Catalina, you have to download the software on your system. Once it is properly installed, follow the step-by-step guide below:
Step 1 Connect your iPhone to the computer and choose "Backup & Restore" option from the main interface of the software. There are two backup opitons: backup device or backup WhatsApp separately.

Step 2 If you select "Device Backup & Restore", you can specify the file type you would like to backup.

Step 3 Once click on "Backup" button, the software will begin with the backing up the chosen data on your device.

Step 4 Once the backup completes, you can preview backup data by clicking on the "View backup data" button.
As you can see, this software is a perfect tool whether you want to backup iPhone X on macOS 10.15. It also provides a preview of old backup which is also useful.
Conclusion
You must be surprised by the Catalina macOS backup iPhone feature. But don't worry, if you are not ready to give on the iTunes application app, you can still update your Mac and use iOS Data Manager for data backup and restore.