Wondering What Happens When You Sign Out of Apple ID? Here's the Answer
Most people are concerned about what happens when you sign out of Apple ID on iCloud. People are worried whether they will still keep their important data if they sign out or the data is saved somewhere? People also want to know about the safest ways to sign out of their Apple ID.
An Apple ID saves all of your data that is related to the devices where you sign in that ID. You will want to sign out of your iCloud for several reasons. You might be shifting your ID with a new one, or just switching between your home and work ID. In each case, we understand that your data matters the most to you, and you are looking for ways to sign out securely.
If I Sign Out of iCloud Will it Delete Everything
The most repeated question that people always ask is if I sign out of my Apple ID, will I lose everything? The short and sweet answer to your question is, No.
If you sign out of your iCloud account, it will never delete all the data on its own. Instead, you have the choice to keep the data that you wish to retain. This includes your contacts, notes, news, photos, Safari data, etc. You will decide what to keep and what to delete.
If you have turned on the option of "Find My iPhone" before, it will offer you two choices when you are signing out your ID.
Delete the data on your mobile phone.
Keep the data on your mobile phone.
In short, signing out your iCloud ID will interrupt your connection with iCloud server. New data will not synchronize with iCloud server. However, your previous iCloud backups will be remained the same in iCloud server as how they were stored before. And it will work normally if you signed in the same ID on any other device.
How to Sign Out of iCloud without Data Loss
From the above discussion, it is clear that you can sign out of iCloud without losing data. Now, look at the key steps to sign out.
Latest iOS versions of 10.3 and above:
Step 1: Open Settings app in your iPhone.
Step 2: On the top, you will see your (account) name. Click on it.

Step 3: Scroll down the menu, find the option "Sign Out". Then click on it.

Step 4: If you have activated the "Find My Phone" service on your iPhone, it will first ask to confirm your identity by entering your password.
Step 5: Green check options that you would like to keep on your device.
Step 6: Confirm your request by clicking on "Sign Out".
For version 10.2 and older:
Step 1: Open Settings option.
Step 2: Scroll down to find "iCloud" options.
Step 3: Tap on the "Sign Out" button and confirm it.
Step 4: You will see a check asking to "Delete from My iPhone". This will only delete your notes and won't delete any data from iCloud.

Step 5: Enter your ID password to confirm your identity and click on "Turn Off".
Alternative Backup Tool for iCloud-UltFone iOS Data Manager
Among all the data types, people most concerned about if I change my apple ID will I lose my photos. Although the answer to this question is also no if you follow the right steps to sign out iCloud, it is still risky due to some unknown system issues or operation errors.
So, is there an alternative way to keep all of your data secure even if you sign out of your iCloud ID? For this purpose, we will recommend you our trust-worthy all-in-one tool-UltFone iOS Data Manager.
UltFone iOS Data Manager is an data management tool that will keep all your data safe and ensure that it is available to you even if iCloud is not working on your device. Besides, it can also:
Manage all your data at one place
Back up your data in its unlimited storage space
Restore your data anytime without limitations.
Freely and Securely transfer data between your devices.
Repair any iOS system crash or software glitches without data loss.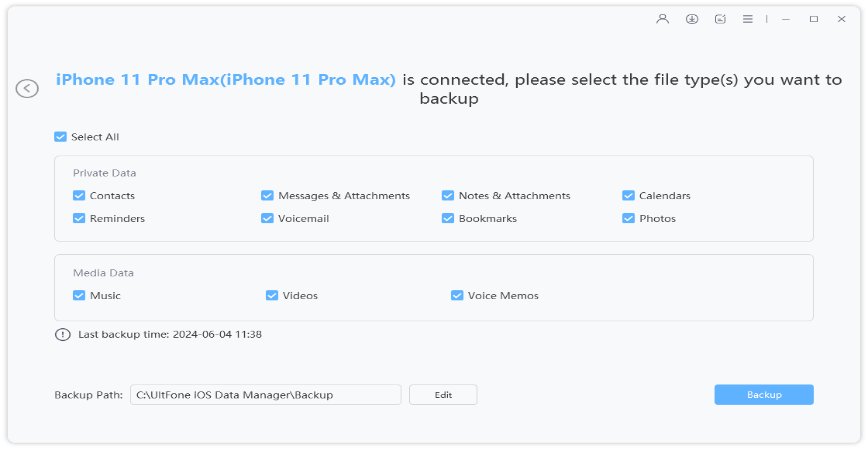 Stop worrying about if I change my apple ID will I lose my photos. With UltFone iOS Data Manager working in your device, you will never worry about losing any data at all.
FAQs on Sign Out of iCloud
1. How to Sign Out of iCloud from iPad and Mac?
We've discussed the method for iPhone in detail above. Method for iPad is pretty much the same, while the method for Mac differs a little bit.
For Mac: Choose Apple menu > System Preferences > Apple ID > Overview > Sign out.
For iPad: Go to Settings > [Your Name] > Sign Out > Enter Apple ID password > Turn off > Choose the data you want to reserve > Confirm to sign out.
2. What Happens If You Sign Out of Your Apple ID?
Apple ID is definitely the biggest feature of Apple products, and many built-in apps require a login before user can fully use them. If you sign out of your Apple ID, you'll not be able to access to the Apple services like iCloud, Apple Music, APP Store, iMessage, Facetime and Find My, etc. Whatsmore, The data you've already synced in iCloud will be wiped locally on your device, and you can only find them by a re-login.
Wrapping it Up
So, let us sum up all that we've learned here. Signing out of your iCloud ID won't delete your data/photos/music, or documents on your iCloud. All the data remains there in working condition. However, certain apps that need iCloud access to work may stop working. To save yourself from any headache for data management, we will recommend you the best UltFone iOS Data Manager.