How to Transfer Tones from iTunes to iPhone 8/8 Plus (iTunes 12.7 Included)
"Ringtones have been removed from iTunes with 12.7, so how can I add custom ringtones. I do not want to buy ringtones from the store. "
If you have update iTunes to 12.7, you may have noticed that a significant change that Apple removed Apps, Tones and Books from iTunes library. It seems like you can no longer sync iTunes ringtones to iPhone 8/8 Plus or other devices, however, after reading this guide, you will learn 3 different ways to add ringtones from iTunes to iPhone X/8/8+.
Method 1: Manually Drag and Drop Ringtones to iPhone 8/8P in iTunes 12.7
Fortunately, it's still possible to move ringtones from iTunes 12.7 to your iPhone 8/8 Plus, and the operations are quite easy. Once you have learned how to put ringtone from iTunes to iPhone, you won't have problems with transferring other files.
1. Connect your iPhone 8/8P with iTunes and click device icon.
2. Locate custom ringtones saved on your computer. If they are downloaded from iTunes 12.6, you can find the files in iTunes media folder.
On Mac: From the top menu bar, select Go > Home > Music > iTunes.
On Windows: Open C:\Users\username\My Music\iTunes\.
3. Drag and drop ringtone to your device in the left side bar. If you cannot do this, check whether Manually manage music and videos is enabled in iTunes.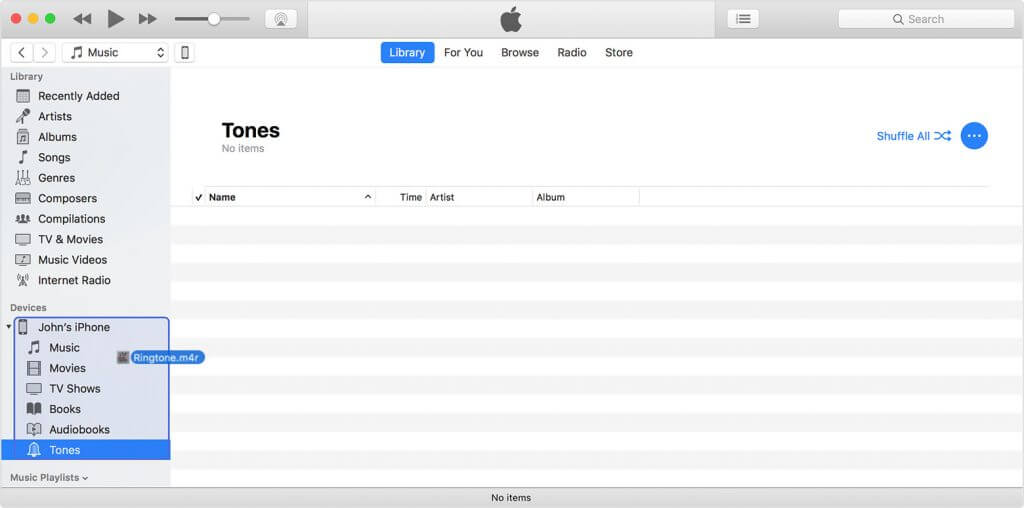 Method 2: Sync Tones from iTunes 12.6 and Earlier to iPhone
If you are still iTunes 12.6 and even earlier version users, you can follow traditional way to transfer ringtones from iTunes to iPhone 8/8 Plus. Note that you will have the iTunes library replace the one in your device. To get ringtone from iTunes to iPhone, do the following.
1. Open iTunes and connect your iOS device.
2. Click device icon then Tones option.
3. Check Sync Tones.
4. Click Apply button below.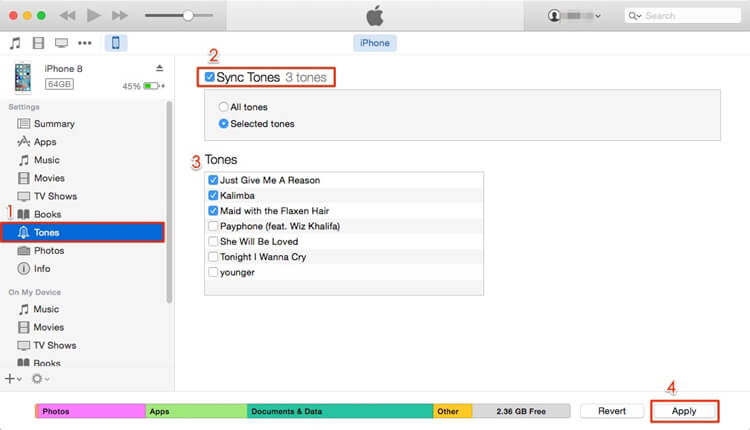 After that, iTunes will start syncing and put the selected tones into your iPhone.
Method 3: Transfer Ringtones from iTunes to iPhone without Syncing
Except for mentioned above, there is another way to import ringtones to iPhone without iTunes, which is to use data transferring software like UltFone iOS Data Manager. This method is especially useful when you need to transfer custom ringtones to iPhone 8, or the ringtone format is not supported by iTunes.
1. Launch UltFone iOS Data Manager after installation on a PC/Mac and connect with it.
2. Select File Manger > Music > Import.
3. Find target ringtone or songs you want to put into iPhone 8/8 Plus and click Open.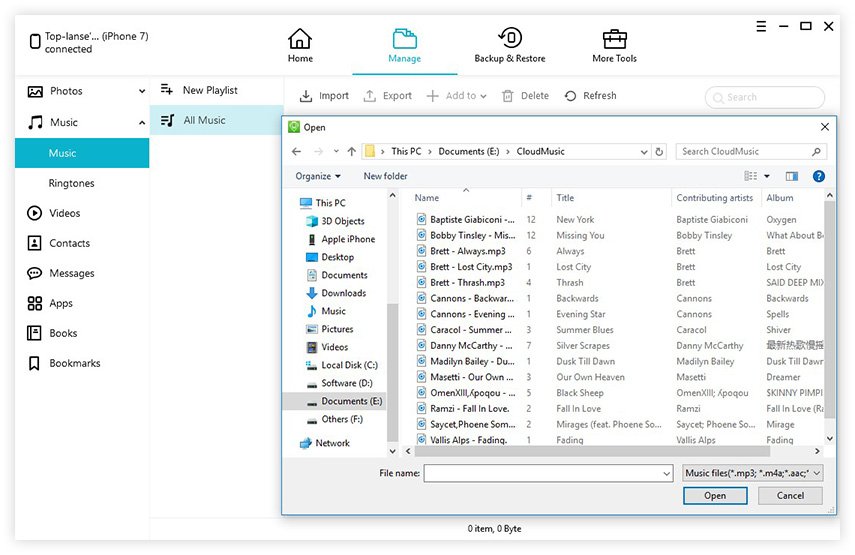 Conclusion
No matter which method you are going to apply, after you successfully put ringtone into your iPhone 8/8 Plus, you are free to change default ringtone on the iOS 11 device.