Full Solutions to iTunes Could Not Restore the iPhone Because the Password was Incorrect
I got this message as I was trying to switch from my Iphone 5 to 5s and I can assure you that I never put any password for backup. I backup my iphone 5 and when I conntected my new 5s and wanted to restore the data from the old one I got a pop up message saying that I should enter an encrypted password. I did enter my passcode (which is the same in both phones) I also tried my Apple ID password and I still get this error message "itunes could not restore the iphone because the password was incorrect". Please help.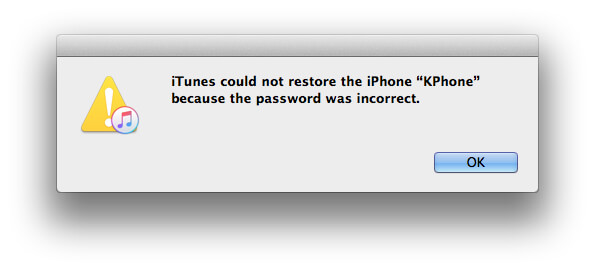 Do you relate to the situation above? Have you also lost your data on iTunes because you can't access it now? Well, the situation is no more gloomy for you as we'll bring you full solutions to get back your iTunes data.
Solution 1. Recover/Remove iTunes Backup Password
To be very precise, removing or recovering the iTunes backup password is definitely not an easy task. One of the main reasons for it is the security concern, because if it was easy, anyone could have hacked into your details and stole them. However, you would still find a bunch of tools on the Internet to serve your purpose. We carried out an efficiency check and found UltFone iPhone Backup Unlocker to be a game-changer. This software comes up with reliable and efficient processing that eases the stress of your mind by sorting out your phone issues with only a couple of clicks. Some of its standout features are listed below:
Recover or remove iTunes backup password at a fast speed.
Remove Screen Time passcode quickly and easily.
Recover iTunes backup password with the utmost success rate.
Work well for all iTunes versions and iOS versions (including the latest iTunes 12.10 and iOS/iPadOS 14).
The application would help you solve most of your iTunes password issue, but let's not move away from our main deal. Below are the steps to recover/remove iTunes backup password using UltFone iPhone Backup Unlocker.
Step 1 Once downloaded, launch the software on yout computer and click on "Remove Backup Encryption Settings" from the main screen.

       

Step 2 Connect your device to the computer with a USB cable.

       

Step 3 On the following screen, press the start button and wait for some minutes till the process completes.

        

Step 4 Click "Done" when the process is completed.

        
Following the steps above would help you get rid of the prompt "iTunes could not restore the iPhone because the password was incorrect", and restore your data without trouble.
Solution 2. Try Other Ways to Backup and Restore
Tip 1: Use iCloud to Backup and Restore
iCloud backup is the official cloud backup for Apple users, and most of the time it would automatically save your data at the online portal so that you can restore it anytime you need it. With its ease of access and simple restoration process, the iCloud backup can be a decent alternative to the iTunes backup. Below are the steps to restore your iPhone data using iCloud.
Step 1. Reset your device from Settings > General > Reset > Erase All Content and Settings".
Step 2. Your device shall restart after the reset and open up to hello screen.
Step 3. Click on "Restore from iCloud Backup".
Step 4. Select the backup of your choice and click to restore it.
It might take some minutes for the restore to complete, depending on your Internet connection and the size of the backup.
Tip 2: Use UltFone iOS Data Manager to Backup and Restore
While you might have tried the above two methods and found them to be close competitors, we have come across a data manager that is a level ahead than the two mentioned above. UltFone iOS Data Manager is our choice when it comes to backing up your important data. Below are some of its notable features.
Export photos from iOS device to computer with only 1 click.
Able to freely manage (Import/export/delete/edit) iOS data.
Support to backup and restore 30+ files from iDevices without network.
Compatible with all the latest iPhone 12 series and iOS 14/iPadOS 14 versions.
iCloud/iTunes VS UltFone iOS Data Manager
You might be thinking the discussion to be biased towards UltFone iOS Data Manager, and critical towards the other methods. Well, soon you will realize that it isn't about being biased, but there are strong reasons behind why we rank UltFone iOS Data Manager as the best in the business. Below are some of the advantages UltFone iOS Data Manager's users have over the usual iCloud/iTunes' users.
Selectively backup
Preview backup
No space limitations
Less backup time
No network requirements
Able to view old backup
Solution 3. Get Back iTunes Backup Password by Keychain (Mac Only)
Another method to get back the iTunes password is to take help from Keychain. This method is only for Mac users. Here is how to get back iTunes backup password using Keychain:
Step 1. Go to Applications > Utilities on your Mac.
Step 2. Look for Keychain Access and launch it.
Step 3. Enter "iPhone" in the search box at the upper right.
Step 4. When the search result appears, double click on iPhone backup to open it.
Step 5. Now, tick on "Show Password" to view the password.
Solution 4: Factory Reset Your iPhone then Restore it Again.
If none of the above-stated methods fixed the issue, then the last option is to factory reset your iPhone, and restore it again, which may erase some unknown errors. Follow the steps to factory reset the iPhone:
Step 1. Go to Settings > General > Reset > Erase All Content and Settings.

Step 2. A confirmation popup will appear, click on "Erase" to confirm and wait until the factory reset completely successfully.
Step 3. When your iOS device boots up, connect it to the computer with the help of USB cable. 
Step 4. Launch "iTunes" on your computer and look for the latest backup to restore it.
Solution 5. Try Your Best to Remind the Password
Another interesting way to resolve the problem is making efforts to rethink of the password. It isn't the perfect solution, but it might help you to guess the right password. You can attempt the following passwords:
Try your Apple ID password.
Type computer login password.
Your Wi-Fi password.
Different website passwords.
Default password, 0000 or 1234.
Conclusion
There are numerous solutions to fix the "iTunes could not restore the iPhone because the password was incorrect" issue, but most of these solutions have some drawbacks. However, UltFone iPhone Backup Unlocker is the one that we would recommend you as it has the highest success rate and it works equally good for all iTunes and iOS versions. Also, do let us know which technique finally worked for you.