How to Decrypt iPhone Backup in iTunes with or without Password
If you've ever backed up your iPhone or iPad to your computer using iTunes or Finder and secured it with a password, when you want to restore it from the backup or extract some data, you'll need first to decrypt the iTunes backup. It is easy to unencrypt an iPhone backup with a known password. However, what if you forgot the iTunes backup password? In this post, we will show you how to decrypt iTunes backups with and without the Password. Keep scrolling!!
Part 1. How to Decrypt iTunes Backup with Password
You can easily decrypt an iTunes backup if you remember your backup password. To decrypt iPhone backup with Password, follow the steps below:
Step 1: On a Mac with macOS Catalina 10.15 or later, open the Finder. On a Mac with macOS Mojave 10.14 or earlier, or on a PC, open iTunes.
Step 2. In iTunes, click the Device icon from the top menu, and then in Summary tab, proceed to the Backups section, where you will see the option to "Encrypt backup" is checked. To decrypt it, uncheck the checkbox.

Step 3: A window will appear asking for your Password; all you need to do is enter the password in it and tap OK, and in no time, you can decrypt the iTunes backup password.
The perquisition of this method works only when you still remember the iPhone backup password. If you forgot the password, this method won't work, and please proceed to the following content to know how to decrypt iPhone backup without password.
Part 2.How to Decrypt iPhone Backup without Password in iTunes
Some people recommend establishing a fresh iTunes backup to change the computer's old iTunes backup password. It wasn't possible previously, but it's now possible. Previously, if you forgot your iTunes encrypted backup password, when you tried to create a new iTunes backup, you had first to unencrypt it in iTunes with your Password. Then you can create a new backup. However, with iOS versions above 11, you can create a new encrypted backup of the device simply by resetting the password.
Pro Tip:
1.Only iOS 11 or later devices are suitable.
2. This method only removes the encryption of the connected device. You can't use the prior encrypted backups after resetting the password, but you can create a new backup and set a new backup password.
Unlock your iPhone and go to Setting > General > Reset > Reset All Settings.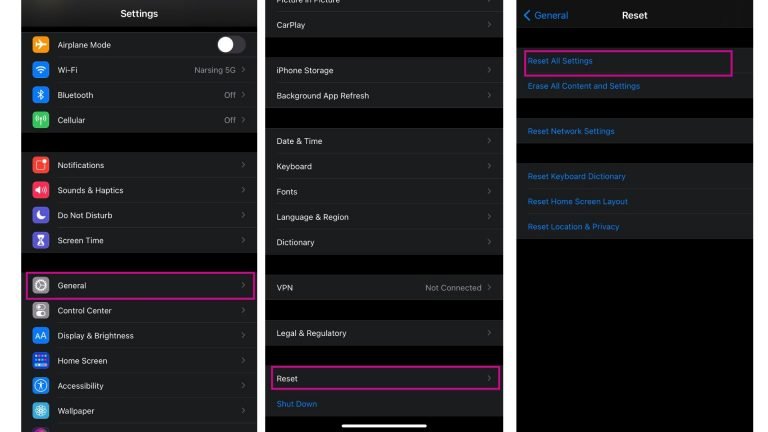 After this, connect your device to iTunes again and create a new backup with a new password.
Part 3. Recover iPhone Backup Password with Third-party iPhone Backup Unlocker Software
When you forgot iPhone backup password, or someone changed the password without your knowledge. Even worse, iTunes asks for a password to unlock a backup that you never set. Apple does not provide any official solution to recover iTunes backup encryption password. In this case, choosing a reliable iTunes backup password recovery software can help you recover, or crack iPhone backup password. We recommend UltFone iPhone Backup Unlocker to help you decrypt iPhone backup password.
Top-Notch Features of UltFone iPhone Backup Unlocker:
Three powerful attack modes are available to quickly and successfully recover encrypted iTunes backup password.
Remove backup encryption settings from iPhone/iPad/iPod touch.
Remove Screen Time passcode without losing data.
Works well with all iTunes and iOS versions (including iTunes 12.10 and iOS/iPadOS 14).
Support for the most recent iPhone 12 Mini/12/12 Pro/12 Pro Max.
Option 1. Remove Backup Encryption Settings
UltFone iPhone Backup Unlocker tool can remove encrypted backup settings from the connected device, ensuring that future backups of this device in iTunes are not encrypted. To do so, follow these steps:
Step 1 First, launch the tool and select "Remove Backup Encryption Settings" from the main interface.

Step 2 Now connect your device to computer with a USB cable.

Step 3 Then, press the Start button to begin the process of removing backup encryption settings from the connected device.

Step 4 Wait for a few seconds, the encryption settings will be removed from your device successfully.
Option 2. Retrieve iTunes Backup Password
This feature can help you recover the forgotten iPhone encryption backup password.
Step 1 From the main interface, select "Retrieve iTunes Backup Password". This program will automatically detect all backup files in this computer. The encrypted backup file has a key icon. Highlight an encrypted iPhone backup file and click Next button.

Step 2 Then, to unlock the iPhone backup files, select an attack type from the program's list of Brute-force Attack, Brute-force with Mask Attack, and Dictionary Attack.

Step 3 Finally, after selecting the appropriate attack method, press the "Start" button. All you need to do is wait patiently. Please keep in mind that the duration is heavily influenced by the length and complexity of the Password, the attack settings, and the computer configuration. Once you've discovered the Password, you can use it to unlock your iTunes backup.
The Bottom Line
After reading this guide on how to decrypt iPhone backups with and without a password, you will be able to open and use your encrypted iTunes backup without restriction. UltFone iPhone Backup Unlocker is helpful for those who has forgotten their iTunes password to recover encrypted backup password.