Top 5 Ways to Fix iPhone (iTunes) Error When Updating [2022 new]
The iTunes app is an integral part of the Apple ecosystem. It is used to manage iOS devices computers and manage the music, movies, and TV shows you have on Apple Music and iTunes. But the Apple iPhone brings its share of errors. One of them is the iTunes error "The iPhone cannot be updated. An unknown error occurred". This can be frustrating, but it can be fixed easily.
If you've found yourself in the scenario where your iPhone cannot be updated unknown error occurred 1110, the first thought that probably crosses your mind is how to fix it. Applying a few techniques, you can solve this annoying error and get back to enjoying your iPhone.
Part 1: What Is the Error 1110 for iPhone Update?
You might have seen the 1110 error when trying to upgrade your phone's operating system. This can annoying, especially when you are unsure what is the error 1110 for iPhone update?
The 1110 error is a frustrating one for iPhone users. It usually occurs when trying to upgrade an older version of iOS to iOS 15. This problem has happened to many different models and generations of iPhones, including the 13 Pro Max, 12 Mini, XR, XS, and others. There, an unknown error occurred (1110). 06a1.0456.
Part 2: Top 5 Ways to Fix iPhone (iTunes) Error 1110
Way 1: Fix Your iPhone without Data Loss via UltFone
If your iPhone is acting up, don't panic! UltFone iOS System Repair can help. This powerful tool can fix over 150 iOS system issues without causing any data loss. Plus, it's easy to use - you can even do it all with just one click. And if you're running a newer version of iOS, than your device is compatible with it, no problem! With UltFoneiOS System Repair, you can downgrade to an earlier version of iOS without using iTunes. So don't wait - get started repairing your iPhone today!
Features:
Easily enter and exit recovery mode with just one click, without data loss.
Repair 150+ iOS system issues like Apple logo, reboot loop, and black screen for free.
Reset iPhone/iPad/iPod Touch without password or iTunes/Finder.
Downgrade from iOS 15 without iTunes on all iOS versions and iPhone models
UltFone is the most straightforward and most efficient iOS system repair tool. You can fix all sorts of iOS system issues without data loss. No computer skills or experience required - anyone can use it! Repair your iOS system in minutes, not hours. Let's follow these simple steps.
Step 1
If your iPhone screen doesn't move forward and error 1110 stuck on Apple logo, first, you should download and install the UltFoneiOS System Repair on your computer or mac. Then connect your device (iPhone/iPad/iPod touch) with your computer. Then click on the "Start" button and enter the repair module.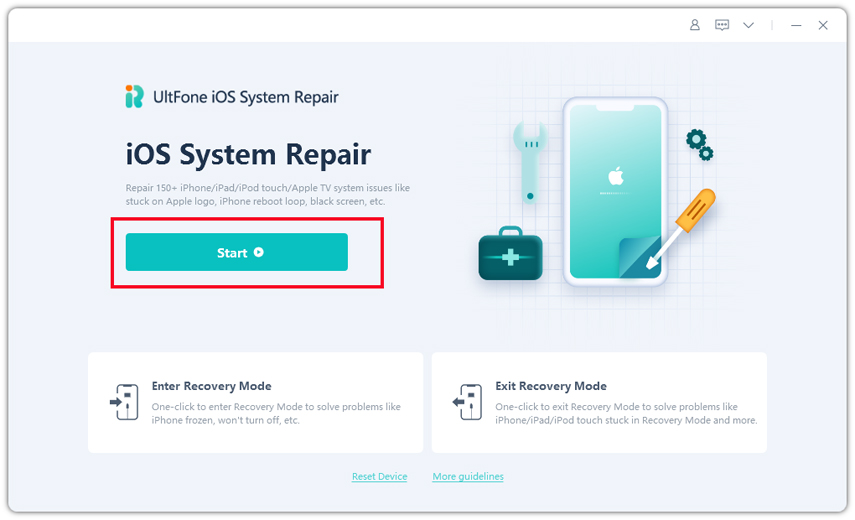 Step 2
There will appear a screen with two options. Choose any one carefully.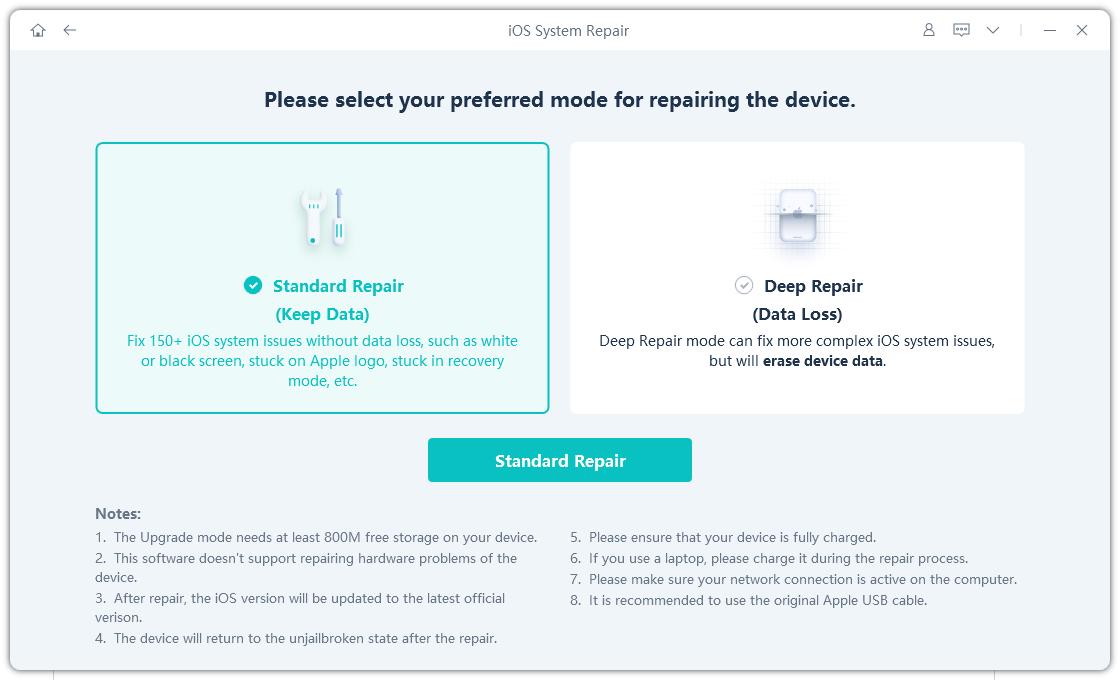 If you are facing an issue connecting your device, try this guide to get assistance regarding recovery mode or DFU mode manually for the device.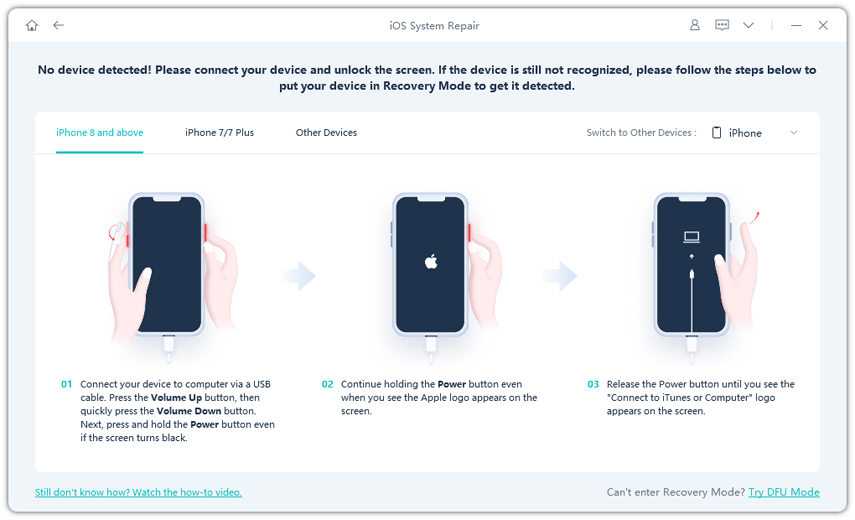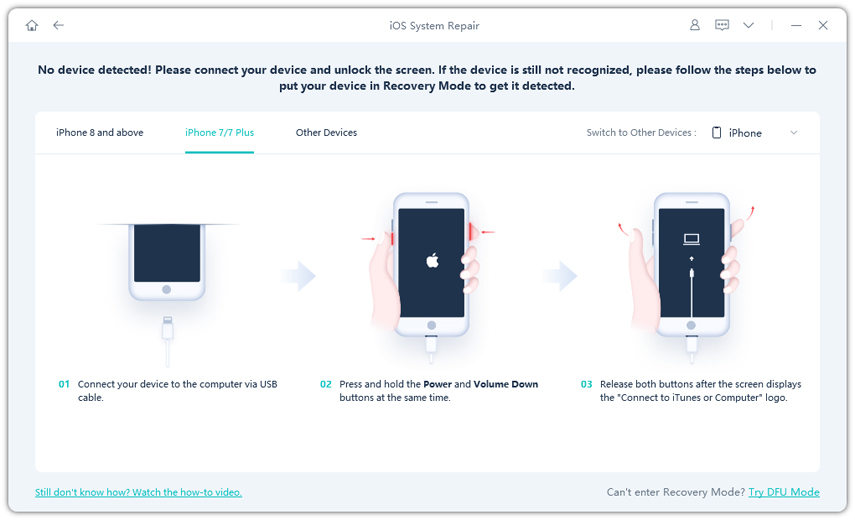 The options for fixing your device are Standard Repair and Deep Repair. The difference between them is that you can resolve some iOS issues without any data loss. However, if this doesn't work or if you want to factory reset an iPhone/iPad password-free of charge, choose "deep" instead! Deep repair is a process that can lose all of your data.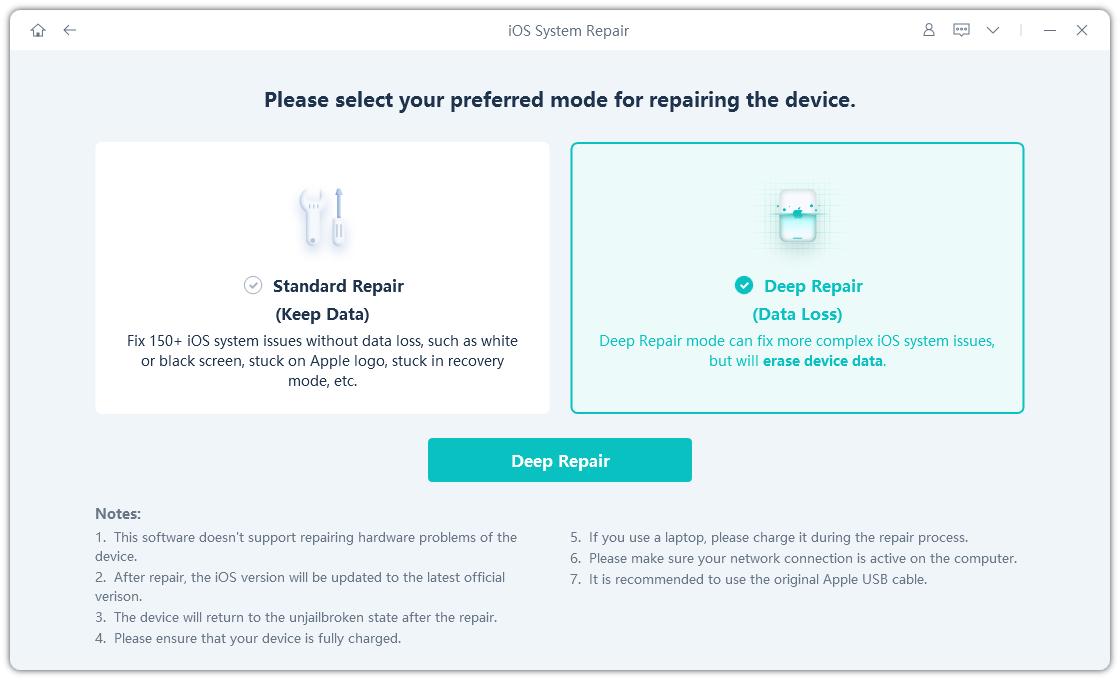 Step 3
Ensure you have downloaded the latest firmware before performing a system repair. To do this, click the "Download" button. You can select a new location for the firmware files by clicking "Browse."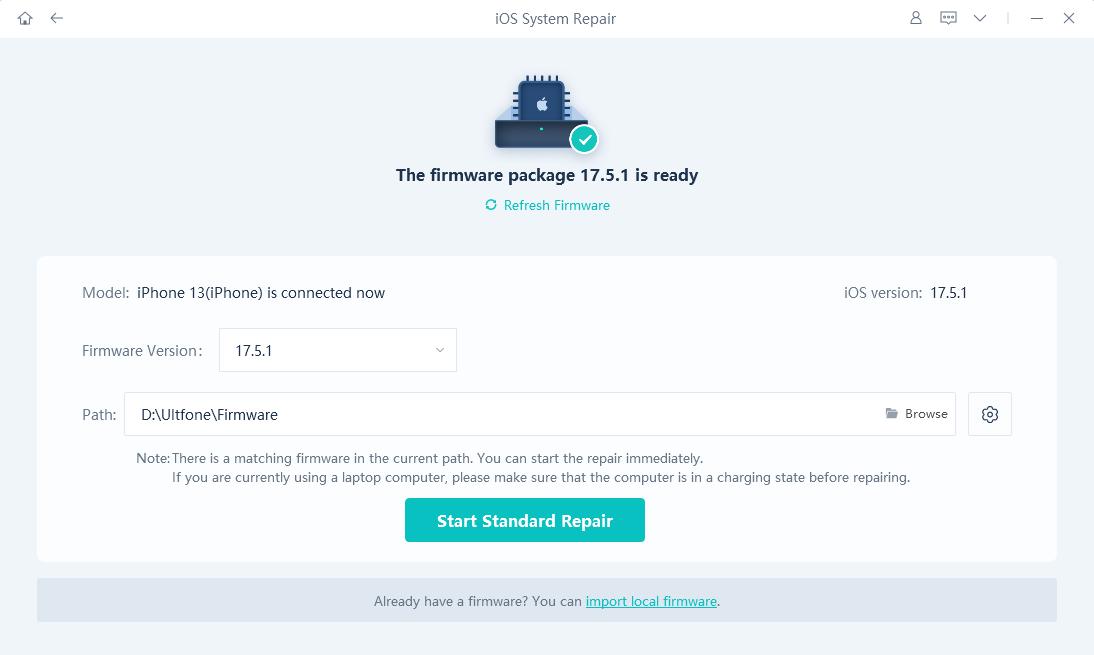 On the other hand, just click on "local import firmware if the firmware is already downloaded."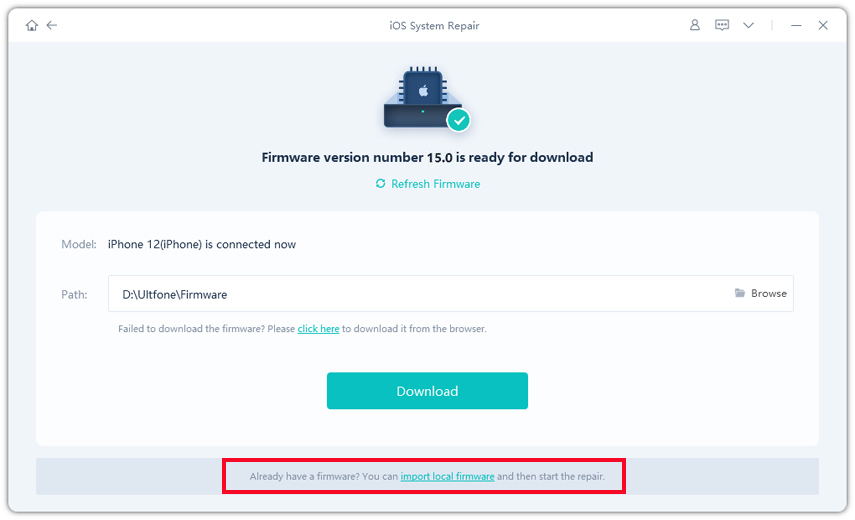 As the file size is 2.5GB, it will take time to proceed. Wait patiently and keep the internet connection strong.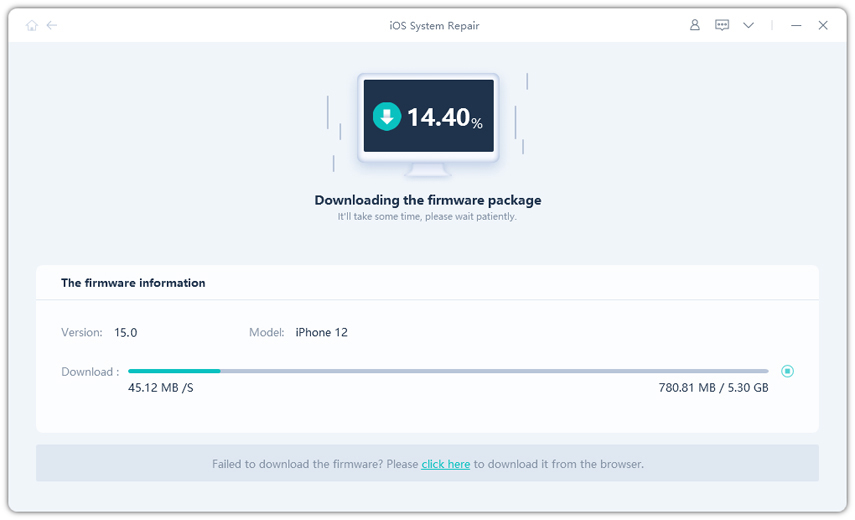 Step 4
Once the firmware package is completely downloaded, click on "Start Standard Repair" to fix the problem. It will take a few minutes.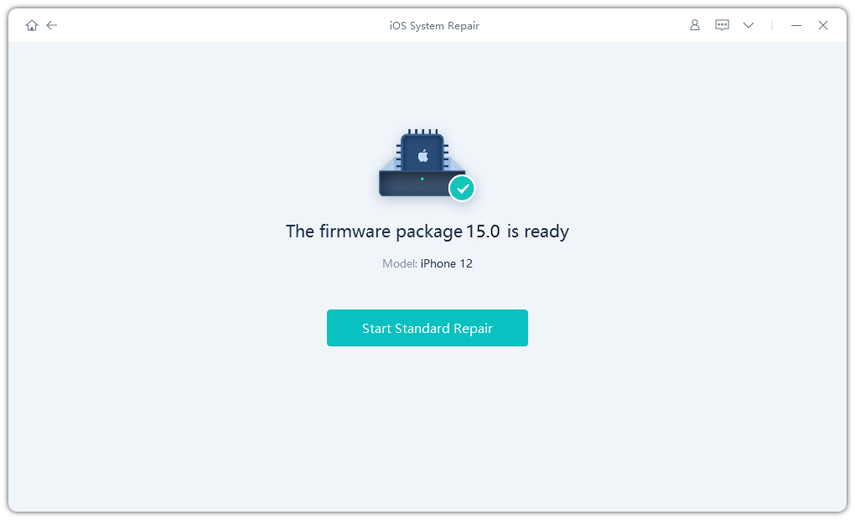 Step 5
After completion of all steps successfully, the iOS device will automatically reboot. Now the device gets to normal and repaired successfully.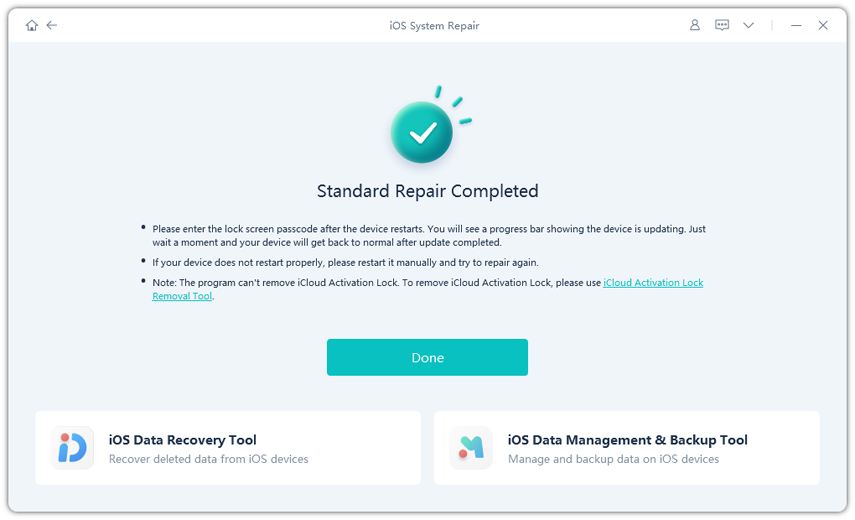 Way 2: Free Up Space on iPhone
When an iPhone unknown error occurred 1110, the first solution is to free up space on your device. An excellent method to do this is to delete large apps. To find out which apps are the largest, go to General > iPhone Storage. Then, go through the apps list and delete any large ones you don't need.
If you're looking for more storage for your iPhone, deleting videos, photos and music is an excellent place to start. Deleting downloaded music on your iPhone is easy. Go to Settings and then General > iPhone Storage. Click the Music app and delete the songs you don't listen to anymore. You can also clear out old text messages by clicking Settings > General > iPhone Storage > Messages and selecting Videos or Photos.
Way 3: Put iPhone in Recovery Mode
The first step is to download iTunes. If it isn't, get it on the computer. Next, connect the iPhone to the computer with a USB cord.
Launch iTunes on your computer. Now press and release the phone's Volume Up button. Then press and release the phone's Volume Down button. The phone's Home side button doesn't release until the recovery mode appears on your screen in the last press and hold.
Hold down a button on the iPhone until you see a message "Recovery Mode." You should go to "iTunes" and select "Restore."
Way 4: Force Restart iPhone
So your device has crashed, and iTunes error 1110 appears. But what if it won't start? It might be worth trying to force restart the device before completely restoring it — even if that does not work, you can still get to the main screen.
For iPhone 8 or later
To unlock your iPhone, press and hold the Volume-Up button. Then, press and release the Volume-Down button. Now, press and hold the Side-button until you see the Apple logo.
For iPhone 7, iPhone 7 Plus, and iPod touch (7th generation)
For 7th generation users, it is only a one-step process. You need to press the side and Volume down buttons simultaneously and keep holding. Apple logo will appear on the screen.
For iPad models with a Home button, iPhone 6s or earlier, and iPod touch (6th generation) or earlier
Suppose you use the 6th generation; press and hold the side and home buttons. Keep a hold, and the Apple logo appears.
For iPad models without a Home button
The pattern is the same whether you restart an iPad 2 or a more current version. Press and quickly release the Volume-Up button. Next, press and quickly release the Volume-Down button. Finally, press-hold the Power button until the device restarts.
Way 5: Factory Reset Your iPhone
Suppose you are using macOS Catalina or later, open Finder. While if you are using macOS Mojave or earlier or using a Windows PC, open iTunes.
Connect your device with a USB cable to Mac or Windows and open iTunes. Find the Restore iPhone button in iTunes, and confirm the action according to instructions on the screen. Your phone will start restoring. Once it is finished, you will be at the main screen and asked to set up the device as new.
Conclusion
If you are an iPhone user and, unfortunately, unknown error occurred 1110, don't worry. There are five ways to fix this issue with a few instructions. The most recommended solution is to use UltFoneiOS System Repair, as it is the only software that can fix the error without causing any data loss. If you haven't tried this software yet, we suggest you do so now. It could save your phone from a lot of trouble.