iPhone/iPad Apple Music Not Syncing [2023 Fixed]
Apple Music is a remarkable service that lets users sync their favorite playlists across different devices. This means if you have created a dedicated playlist on your Macbook, it'll automatically get synced with your iPhone, iPad, and even the Apple Watch. As a result, you'll be able to listen to your favorite tracks anytime you want. However, what if Apple Music stops syncing data across different devices? What if you open Apple Music on your iPhone and notice that all your favorite tracks are missing? While the situation can seem pretty annoying, it's a minor glitch that can be fixed within a few minutes. In this article, we are going to showcase a few working solutions to fix Apple Music not syncing songs to iPhone and other iDevices.
Part 1: How to Fix Apple Music Not Syncing to iPhone
No matter which reason it is for Apple Music not syncing, you can find a way to solve it. Here we will list out 6 possible ways to fix this problem.
Way 1: Check Apple Music App
First and foremost, check the status of the Apple Music app on all your devices. It's quite possible that you might be using an outdated or corrupt version of Apple Music, which would be causing the Apple Music not syncing error. Follow these steps to repair the Apple Music App.
1. Force Close the App
On your iPhone, swipe up from the bottom of your screen and release when you see all the recent apps. Now, swipe "Apple Music" left or right to force close it. You can also close an app by tapping the small "Red Icon" at the top-left corner of each app.
Then, wait for a few minutes and again launch the app to see if it starts syncing data or not.
2. Restart and re-login
If force closing the app does not work, the next step would be to logout from Apple Music and restart your iPhone. Then, re-login with your credentials again and see if the app starts to sync songs or not.
3. Update the App
If you are using an outdated version of Apple Music on your iPhone or Macbook, its "Sync" feature will not work the best. So, head to the App Store and make sure to install the latest version of Apple Music on all your devices.
4. Delete and Reinstall It
You can also fix the problem by deleting Apple Music from every device and re-installing it from the App Store.
5. Turn on Sync Library
Finally, if you have just installed Apple Music on your iPhone or Mac, it's quite possible that its "Sync Library" feature might be disabled. So, before diving into any of the advanced solutions, make sure to enable "Sync Library" in Apple Music. To turn on "Sync Library", go to Settings>Music and toggle the switch next to "Sync Library".
Way 2: Use Same Apple ID
It's also worth noting that Apple Music will only sync songs when you'll use the same Apple ID on every device. You can't use Apple Music to sync files across different user accounts. So, ensure that you have signed-in with the same iCloud account on all your iDevices.
Way 3: Turn on iCloud Music Library
The "Apple Music not syncing playlists to iPhone" error can also arise if Library Synchronization is not enabled on your Macbook. In this situation, you'll have to manually enable "iCloud Music Library" inside the iTunes app.
Step 1 - Launch the iTunes app on your laptop and log in with the same Apple ID you're using on other iDevices.
Step 2 - Click "Edit" at the top menu bar and choose "Preferences".
Step 3 - Switch to the "General" tab and toggle the "iCloud Music Library" option to turn it on.
Way 4: Update iOS Versions
One of the most common reasons why Apple Music stops syncing music across different devices is when you use an outdated iOS version on your iPhone. Apple always recommends using the latest iOS updates to keep all the Apple Services up and running.
So, if you have not updated your iPhone for a while, make sure to do it ASAP. To do so, head to Settings>General>Software Update. In case there are any pending updates, click the "Download and Install" button to install them.
Way 5: Update iTunes
An outdated version of iTunes can also cause issues with Apple Music's sync feature. It's important to install the latest version of iTunes on both your Macbook and iPhone to ensure that Apple Music can easily sync data without encountering any failure. So, go to the App Store and upgrade iTunes to the latest version.
Way 6: Toggle the Mobile Data Option on Your iOS Device
Even though it's quite obvious, many iOS users don't know that Apple Music needs an active Internet connection to successfully sync songs across different iDevices. So, if you have tried every other solution, make sure to take a look at "Mobile Data" and ensure that it is enabled.
You can also enable Mobile Data by heading to Settings>iTunes and Apple Store>Mobile Data.
Bonus Tip: Manage Music in a Better Way
It's no secret that Apple Music is a great service to keep all your favorite music tracks in one place. But, since its "Sync Feature" might not work all the time, it is not the most reliable solution to manage music on iDevices. So, if you are also looking for a more reliable alternative to iTunes/Apple Music, we recommend using UltFone iOS Data Manager.
It's a fully-functional data management tool that's designed to manage all your data across different devices. You can use the software to backup files from your iPhone to a PC without having to rely on iTunes. You can even use UltFone to restore the backed-up data on a different iDevice. This is a great feature for anyone who's planning to upgrade to the newer model of iPhone but doesn't want to lose their data.
Finally, you can also use the tool to transfer data from your iPhone/iPad/iPod to iTunes and vice-versa with a single click. Let's quickly introduce you to a few key features of UltFone iOS Data Manager that makes it the best solution to sync files on all your iDevices.
One-stop solution to transfer, backup, and restore files from an iDevice.
Supports 30+ file-formats including songs, pictures, videos, etc.
Supports selective backup and transfer.
Compatible with all iOS versions, even the latest iOS 14.
Follow these steps to transfer music files from one device to the other using UltFone iOS Data Manager.
1. Transfer Device Media to iTunes
Step 1: Download and install "UltFone iOS Data Manager" on your PC. Once installed, launch the software and click "Device Media to iTunes".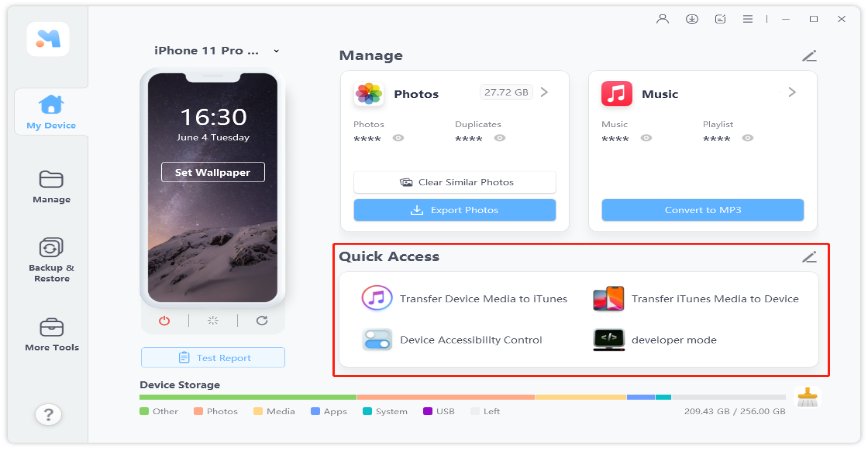 Step 2: Now, choose the media files that you want to transfer to iTunes and click "Transfer".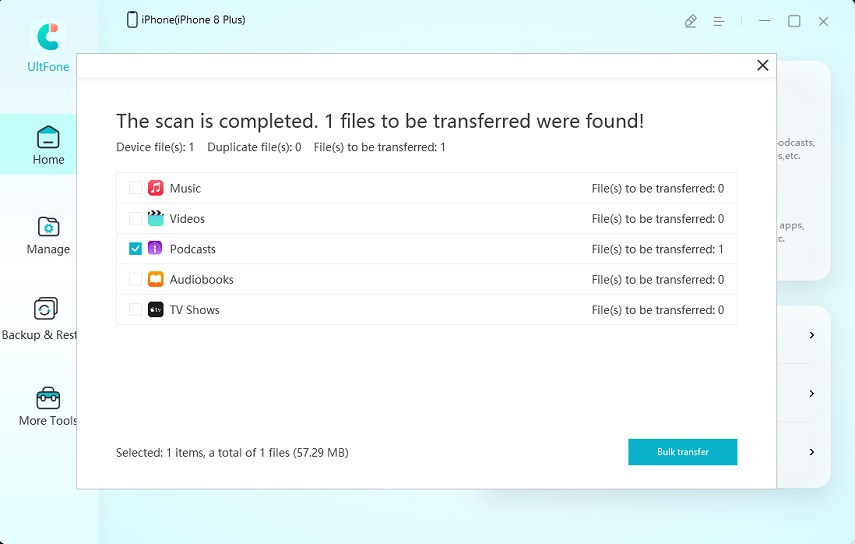 2. Transfer iTunes Media to Device
Step 1: Once you have successfully transferred media files to iTunes, connect your iPhone to the PC using a lightning cable. Then, tap the "Transfer iTunes Media to Device" option and tap the checkbox next to "Music".
Step 2: Finally, click "Transfer" to move the files from your iTunes account to your iPhone.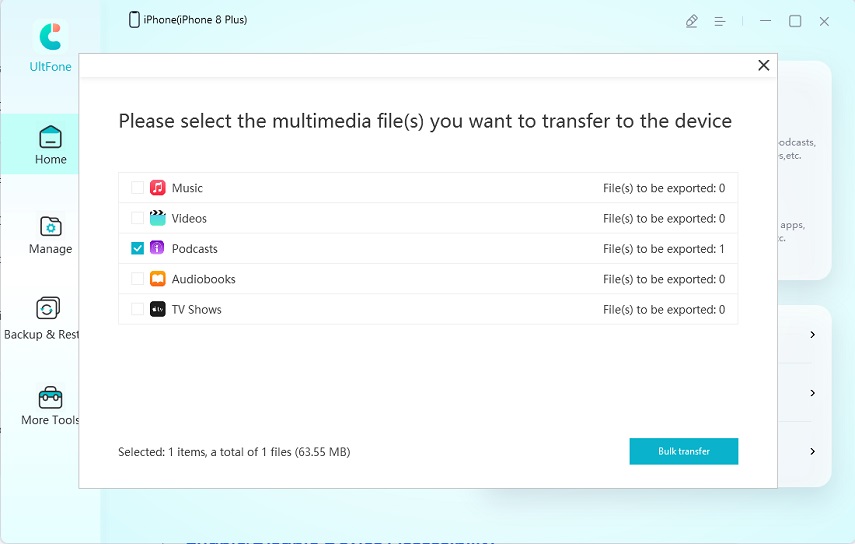 You can repeat the same process to send files from iTunes to other iDevices such as your iPad or iPod Touch.
Let's conclude
"Apple Music playlists not syncing to iPhone" is not a critical error and you don't need any professional assistance to fix it. Use any of the above-mentioned solutions and you'll be able to restore the "Sync" feature without any hassle. And, if you are looking for a better tool to manage songs across different iDevices, don't forget to use UltFone iOS Data Manager. If anything, it'll save you valuable time by quickly transferring data from different iDevices to iTunes.