How to Recover Deleted Photos Android Internal Storage
It is common for Android users that they try to erase their device in order to cope with the operational efficiency issue. Deleting useless photos, videos, messages, and apps are the best way to regain efficiency. But in attempt to clear the memory, users end up deleting some important photos and other files. If you also did something like this and now you want to recover deleted photos from Android phone internal memory, then you are on the right page.
In this article, we are going to learn how to recover deleted photos from Android devices. There are several methods that can help you in such situations. And we will try to cover most of them in this article.
Part 1. Can You Recover Deleted Photos from Android Internal Storage?
As soon as the photos get deleted, the first thing users do is looking for a trick or hack. They often find some photo recovery software for Android phone internal memory. But not all of them are effective. Some require a rooted device and some don't work at all. As we can agree to the fact that it is possible to retrieve even the deleted data, we are going to discuss the ways in brief.
Part 2. How To Recover Deleted Photos Android Internal Storage Without Backup or Rooting
The Android users face bigger issues when they don't have a backup of their device data. This makes it hard to recover deleted photos from internal storage. But we also have a solution for this situation. UltFone Android Photo Recovery software is one of the most trustworthy software capable of restoring deleted files. Whether you have lost the photos, videos, documents, audios, or any other file, Android Data Recovery will retrieve the files as soon as possible.
The good this about this tool is that it supports to recover deleted photos Android internal storage without root. Just download the software from the official website and follow the steps below:
Step 1 Launch the app and connect your Android device with the system. From the home interface, select the Recover All Data option and enable the USB debugging option on the device.

     

Step 2 As you move ahead, the software will list down the supported file types. Pick the data that you want to recover and click on the Next button. To recover photos from internal memory on Android phone, you just need to tick the "Photos" file.

     

Step 3 The software will scan the device and display the recently deleted files. Select as many photos as you want and hit the Recover button.

   
Within a while, you will have all your photos back on the device in original quality. And you don't even have to root your device in the hope for data recovery.
Part 3. How to Recover Deleted Photos Android Internal Storage Free From Google Photos
If you have enabled the Google Sync, it means that all your gallery photos are synced with the Google Photos app. So, when you delete a photo from the gallery, it also gets deleted from Google Photos. But Google Photos also has a trash folder that keeps the deleted photos for 30 days. Thus, you can recover deleted photos Android internal storage without computer. Follow the steps below:
Step 1: Open the application on your phone and open the menu. There you will see the Trash, click on it and the recently deleted photos will appear on the screen.

     

 
Step 2: Select the photos that you want to recover and click on the Restore icon. All the selected photos will be restored in the Photos menu as well as your system gallery.
You can also access Google photos via PC if you want. That's the reason it is recommended to always sync the device with Google cloud.
Part 4. How to Recover Deleted Photos from Android Internal Memory from Cloud (Google Drive, OneDrive, Dropbox)
It is not just Google that offers cloud service. There are also other popular cloud services such as Dropbox, OneDrive, etc. which is available for Android devices. They can also help you to recover photos from internal storage on Android devices. Generally, deleting the photos from the gallery, won't delete the files from the cloud. This means your photos are safe on the cloud and you can retrieve them whenever you want.
How to Recover Deleted Photos from Android Phone Internal Memory from Google Drive
Open Google Drive/Photos> Trash> Select files> Tap on the Restore option or icon. Google will keep the deleted photos in the trash for more than 30 days. So, there is a good chance that you will find the photos you are looking for.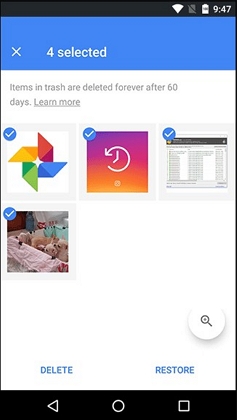 Recover Deleted Pictures from Android Internal Mmemory from Microsoft OneDrive
Open app on your phone> Me> Recycle Bin> Select the files> hit the Restore icon. OneDrive also keeps the files for 30 days but it will delete the photos if the bin storage is more than 10% of the total storage space.

Deleted Photos Android Recovery of Internal Storage from Dropbox
When you are taking help from Dropbox, you need to access the website. Visit the website> login to your account> Files> Deleted Files> Select files and restore.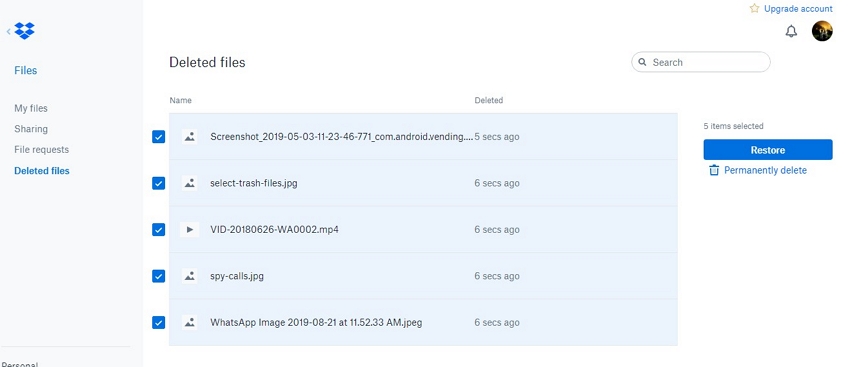 The good thing is that most of the cloud services work in a similar way for data restore. So, you can use them easily.
Part 5. Use the Android Photo Recovery App to Recover Deleted Photos From Android Internal Storage
Here is the most useful mobile application that will make it easier for users to get back their lost files.
DiskDigger Photo Recovery is a very popular app to recover deleted photos Android internal storage app. You can use this app on rooted as well as the unrooted device. It also features Deep Digging that help you dig deeper into your device memory to locate and restore deleted photos.
Here's the simple guide on how to use DiskDigger Photo Recovery.
Step 1: To start with, download and install the app from the Google Play Store.
Step 2: Next, you need to choose the scan type. For rooted device, choose Basic Scan or else, you can choose Full scan if the device is rooted.
Step 3: After selecting the scan type, choose the target file types you would like to recover and hit on the "Ok" button to begin with the scan process.

Step 4: Once the scan completes, you can choose the desired files you want to restore. Finally, choose "Recover selected files" option to save recoverable data on your device.

   
Other applications available on Google play store that allows the users to recover deleted photos include DigDeep, Dumpster, Photo Recovery by GreatStuffApps, etc. But all these tools require premium version for recovery.
Part 6. Important Notice after You Deleted Photos From Android Internal Storage
There could be a number of reasons to face data loss situation on Android devices, which include a bad update, malware attack, or corrupt firmware, etc. Mostly, we end up deleting important photos from the device by mistake. Once you realize that your photos get deleted from your device, follow the below tips for securely performing deleted photos Android recovery of internal storage:
The first thing you should do is to stop using your device right away. Don't take pictures, use any app or play games. You may know that when files get deleted from the device, they aren't deleted from its storage forever. Thus, as long as you won't overwrite any new data, you can still get back your deleted photos easily.
Once you notice you end up deleting some important photos, use reliable data recovery software for Android as fast as you can.
Don't reboot your phone several times in an attempt to restore your data back as it might lead to unexpected results.
Also, don't ever try to reset your phone to get back your deleted photos. After performing a factory reset on the device, you can't recover your deleted photos.
Last Words
In this article, we learned all about how to recover deleted photos on Android devices. From now on, instead of panicking during the data loss scenarios, you will be able to retrieve the files easily. Don't forget to recommend UltFone Android Data Recovery to your friends for fast and efficient recovery.