How to Recover Deleted Files from Android Recycle Bin?
No doubt, encountering data loss is one of the maddening situations for Android device users. It could happen due to several reasons, including accidental deletion, virus attack, or software update. No matter how you lost your important data, the next thing that comes into your mind is getting back deleted files, or does Android have a recycling bin as well like Windows PC? Isn't, it right? Well, this guide will clarify all such things. Continue reading to find out whether Android devices have a recycle bin and, if yes, how to rescue your deleted files from the Android Recycle bin.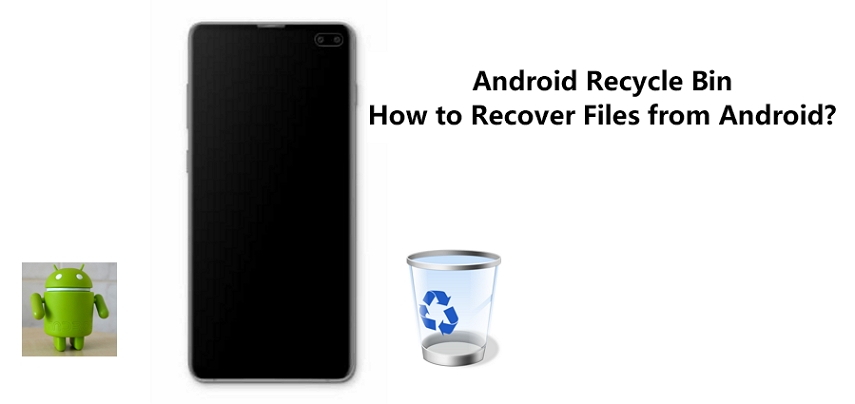 Part 1. Does Android Have a Recycle Bin?
Before heading towards how to recover deleted files from Android recycle bin, it's vital to know whether it's really possible. In other words, is there a recycle bin on Android phones?
We all know that Windows PC has a Recycle Bin (or Trash on Mac), a temporary storage location for the data that has been erased from your system hard disk but not permanently deleted from the file system. Therefore, you can go to the Recycle Bin folder to locate and recover the accidentally deleted files with ease.
Unfortunately, Android devices don't have a Recycle Bin like Windows PC.
You won't find the Android recycle bin location on any Android device out there. There is no apparent reason why Android OS doesn't have recycle bin. Nevertheless, it could be due to inadequate storage space. Android devices come with very limited internal storage. Even using an external memory card on your Android device, the storage space is not enough.
However, that doesn't mean that there are no alternatives available for you. Some apps on Android devices, such as Gmail and Google Photos app have their own recycle bin or trash folder. For these particular apps, you will be able to rescue your deleted data without any hassle. In the following parts, we'll help you learn how to access trash bin on Android for these particular apps.
Part 2. How to Recover Performantly Deleted Files without Android Recycle Bin?
After knowing that there is no Android phone recycle bin, you may wonder how to get back permanently deleted files from your Android device without recycle bin.
Well, all you need is a powerful Android data recovery solution that can help you retrieve deleted files on Android without having a backup in place. In such scenarios, UltFone Android data recovery serves the purpose best. With this tool, recovering deleted data from Android devices is no hassle. It will help you recover your deleted data on Android without requesting you to root your device. Above all, it supports all Android devices out there and can help you recover your lost or deleted data no matter how you lost it.
Here's a step-by-step guide on how to recover permanently deleted files without recycle bin on Android. To commence, first get UltFone Android data recovery software on your system and then follow the below steps:
Step 1 Open the UltFone Android data recovery on your computer and choose the "Recover Lost Data" option from the main interface of the software.

Step 2 Connect your Android phone to the system with the help of a USB cable.

Step 3 Follow the on-screen instructions to turn on USB debugging on your device, and then the software will let you choose the file types you want to rescue and hit the "Start" button. In a while, it will scan your Android device to locate the deleted and lost files.

Step 4 After the scan, you will be able to preview the recoverable data. Finally, select the data you want to retrieve and hit the "Recover" button.
Part 3. Restore Deleted Emails from Trash on Android
When you delete emails from Gmail, by default, they move to your Gmail Trash Bin folder and remain there for 30 days. Therefore, it means that you can easily recover your deleted emails from the trash within 30 days.
Here's how to access trash bin on Android Gmail app to recover your deleted emails:
Step 1: Open the Gmail application on your Android phone.
Step 2: Click on the Menu icon located at the top left.

Step 3: Tap on "Trash".

Step 4: Now, you can select the emails you want to get back.

Step 5: Click on the three-dot icon located at the top right and choose the "Move To" option. Finally, select where you would like to move the emails to.
So, no need to fret if you accidentally delete some important emails. All you need to do is go to the Trash folder on your Gmail app and rescue your accidentally deleted emails within 30 days.
Part 4. Recover Photos from Trash Android
In case you have accidentally deleted photos from your Android device, no worries!! Almost every Android device has Google Photos, which is the photo storage and sharing app. Any picture captured on your Android phone gets automatically saved in Google Photos.
Moreover, even if you erase a picture from the Google Photos app, no worries. Deleted photos move to Google Photos Trash folder. Therefore, you can easily get back your deleted photos from your device's Google Photos trash folder.
Here's how to recover photos from trash on Android Google Photos app:
Step 1: On your device, launch the Google Photos app.
Step 2: At the bottom, click on "Library".
Step 3: Click on "Trash".

Step 4: Select the photos you want to get back and then click on "Restore". The pictures will be recovered to your device's Gallery app or your Google photos library.
The Bottom Line
Unfortunately, there is no Android recycle bin location. But, thanks to UltFone Android data recovery software, rescuing permanently deleted files is no trouble. The tool can help you recover photos, videos, documents, and more in no time and even if there is no backup.