iUnlocker Reviews: How Does iUnlocker Check IMEI and Remove iCloud? Is iUnlocker Legit?
When you buy a second-hand iPhone, it's quite possible that you might encounter an iCloud activation or network carrier lock on it. Either way, you won't be able to access the device and you'll have to first unlock it. To do this, you can use a professional iCloud removal tool such as iUnlocker. It's a widely popular IMEI checker and iCloud removal tool that's designed to help iOS users unlock their iDevices in different situations. You can use the software to remove iCloud activation lock as well as network carrier lock from your device.
But, is iUnlocker actually legit or is it just a fake tool that doesn't deliver its promises? In this guide, we are going to share a detailed iUnlocker review so that you can know if it's a suitable option to remove iCloud lock or not. So, without any further ado, let's get started.
Part 1: iUnlocker Review: Does iUnlocker Remove iCloud?
As we mentioned earlier, iUnlocker offers a wide variety of services. So, before understanding if it's a legit tool or not, let's first take a look at all of its services.
| Service | What Does It Do? | Price |
| --- | --- | --- |
| iCloud Remove | Remove iCloud lock from your iDevice | 109.99 USD |
| Check IMEI | Check your iPhone's details using its IMEI/Serial Number | 1.99 USD |
| Check in Blacklist | Check if your iPhone model is blacklisted in a specific country or not | 0.99 USD |
Does iUnlocker Really Work?
So, does iUnlocker work? As far as removing checking IMEI or blacklist devices is concerned, iUnlocker works completely fine. However, when it comes to removing iCloud lock, the success rate of the software is pretty low. In fact, there are dozens of reviews on platforms such as "Trustpilot" that claim that iUnlocker is not capable of removing the iCloud lock.
The truth is iUnlocker still has many limitations that contribute to its low success rate. For instance, if you want to remove the iCloud lock, you'll have to wait for 5-25 days, which is relatively long, especially if you want to use your device instantly. Similarly, some of its additional limitations include:
1. Low Success Rate
As compared to other tools in the market, iUnlocker has a relatively low success rate for removing iCloud lock. In fact, iUnlocker only works half of the time, which means there's a huge probability that your device may not get unlocked.
2. Long Duration
As we mentioned earlier, the waiting period to process an order at iUnlocker is too long. In general, it can take anywhere between 15-25 days to get your iPhone's iCloud activation lock removed. If you want instant access for your iPhone, iUnlocker might not be the right option.
3. Price
This is another major disadvantage of iUnlocker. It charges you $109.99 to remove the iCloud lock. As compared to other service providers, iUnlocker is definitely an expensive option.
4. Available in Limited Countries
It's worth noting that iUnlocker only provides its services in limited countries. If you want to unlock a device that's purchased from a different country, iUnlocker won't process your order at all. So, before you go ahead and pay $109.99, make sure to check if your country is listed in the supported list or not.
5. Lost Mode Not Supported
If you have enabled "Lost Mode" on your iPhone, iUnlocker won't process your order either. Lost Mode is a feature that allows iPhone users to lock their device and restrict others from accessing their personal information. However, this feature can also become a nightmare as iUnlocker doesn't support devices with "Lost Mode" enabled.
Part 2: Best Alternative to iUnlocker: UltFone Activation Unlocker
At this point, you already know that iUnlocker has several limitations. Not to mention, signing up for iUnlocker will be an expensive deal, especially when you don't even know if it'll work or not. Fortunately, there are more reliable tools to unlock the iCloud activation lock for your iPhone. We recommend using Ultfone Activation Unlocker. It's a dedicated iCloud unlocker that'll help you bypass iCloud activation lock and access your device without any hassle.
Unlike iUnlocker, Ultfone Activation Unlocker doesn't take several days to complete the process. You can plug your device to the PC and remove its iCloud activation lock instantly. Also, it's success rate is relatively higher, considering it supports all iPhone models and is also available in every country. Since the "terms and conditions" of Ultfone Activation Unlocker are quite straightforward, it'll remove the iCloud activation lock from your device for sure.
Here are a few key features of UltFone Activation Unlocker that make it the best alternative to iUnlocker.
Remove iCloud Activation Lock from iPhone/iPad/iPod
Set Up new iCloud account after bypassing the device
Supports all iOS versions, including the latest iOS 14
So, if you also want to remove the iCloud activation lock from your device, here's the step-by-step instructions for using UltFone Activation Unlocker.
Step 1: Download and install the UltFone Activation Unlocker on your PC. Once installed, launch the software and choose "Remove iCloud Activation Lock" to get started.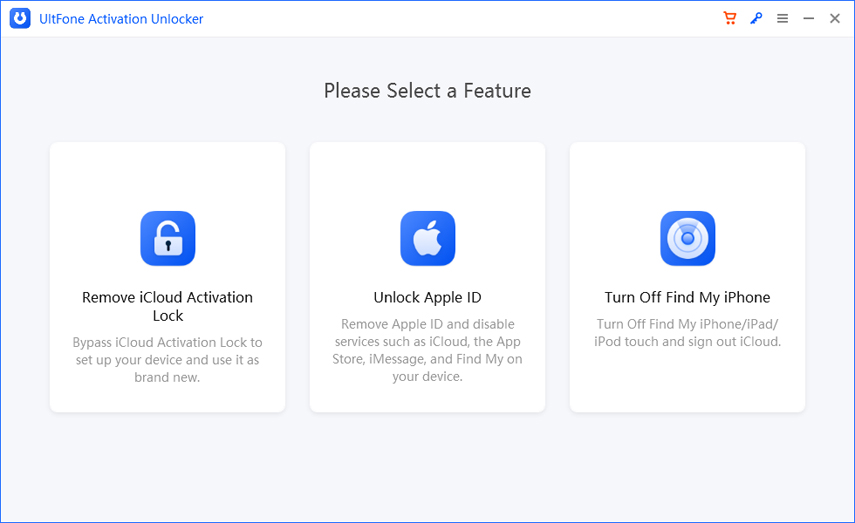 Step 2: Make sure to read the "T&C" carefully and then click "Next". Primarily the tool will jailbreak your device to remove the iCloud activation lock.
Step 3: Now, connect your iPhone to the PC using a lightning cable.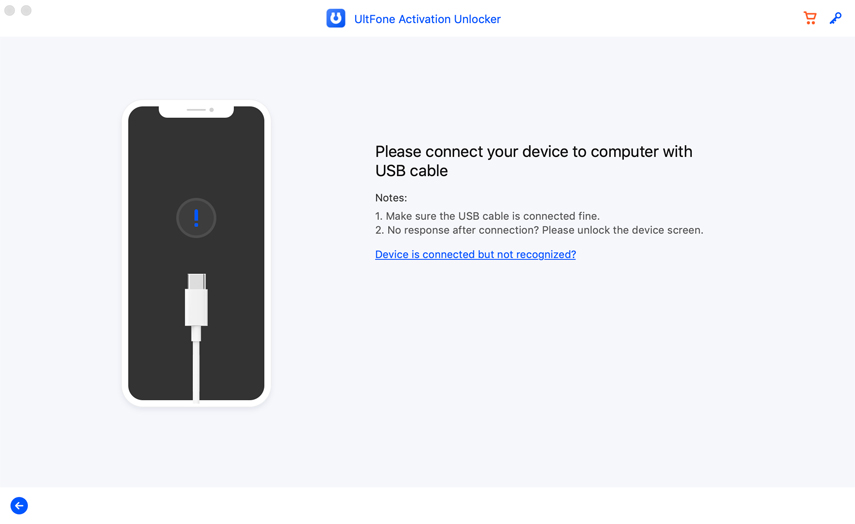 Step 4: Once the tool recognizes your device, it'll automatically start downloading the right jailbreak tool accordingly. Make sure to keep your device connected to the Internet throughout the process.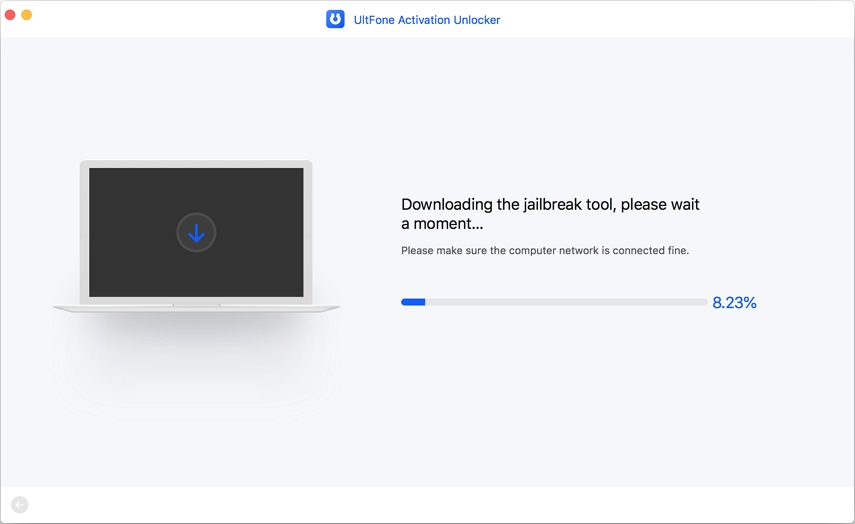 Step 5: After the tool is successfully downloaded, click "Start Jailbreak" to initiate the process.
Step 6: Now, follow the on-screen instructions to jailbreak your device and then click "Next".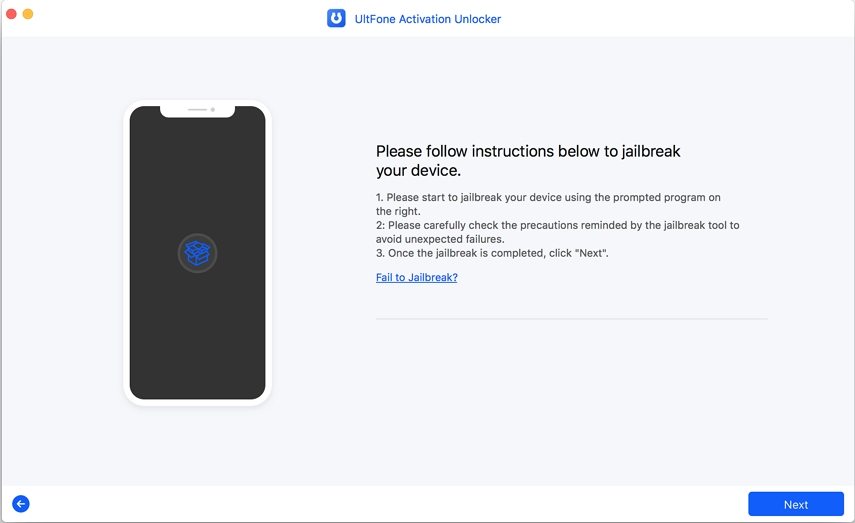 Step 7: Finally, confirm your device information on the next screen and tap "Start Remove".
Step 8: UltFone Activation Unlocker will start removing the "iCloud lock" from your device. Once the process completes, you'll see a confirmation message on your screen.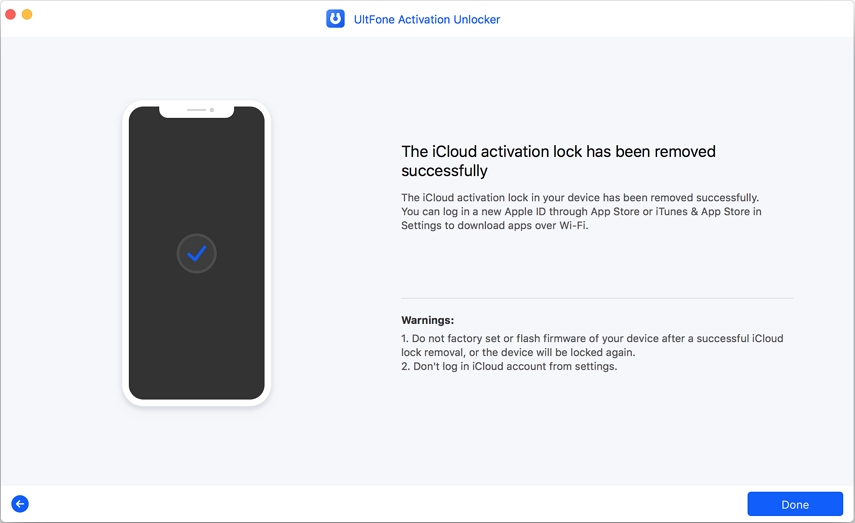 Final Words
That's it. Now you can power on the device without encountering the iCloud activation lock screen. Nevertheless, if you also find it hard and difficult to use iUnlocker or iUnlocker.net, give a try to UltFone Activation Unlocker, which can enable you to bypass iCloud lock quickly and safely.