How to Restore Mac Data from Time Machine Backup
Time Machine backups Mac hard drive and maintains a record of how your system looked on any given day, so you can easily put everything back the way it was by restoring Mac from Time Machine if your Mac crashes.
Time Machine restore is as simple as backup process. It can be used to restore Mac OS X 10.9 or macOS 10.12 Sierra, Mac OS X 10.10 Yosemite from Time Machine as well. The following guide tells you how to restore time machine backup specifically.
Part I: Restore a Single File or Folder from Backup
If you have mistakenly deleted a single file or folder and would like to restore them, the following tutorial could help you.
1. Choose Enter Time Machine from the Time Machine menu. And you will see the restore interface with all backups listed with chronological order.
2. You can use the timeline on the right side of the window to reach a certain point back in time. If you don't know when you have changed the file, you can let Time Machine to show you when the file and folder has last changed.
3. When you have indentified what files to be restored, you can select the file or folder and click "Restore" button. The file or folder will automatically be restored.
Part II: Restore the Entire Mac Operating System from Backup
When the Mac hard drive crashed and you need to restore Mac from Time Machine backup, please do the following:
1. Connect backup hard drive to Mac. Start up your Mac from the Recovery system (Command-R at startup) or Mac OS X v10.6 installation disc.
2. Then use the "Restore from Time Machine Backup" utility. Choose Restore from Time Machine Backup and click "Continue" until you see the Select a Backup Source window. Here, select the Time Machine drive and click "Continue".
3. In the Select a Destination window, choose your Mac's hard drive. Once the whole process got finished, you can use your Mac as normal.
Part III: Transfer a Time Machine Backup to a New Mac
Get a new Mac and would like to transfer old data to the new hard drive? Or want to transfer data from one Mac to another? In that case, you need to ask the help of Migration Assistant, which can easily restore Time machine and help you migrate data between Macs.
1. Go to Finder > Application > Utilities. And open Migration Assistant.
2. Here you will be asked about how to transfer your information. Click "From another Mac, PC, Time Machine backup, or other disk" and click "Continue" button to process with copying process.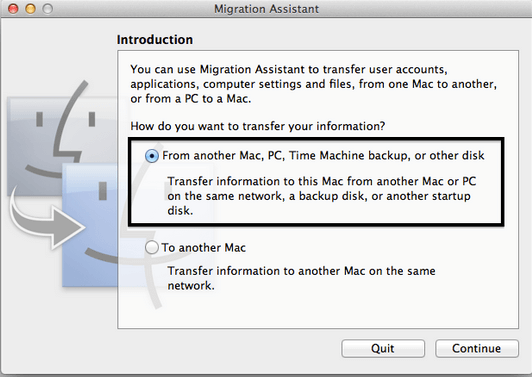 Note: If you don't have enough space on your disk for new backup, check the post How to Delete Old Time Machine Backup.
Additional Tips
:Having no Time Machine backup file or time machine backup fails, you can also rescue Mac data with
Mac data recovery software
. However, you are highly suggested to backup Mac at any time.