How to Recover Emptied Trash Mac
We've all been there. Losing an important office file or the assignment you made with hours of intense efforts. Until that very split-second after you clear your trash and remember an important file also was in there. It's gone forever, right? Not really.
Before you freak out and call for some computer geeks, you need to know there's a very good chance that the file you just lost might still be somewhere on the hard drive. Luckily, there are many software which can help you recover emptied trash Mac free. With the right tools, you can just simply recover the deleted files with just a few clicks of your mouse. Though what you do need to do is keep your computing as little as possible because the operating system has marked the space recently freed as free space on the hard drive and can be overwritten soon.
Part 1: Something You Should Know Before Recovering Emptied Trash
Mac's Trash Bin works the same way as the Windows Recycle bin – a transitory folder holding the deleted data and files. If you deleted a file by dragging it into the Trash bin or by pressing the delete button, it's residing in the Trash bin and pretty easy to undelete. Because the macOS doesn't directly delete the file immediately and you can find it in the Trash and press "Put Back" and you're done getting your file back. But if you emptied the Trash Bin then it's going to get a bit murky here. After emptying the trash bin, you realize you've deleted an important file by mistake then you can only using the thrid-party tool to recover deleted trash on Mac.
Part 2: The Best Way to Recover Emptied Trash on Mac - Any Data Recovery
UltFone Mac Data Recovery is an enterprise tool for recovering any kind of lost data from Mac drive. It is a powerful tool designed specially to recover from emptied trash, memory card or all types of external drives. The software can be of great relief if you accidentally delete important files, formatted the whole Mac hard drive or the disk got corrupted and is near to its slow death.
It is designed that even a novice can easily restore all his lost files with 3 simple steps. Capable of recovering any data i.e. photos, emails, PDF, documents, videos, etc. from a Mac hard drive with macOS 10.15 Catalina, macOS 10.14 (macOS Mojave), 10.13 (macOS High Sierra), 10.12 (macOS Sierra) or below.
How to Recover Deleted Files After Emptying the Trash on Mac
Now let us dive into the details and check how to recover Mac deleted files with this outstanding Mac data recovery software.
Step 1: Download and install Any Data Recovery on your Mac.  Under "Other location" dropdown menu select the "Trash" option and then press the Scan button at the bottom to start scanning for lost data.

Step 2: Once the scan is completed all the Mac lost files will be presented with folder names and files within a Tree View on the left side of the window. Choose the files you want to recover.

Step 4: A window will pop up asking for the location you want to save the restored files to. It is highly emphasized not to restore the deleted files on to the original partition because it can override the disk and make it difficult for the recovering software to do its work efficiently.

Now, all your deleted files of Mac Trash are restored successfully.
UltFone Mac Data Recovery is without a doubt an outstanding tool designed to make the recovery process straightforward and easy. Perfect for those who are facing the problem for the first time with a simple graphical interface with big icons and text for user understanding. The software can find and recover all types of files from all storage devices either internal or external with the facility of previewing before you recover the files.
Extra Tips: How to Restore Files from Trash on Mac
If you are just delete the file, didn't clean the trash then you can easily restore the file from trash. You only need to enter trash and find the files you just deleted and right click to restore it.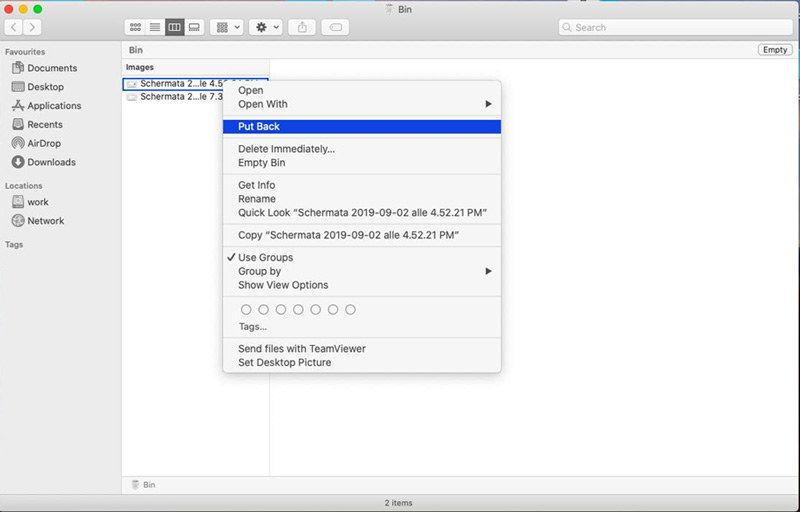 If you delete the photos or videos you can go to Photos &gt Recently Deleted &gt Recover to get it back in 30 days.
Conclusion
That's how easily you'll be able to recover deleted files from trash mac with the powerhouse tool. With the help of this software you'll be able to recover your lost files, photos, videos, music, PDF, and virtually any type of file you can have on your computer. Moreover, the majestic tool can be a handy tool anytime when you lose data on any of your internal hard drives, external drives i.e. USB flash drive, memory card, and all and any kind of storage media you can have. Backing up your computer is also critical in protecting your data for the long run. From the above-delineated procedure, you will be able to easily undo your empty trash on Mac.