How to Delete iTunes Backup Files on PC or Mac - Top 2 Easiest Ways
Want to Deleted Old iTunes Backup Files on Windows 8.1/8/7/XP/Mac?
"How do I erase iTunes backup files?"
Each time you sync or backup iPhone, iPad, iPod with iTunes, iTunes will generate a backup file on your computer. These backup files are important for you to recover deleted data, but on the other hand, they became very cumbersome because too many of them will make the computer out of storage space, sluggish, and slow. Here are 2 best and easiest ways to delete all iTunes backups (including iPhone backup, iPad backup and iPod backup). Generally, you need to completely remove iTunes backup files from Windows or Mac in the following situations:
You've got too many old iTunes backup files for iPhone, iPad, iPod, and you don't need them any longer.
You need to free up space by removing iTunes backup on PC/Mac. If you delete old iOS device backups from iTunes, clean up hard drive space by erasing all iPhone backup files, you reclaim lot of gigabytes of hard drive space.
The backup files got corrupted and you can't recover data from them.
To guarantee privacy, you need to permanently erase all iTunes backup from computer to prevent others' access.
How to Completely Delete iPhone, iPad, iPod Backup Files in iTunes on Windows/Mac - 2 Best Methods
The 2 ways below will help you to remove iTunes backup files (including the iTunes 12, iTunes 11.4/11.3). They are all applied to the backup files of all iOS 8.1, iOS 8, and iOS 7 devices, including:
iPhone 6, iPhone 6 Plus, iPhone 5S, iPhone 5C, iPhone 5, iPhone 4S, iPhone 4.
iPad Air 2, iPad Air, iPad mini 3, iPad mini 2, iPad mini, iPad 4, iPad 3, iPad 2.
iPod touch 5g, iPod touch 4g.
Deleting iTunes backup on Windows and on Mac is similar. Now let's get start to delete iTunes backup files on your PC on Windows 8.1, Windows 8, Windows 7, Windows XP, Windows Vista, or erase iTunes backup from Mac OS X.
Top 1. Use iTunes to Remove Backup Files Directly from Computer
Step 1. Open iTunes. Go to Preferences. Mac: Choose iTunes > Preferences. Windows: Choose Edit > Preferences.
Step 2. Click Devices (the iOS device doesn't need to be connected). iTunes will show you all the backup files.
Step 3. Select the backup you want to remove and click the "Delete Backup" button. After you confirm it, it will remove the backup file from your computer.
Top 2. Find iTunes Backup Location to Erase iTunes Backups from Computer Hard Drive
Step 1. You need to know where your iTunes backup files are stored. In fact, the backup folder where your backup data is stored depends on your computer's operating system. Here are the backup files' locations:
For Windows 8.1/8/7/Vista :
\Users\(username)\AppData\Roaming\Apple Computer\MobileSync\Backup\
Note: To quickly access the AppData folder, click Start. In the search bar, type %appdata%, then press Return.
For Mac OS X 10.10/10.9/10.8/10.7/10.6 :
~/Library/Application Support/MobileSync/Backup/
Note: The "~" represents your Home folder. If you don't see Library in your Home folder, hold Option and click the Go menu.
For Windows XP :
\Documents and Settings\(username)\Application Data\Apple Computer\MobileSync\Backup\
Note: To quickly access the Application Data folder, click Start, then choose Run. In the search bar, type %appdata%, then click OK.
Step 2. When you access the backup location, select the backup files you want to delete and right-click to bring out a window. Select the "Delete" option. Then the backup will be deleted.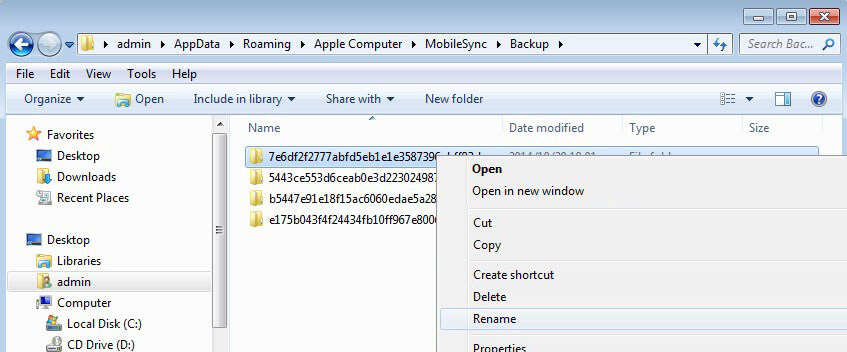 How to Get Back Deleted, Lost iTunes Backup?
In some cases, you may want to recover the deleted iTunes backups. Without the backup files, you can't restore iPhone, iPad, or iPod data from iTunes backup. If you want to find back the lost backups, refer to the article How to Recover Deleted iTunes Backup Files on Computer.