How to Keep iCloud Photos Safe? Top 10 Things You Should Do for iCloud Security
Is iCloud Safe? Is iCloud Photo Stream Safe?
No. It is not safe and iCloud photo stream is not safe. Selfie is always your own enjoyment, but these private photos stored in iCloud can be leaked and exploited maliciously. You should have freaked out by the nude celebrity photos leak issue. You never know when and where your iCloud photo stream pictures will be hacked. Therefore, if you don't want any of your private images leaking, the iCloud photos safe issue is the biggest concern to you at this moment - you should protect your iCloud data, including iPhone iCloud backup data, iPad iCloud files, and iPod iCloud contents.
We list the top 10 tips you should do for iCloud security. They can best avoid iCloud being hacked, keep iCloud safe, and protect iCloud photos (in fact protect all iCloud backup data, including Photo Stream pics, messages, contacts, notes, videos, and more).
10 Best Tips to Keep iCloud Photos Safe - Applied to iOS 10/9/8/7 iPhone, iPad, iPod touch
To avoid iCloud photo leak or hack, do as the top 10 tips show.
Top 1. Download iCloud Backup Photos to Computer for iCloud Security
Although iCloud backup files are encrypted with SSL, the "iCloud back doors" are a big threat. Therefore, you should move iCloud photos to your local computer with iPhone Data Recovery. This can guarantee all your pictures safe. iPhone Data Recovery works for all iCloud items, including iOS 8.1/8 data, and iOS 7/6 files for iPhone 6S, iPhone 6, iPhone 6 Plus, iPhone 5s, iPhone 5C, iPhone 5, iPhone 4S, and iPhone 4.
Free download iPhone Data Recovery on your PC, or iPhone Data Recovery for Mac on your Mac OS X. Then you can run this tool to log into iCloud account, download iCloud backup files and save the photos and other data on your computer.
This is the image shows you that you can transfer all iCloud photos from photo stream to local computer.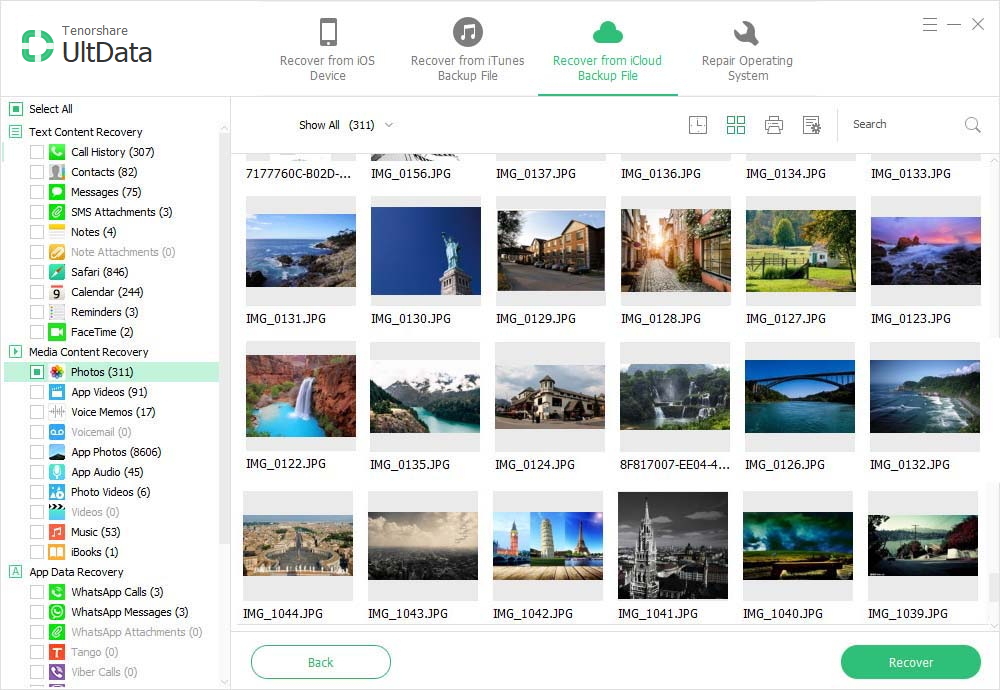 Top 2. Delete Photos from Your Photo Stream
Once you safely transfer all photos from iCloud to computer with iPhone Data Recovery, you should delete the photos from Photo Stream. It's not enough just to delete photos from iPhone/iPad/iPod camera's album. You must also remove images from Photo Stream. That's because when you take a photo on an iOS device, the photo will be save in both camera's album on the device and the Photo Stream on iCloud.
To delete photos from Photo Stream, access your iOS device, go to Photos > Albums > Photo Stream, select the images to be deleted and tap the Trash icon or click Delete.
Note: Keep in mind that Photo Stream saves images for 30 days, so you'd better remove the private images soon after they are taken.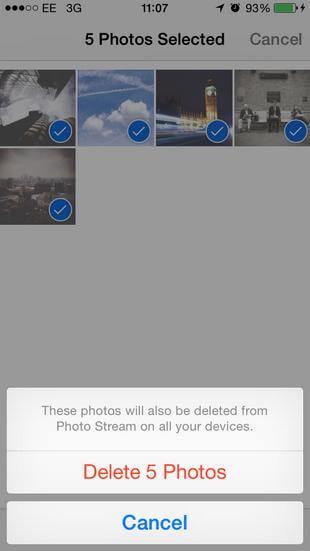 Top 3. Turn off Photo Stream
It's wise to disable Photo Stream. This can ensure iCloud photos safe, because it will not only prevent images from being uploaded in iCloud but also delete any photo saved within Photo Stream.
To turn off Photo Stream on iOS devices: Go to Settings > iCloud > Photos, then turn off My Photo Stream.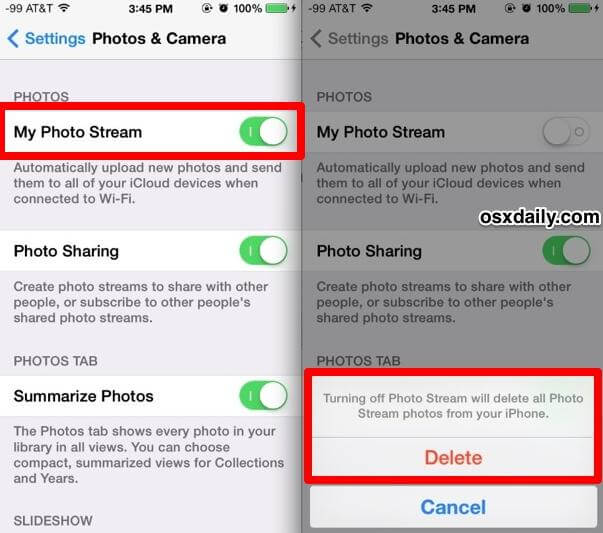 Top 4. Keep iCloud Turn off on Your iOS Device and Computer
Keeping iCloud disabled on iDevices can ensure the devices are not at all syncing with iCloud. This can stop putting data on iCloud.
To turn off iCloud, go to Settings > iCloud on your device, turn off any option that should not sync to the iCloud.
You can also delete the iCloud account (go to Settings > iCloud > Delete Account). This action will ensure iCloud will never back up any iOS files.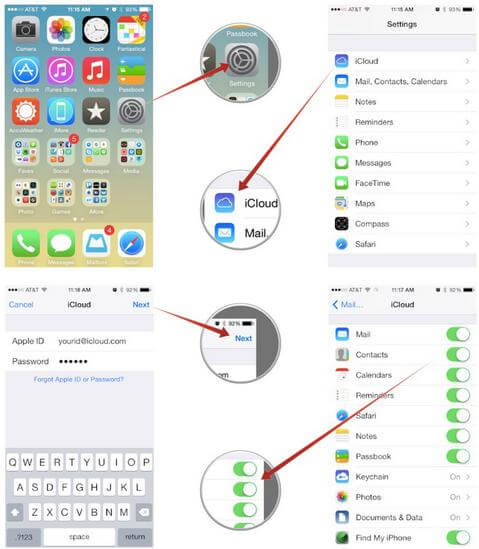 Top 5. Change iCloud Password to be More Secure
One of the iCloud security solutions is to make your iCloud password more secure. You'd better use a password that's easy for you to remember but difficult for someone else to guess. It's preferable to use long passwords that are a mix of numbers, symbols and capitalizations. The ideal passwords are at least 14 characters long, use terms that are not related, and replace certain letters with numbers or symbols.
You'd better change your password regularly and avoid reusing old passwords.
To change your iCloud password, access Manage Your Apple ID > Password and Security > Change Password.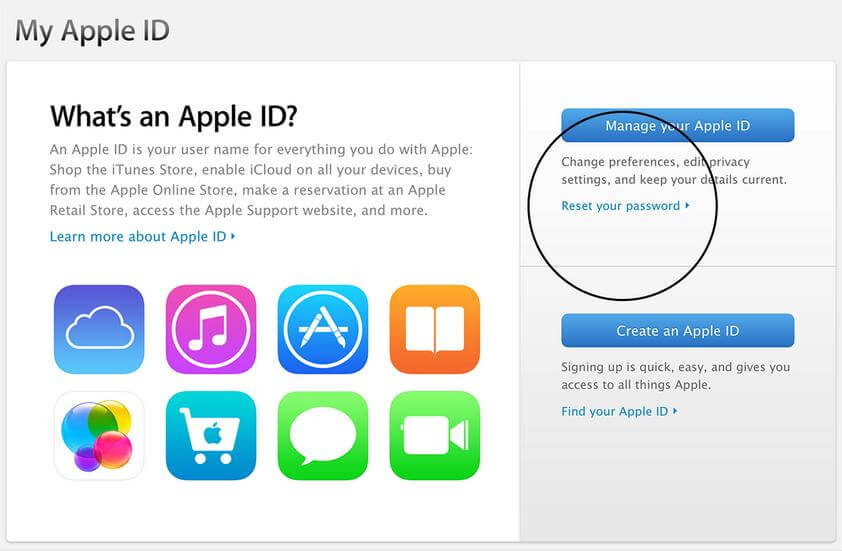 Top 6. Do not Use Apple ID Password with Other Online Accounts
You should avoid using your Apple ID password with other online accounts. Don't share your password with anyone, even family members. Never send your password or any provate account information over emails. If you suspect that someone knows your Apple iCloud username and password, change your account password immediately.
Top 7. Use Two-step Verification to Sign into iCloud
For extra security, you can implement Apple's double-login feature for iCloud. It may be easy for someone else to bypass one passcode but not two. The two-step verification requires you to put in the passcode, and then Apple will send a code to another Apple device. You can sign into iCloud and receive a new passcode.
To set up two-step verification, access Manage your Apple ID > Password and Security > Two-Step Verification. Do as the directions show you to complete the process.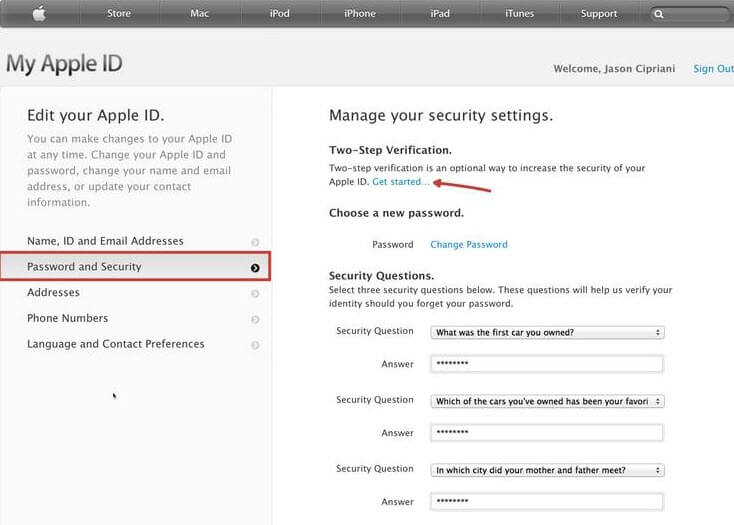 Top 8. Turn off Find My iPhone
This iCloud security issue is to believed to be within the Find My iPhone feature, so it's a good option to turn off Find My iPhone.
To turn off Find My iPhone on your iDevice, go to Settings > iCloud > Turn off Find My iPhone.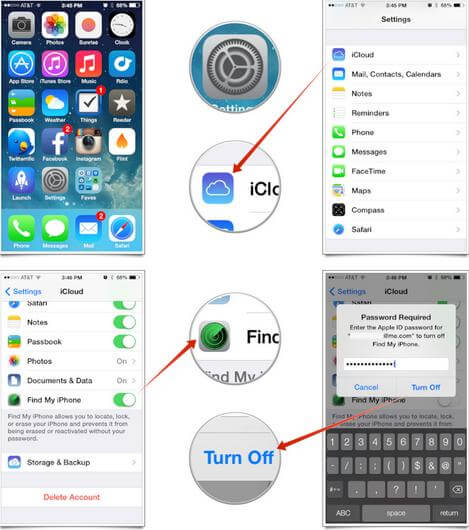 Top 9. Use & Change Your Security Questions
The security questions can provide you with a secondary metod to identify yourself online or when contacting Apple Support. Security questions are designed to be memorable to you but hard for someone else to guess. You can visit My Apple ID to set them up. And you can change your security questions.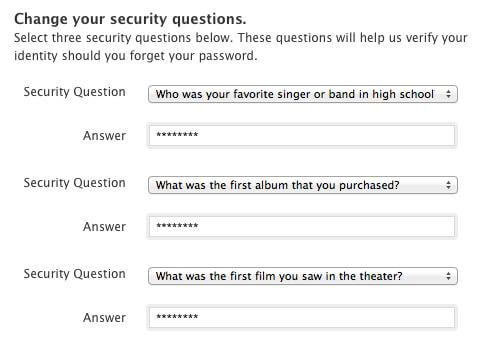 Top 10. Always Sign out Your Account When Using a Public Computer
When using a public computer, you'd always sign out when your session is complete to prevent other people from accessing your account to steal your personal data, including photos.
With all this tips, you can best protect your iCloud photos, text message, contacts, notes, call history and other important data. You can keep iCloud safe. Share this post with anyone you know.