Tips and Tricks for Samsung Galaxy Note 2 Data Recovery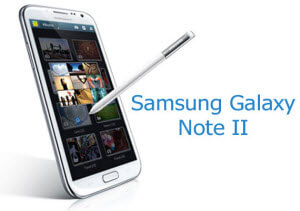 Who can help me to recover contacts from my newly-bought Samsung Galaxy Note II?
It has been a few months since the release of Samsung Galaxy Note 2 release. You must have enjoyed the large, high-definition screen, intuitive and precise S Pen, blazing-fast quad-core processor, 4G capability, long-life battery and other cool features of the Galaxy note. However, then one day you suddenly discovered that some important files just disappeared from your phone. Maybe you lost them because of accidently deletion, or whatever. Now all you care is how you could perform Samsung Note 2 recovery.
Why Deleted or Lost Files on Samsung Note 2 are Recoverable?
Before we start to find ways for Samsung Note 2 data recovery, let's first get some knowledge about data recovery. When a file or other data is deleted, it is NOT really deleted. It is simply removed from the file directory in the folder. Even though you can no longer see the file in the folder, its contents still exist 100% intact at this point. As long as the file remains there, you can easily perform Samsung Galaxy Note 2 recovery.
How to Recover Deleted Photos, Contacts from Samsung Galaxy Note 2?
Since we've known that our lost data on Samsung Galaxy Note 2 is recoverable, how could we do the recovery? All that we need is your Galaxy Note 2, the USB cable and, most importantly, third-party data recovery software for Samsung Galaxy Note 2. Here we choose UltFone Android Data Recovery, a user-friendly tool that served many people in the data recovery process. Let's get a look at the tutorial for this tool, and see how to recover deleted photos from Samsung Galaxy Note 2(including Samsung Galaxy Note 2 N7100, Samsung Galaxy Note 2 N7105 and more). It also can recover contacts, messages, call hisotry and videos from Samsung Galaxy Note 2.
Step1. Connect your Samsung Note 2 to PC. And then enable USB debugging and turn on USB storage by following the steps on the software screen. And then click "Next".
Step2. Click "Allow" on Galaxy Note II to allow the program super user authorization. Then click "Start" on the software screen to scan.
Step3. When all files are displayed, you are allowed to preview and select the ones you need to recover.
Step4. At last, you need to specify a path and save the recovered pictures to your PC. In addition, the above steps could also help you recover contacts from Samsung Galaxy Note 2 N7100.
How to Prevent Data Loss from Samsung Galaxy Note 2 and Other Phones
Here I'd like to share 2 ways of data prevention which I deem most importantly and effective.
Back up your data regularly: The best way to prevent data loss from your phone is to back up your files regularly. It is highly recommended that you make a copy of all files on your Samsung Galaxy Note 2, especially sensitive and important data, and store these files in a safe place.
Beware of email attachments: Even if you're certain they don't contain viruses, email attachments can cause you to lose data. Think about it: if you receive a document with the same name as one on your drive, and your email software is set to save attachments in the same location, you run the risk of overwriting the file that's already there. This often happens when you're collaborating on a document and send it via email.