Complete HTC Data Recovery Solutions
Accidental data loss is prevalent is smartphones. One small mistake and the users risk their device data. Whether it is pictures, music files, videos, or documents, every single bit of data stored on the phone is crucial. So, in case you, unfortunately, end up deleting it, and now you are looking for an HTC data recovery tool, then we can help you.
In the guide, we will discover the most reliable HTC One data recovery software and some other ways to recover lost data. Let's begin.
The Best HTC Data Recovery Solutions without Backup
If you wish to find out how to recover deleted data from HTC phone or any other Android phone, use UltFone Android Data Recovery. It is one of the most trusted data recovery tools available. As long as you have this software, you can always get back the lost HTC data without any hassle.
Here are the key features of the software that often comes in handy is troublesome situations.
Recovery of deleted photos and WhatsApp messages without rooting the device
Restore data in original quality to ensure you don't have to compromise
Get back various types of data such as contacts, messages, music, and other files
Support available for over 7000 Android phones and tablets with the latest OS
We often recommend using UltFone Android Data Recovery to offer the best to Android users.
Steps to Recover Deleted Data from HTC Phone with UltFone Android Data Recovery
Get your hands on the software and use the guide below for HTC data recovery. The steps are easy to follow.
Step 1 Run UltFone and connect your Android phone with it. From the home interface, you'll see three functions. Here we take "Recover Lost Photos" as an example to show you how to restore lost photos on HTC without root.

Step 2 Now, connect your HTC phone to computer via USB cable. If you don't turn on USB debugging, just follow the onscreen instructions to enable USB debugging on your device.

Step 3 Once your device is connected successfully, click Start button to start scanning photos on the device. After scanning is completed, all photos that are found are displayed for preview.

Step 4 Choose the photos you want and click Recover button. Your lost photos on HTC phone are restored to computer successfully.
The best thing about UltFone is that it allows the selective recovery of data. It means you can select as many files as you want. Later on, you can transfer the data to your device easily.
How to Recover Lost Photos from HTC Phone using HTC Backup?
In case you are wondering if there is a way to get your lost data back other than using HTC data recovery software. Fortunately, yes, if you had backup of your device data, then recovery can be made without a hitch. We all know that backing up device data is a smart move, and yet, not everyone does this.
As HTC backup is accessible by Google account, you can easily follow the steps to get photos, videos, contacts, etc. back after accidental deletion.
Open Settings > System > Backup & Reset. Click on the Backup option, and you will see the "Restore from backup" on the screen.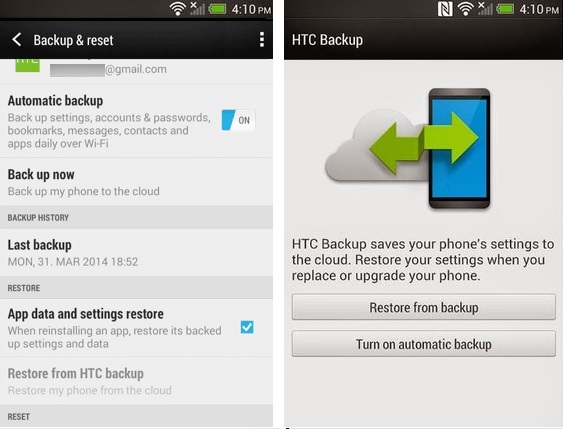 Tap on the option, and the restore process will start. Now, the only thing you have to do is to wait for the process to finish. Remember one thing, though; the restore will overwrite the existing data on your HTC phone entirely. That's it is often advised to perform backup as frequently as possible to save your precious data from oblivion.
How to Restore Deleted Contacts on HTC Phone?
No one can deny that contacts stored on the phone are one of the most important things. So, when it comes to HTC One M8 data recovery, we need a tool that can help us retrieve the contacts as well. Luckily, UltFone Android data recovery has this feature. And there is one other way to restore the lost contacts but only if you've backed up contacts on cloud or with Google account.
As the contacts in Android phones can be easily synced with Google account, you can use the following steps for retrieval.
1. Open link- https://contacts.google.com/ and make sure that you are logged into the same Google account as of your phone. Remember, you can only restore the deleted contacts within 30 days.

2. Under the Settings icon, you will see the Undo Changes option. Confirm it and then tap on Accounts.

3. Open Gmail > More and Restore Contacts option will appear on the panel. Click on it to recover contacts on your HTC phone.
The process will only take a minute or so. And what's even more amazing is that this method will be useful even when your device is lost or damaged beyond repair.
HTC Data Recovery FAQs
Q1: How to recover data from broken/damaged HTC phone?
Some users might think that HTC data recovery from a broken screen or damaged phone won't be possible. But even if the screen is broken, the data is still accessible, and you can retrieve it. UltFone Android data recovery is able to help you recover data from broken htc phone as long as the USB debugging is turned on.
Another way is to use the backup made before the phone was damaged. The backup will be available even when the device is broken. It will be wiser if you store the backup on Google Drive, computer, external card, etc.
Q2: How to retrieve data from dead HTC phone?
Now, we know how to recover data from broken HTC phones, but what if the phone is dead? Well, no worries, UltFone Android data recovery supports to recover data from head HTC phone if the USB debugging is turned on in your device. The steps are:
1. Connect your dead HTC phone to computer via USB cable.
2. Select a feature and click Start to scan data.
3. Preview and recover data to computer.
Q3: Do I need to root my HTC phone to recover photos?
If you are wondering that you need to root your phone to use the HTC Android Data Recovery Software, then you are mistaken. UltFone Android data recovery is a tool that can recover deleted photos and WhatsApp data no root.
Wrap It Up
Hopefully, now you know how to retrieve data from HTC phones using different methods. So, instead of freaking out, use UltFone Android Data Recovery and get your precious data back. And don't forget; backup your device as frequently as possible.