How to Quickly Troubleshoot hal.dll Missing
The hardware abstraction layer (Hal.dll) file enables your operating system to recognize and install hardware devices. If the hal.dll file is corrupt or missing, you'll notice error messages. There are few different ways that the Hal.dll error may present itself, with the first listing being the most common:
"Windows could not start because the following file is missing or corrupt:
\system32\hal.dll.
Please re-install a copy of the above file."
"\System32\Hal.dll missing or corrupt:
Please re-install a copy of the above file."
"Cannot find \Windows\System32\hal.dll"
"Cannot find hal.dll"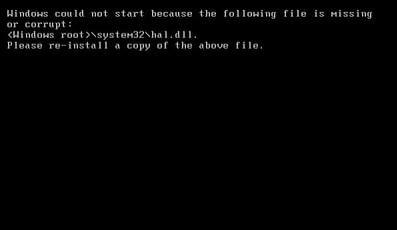 Part I: Causes of Ha.dll Missing or Ha.dll Corrupt
Ha.dll missing error in Windows Vista, Windows 7, Windows 8, Windows 10 caused by different issues than in the precious versions of Windows, like Windows XP, 2000, NT, and etc.
For Windows XP and previous versions of Windows, Causes of the "missing or corrupt hal.dll" error include: a damaged hal.dll DLL file, a hal.dll file that has been deleted or moved from its intended location, a damaged or missing boot.ini file, or possibly a physically damaged hard drive.
For Windows 10, 8, 7, Vista, hal.dll DLL file has been corrupted or deleted might be the root cause of the hal.dll error. A damaged hard drive or an issue with the master boot code is blame to missing Hal.dll, as well.
Part II: How to Repair hal.dll when Ha.dll Missing or Ha.dll corrupt Occurs?
Sometimes, Ha.dll missing is just a fluke. You can restart your computer. If it still appears such an error, check the boot sequence in BIOS. The boot order first lists a hard drive other than the one with your usually-used copy of Windows installed on it, which might be the problem. So change the first boot device to the main hard drive.
If Ha.dll missing didn't fix, you need to switch to another effective method to fix this issue as soon as possible - utilizing a third-party program. You have a very good chance you can get out of this situation quickly and easily. That's Fix Genius. Fix Genius is a smart system booting utility that provides you a handful of tools to help you fix all the computer booting problems, of course including Ha.dll missing, Ha.dll corrupt, repair crashed, corrupted Windows system, rescue lost files and data, and etc. This program works on all versions of Windows: Windows XP, Windows Vista, Windows 7 and Windows 8.
Get Fix Genius here. There is no free trial version for this software. After purchasing it, you will get an Email with a license and a download link. Install it on a good-working computer. Then follow the steps below to fix either Ha.dll missing or Ha.dll corrupt within 3 steps:
Step 1: Create a Boot Disk
Prepare a blank or writable CD or USB and insert it to a workable computer. Launch Fix Genius and you will get an interface like below. This software will check your CD or USB drive automatically. If not, specify it manually. Click the big yellow "Burn" button to start burning a bootable CD.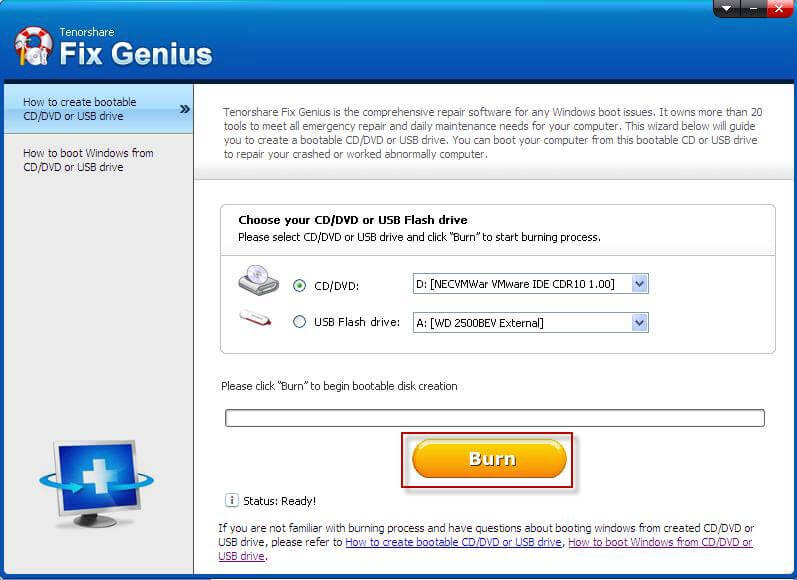 Step 2: Boot Unbootable Computer from CD/USB
Now turn to the computer which displays Ha.dll missing. Insert the CD/USB drive into the computer and start it. When the system begins loading, immediately press F12. Then you'll get into the Boot Device Menu. Choose "Onboard or USB CD-ROM Drive" under it. Press F10 to save the settings, and your computer will auto-restart and login into the system which is burned on the bootable CD.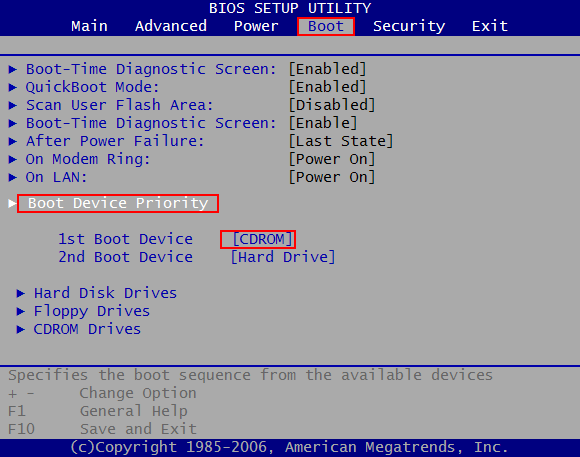 Step 3: Fix Ha.dll Missing
When you load to the Win PE system successfully, you will see an icon of "Fix Genius"on the desktop. Double click to launch it. Go to "Windows Rescue"and select "Boot File Recovery". Follow the wizard to finish the steps. Restart your computer to check whether the issue is fixed. If not, repeat the steps above and select "MBR Recovery"to fix the possible errors in MBR.
Now you have successfully repaired missing or corrupt hal.dll. It is easier than you thought.