How to Jailbreak iOS 10 with Pangu
iOS 10 is a popular operating system that comes with all iDevices. Some iPhone users, particularly those who aren't satisfied with the offerings that come with iOS, would love to take things a step higher and therefore resort to jailbreaking their devices as a means to tinkering and experimenting. Pangu iOS 10 jailbreak tool is one such tool that allows you to "open up" your iPhone to a world of vast opportunities. This article details various methods of how to jailbreak iOS 10 using Pangu 10 download.
Part 1: How to Download Pangu Jailbreak for iOS 10
Method 1: Using Safari Browser
The main advantage of using this method is that you don't need to use a Mac or PC to install it. All you need is stable internet connection.
Step 1: With iOS 10 running, launch Safari by tapping on the icon.
Step 2: Visit: http://www.downloadpangu.org/, scroll to the bottom of the page and tap on the upload icon on iOS. (It's a square with an arrow pointing up.)
Step 3: Tap the "Add to Home Screen" option in the interface that appears next.
Step 4: Change the name of the app to Pangu and tap "Add".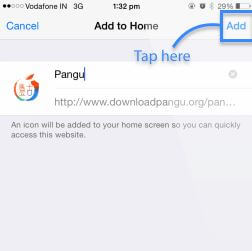 Step 5: You will have successfully installed Pangu app on your iOS 10 device. Tap the app to view and install the latest updates from the Pangu jailbreak team.
Method 2: Advanced Configuration Profile
Step 1: Visit: https://www.downloadpangu.org/wp-content/uploads/pangu.mobileconfig through Safari browser. This allows you to directly install Pangu to your iOS 10 device by allowing the download of configuration profile.
Step 2: The Settings app will open and Under Install Profile tap the "Install" button located on the top right corner of the interface.
Step 3: Safari will be launched after you key in your passcode.
Step 4: Tap "Install Pangu" button.
Step 5: Confirm by tapping "Install". Settings app will be launched.
Step 6: Tap Install > Next > Install then select "Done" to finalize the installation process.
Part 2: How to Jailbreak iOS 10 iPhone or iPad using Pangu Jailbreak
Before jailbreaking your device, back it up using iTunes and enable airplane mode. Follow the procedure below.
Step 1: Download Pangu jailbreak on your computer.
Step 2: Run and launch it and connect your iPhone or iPad.
Step 3: Click the "Start" button then the "Already Back up" button.
Step 4: Follow the onscreen instruction to operate your device and wait for the completion of the jailbreak process.
Conclusion
Performing iOS10 jailbreak Pangu may come with its fair share of issues, like iPhones get stuck on Apple logo during or after a jailbreak. That's where Tenorshare UltFone iOS System Repair (ReiBoot) comes in. It is a professional iOS system repair tool that fixes all kinds of iOS stuck such as iPhone stuck at Recovery Mode or Apple logo, reboot loop, etc. easily and safely.