How to Stop iOS 16/15 Update Notifications on iPhone, iPad
Whenever Apple releases an update of iOS, all iOS devices that are eligible will receive update notifications automatically. If you just want to keep iOS 14 on iPhone as long as possible, and are fed up with nagging iOS 16/15 update notifications, read on and find out how to disable iOS 16/15 update reminders and prevent your iPhone trying to download update automatically.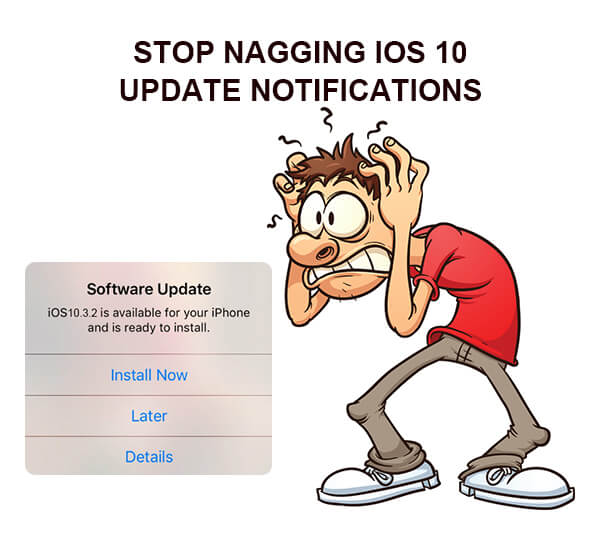 Defer the iOS 16/15 Update for 24 Hours
In the pop-up Software Update window, you can click "Install Now" to apply the update, or you can click "Later" and then choose "Reminder Me Later" to ignore the update. This is a way to temporarily disable iOS update reminder. If you take this route, you have to press Later and Remind Me Later repeatedly in every 24 hours.
Tip: Whenever you start installing an iOS 16/15 update, we suggest you back up crucial data on your iPhone/iPad, as many users are having iOS 16/15 update problems.
Steps to Turn Off Automatic Updates in iOS 16/15
The automatic updates are enabled by default, so you'll need to turn them off. It is worth mentioning that this won't help with the current update, but it will prevent future iOS update notifications. So if you do not want to receive iOS 16/15 update notifications in future, follow the steps below to turn automatic updates off on iPhone, iPad.
1. Tap Settings on your iDevice.
2. Tap iTunes & App Store
3. Move the toggle to Off position in Updates.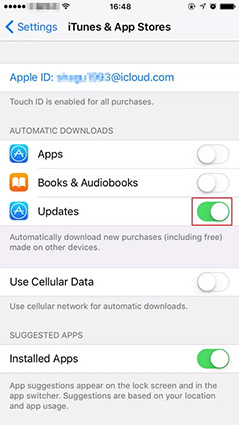 These are the steps to prevent iOS from downloading updates in future. How to deal with the update that you already downloaded? You can manually delete the downloaded update
How to Delete the Downloaded Update File
You can follow the steps below to delete an iOS update file that has already downloaded on iPhone/iPad.
1. Tap Settings.
2. Tap General.
3. Tap Storage & iCloud Usage.
4. Tap "Manage Storage" under STORAGE section.
5. Locate iOS software update.
6. Tap "Delete Update" and confirm that you want to delete the update.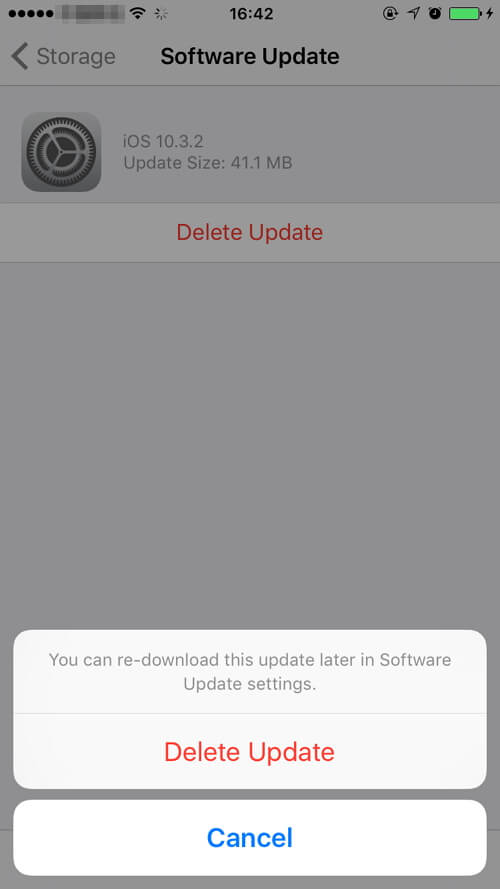 How to Cancel iOS Update In Progress
If you accidently clicked update on your iPhone or iPad, it is possible to cancel an update that is still in progress before the download is complete.
Go to Settings > General > Software update, you can check whether the latest version is still downloading. If it is the case, back to Home screen, and tap on Settings > General > Storage & iCloud Usage > tap on "Manage Storage" under STORAGE section, now locate the latest iOS version currently being downloaded, and tap on Delete Update. This will stop iOS 16/15 download before it completes.
Turning off Automatic Updates and deleting the latest update on iPhone will prevent you from getting nagging iOS 10 update message in the future. Some users report that iOS re-downloads the update when the iPhone is connected to Wi-Fi. If so, you can delete the update again.
By the way, if you hope to fix stuck problems durging iOS update, UltFone iOS System Repair (ReiBoot) is your better option.