UltFone Activation Unlocker is professionally designed to remove iCloud activation lock without password on iPhone/iPad/iPod touch. If you forgot your Apple ID account or password, or you purchased a second-hand iPhone with iCloud locked, this program aims to help you solve these problems.
You can download the program free to a Mac computer. Here is a step by step guide to illustrate how to bypass iCloud activation lock.
Read before using:
After removing activation lock with UltFone Activation Unlocker, the iPhone/iPad/iPod touch will be jailbroken. You can access the device for all functions except for the function of phone call, cellular and iCloud of your new Apple ID.
Your device will be iCloud locked again if you factory reset your device after unlock.
Step 1. Launch UltFone Activation Unlocker
After installation, launch this program onto your computer. There are two notes that you need to pay attention to before using. Your device will be jailbroken and please connect only the device that you need to bypass iCloud lock to computer when you use this program. Click Start to proceed.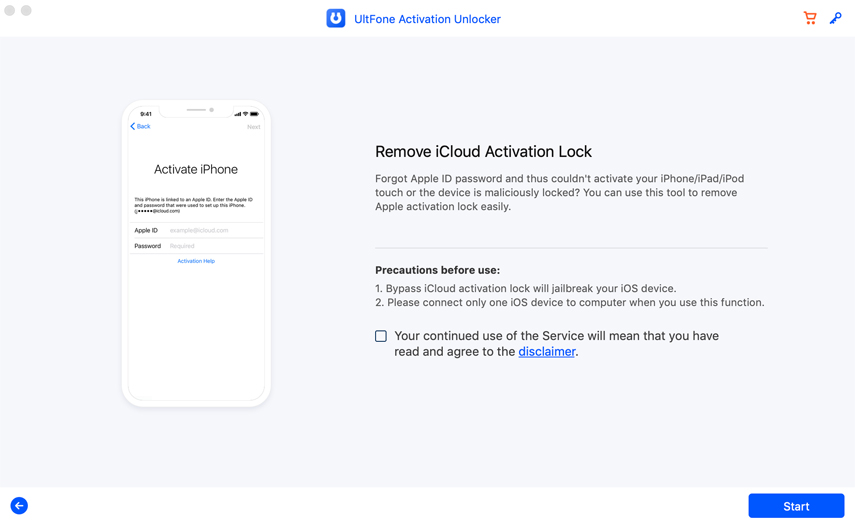 After you click the Start button, please read the agreement that prompts and click Next if you agree with the agreement.
Step 2. Connect iDevice to Computer
Please connect your device that is iCloud locked to computer with original USB cable.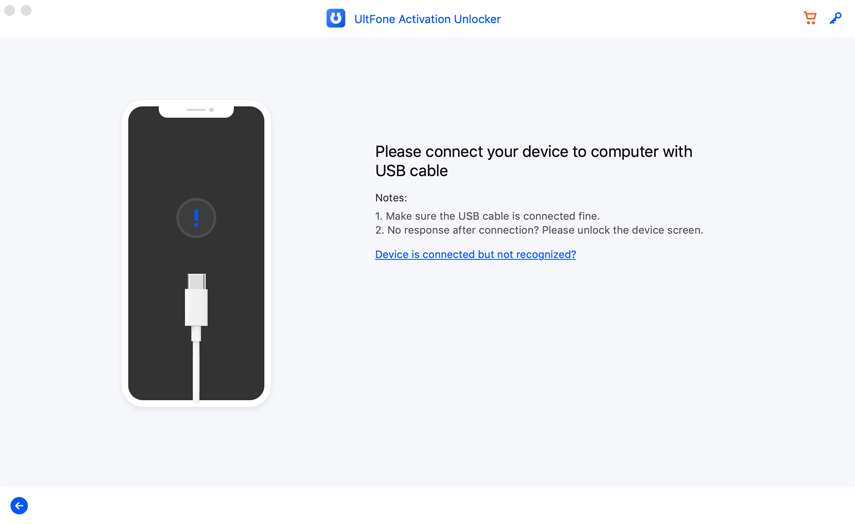 Step 3. Download Jailbreak Tool
Once your device is recognized after you connecting to computer, UltFone Activation Unlocker will start downloading the jailbreak tool. Please keep device connected and ensure that your computer has good network.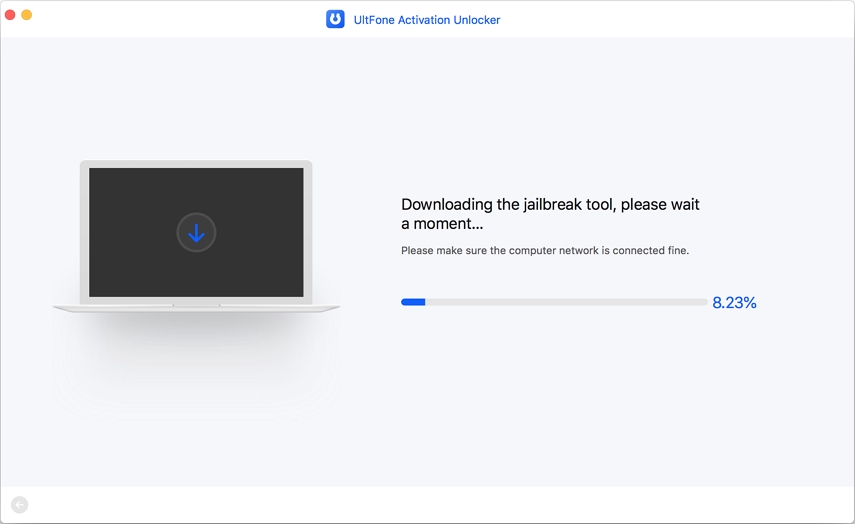 Step 4. Start Jailbreak
When the jailbreak tool is downloaded successfully, you can click Start Jailbreak button to start jailbreaking your device. Please follow the onscreen instructions to jailbreak your device.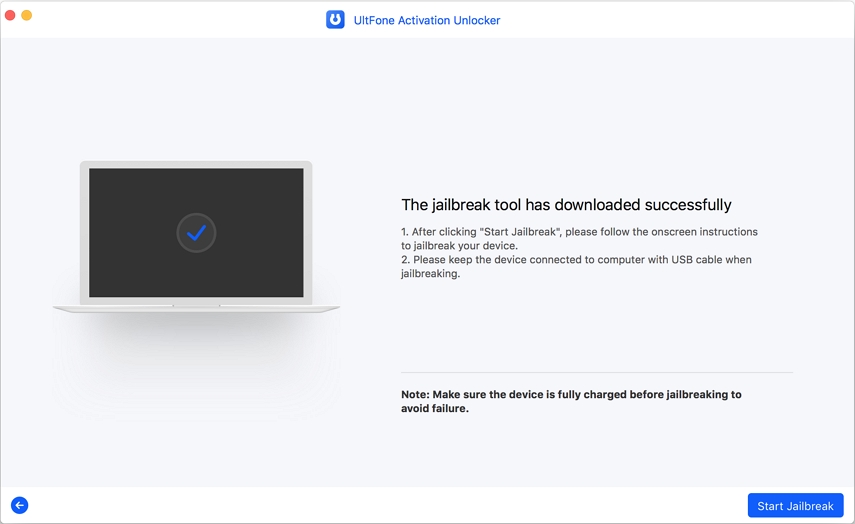 When you jailbreak your device, please follow the instructions that you can see on the left side of the program interface. It is worth mentioning that you should read the precautions reminded by the jailbreak tool carefully to avoid unexpected failure.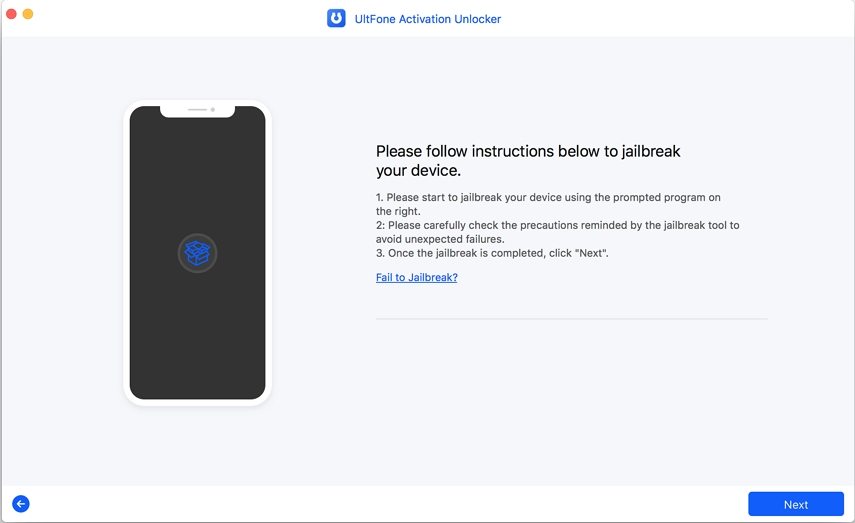 Once the jailbreak process complete, click the Next button.
Now, in the next screen, the program will display the device info, please confirm and click Start Remove button to start removing the iCloud activation lock.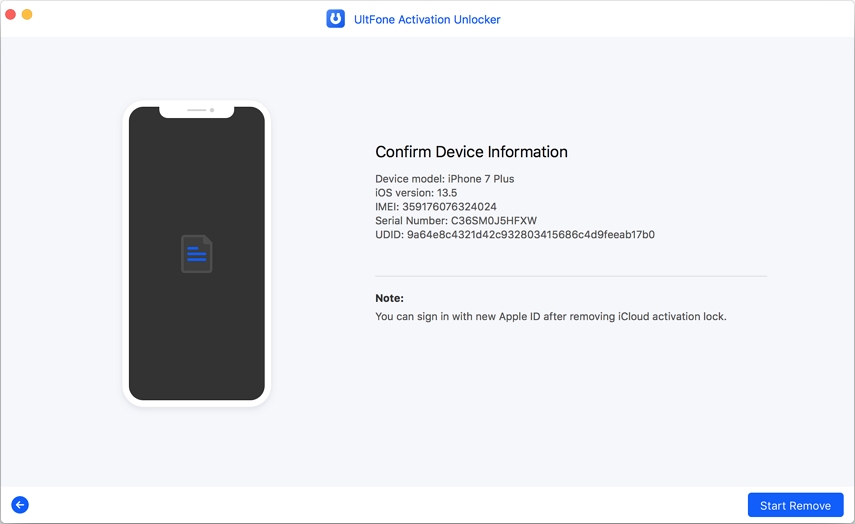 Step 5. Removing iCloud Activation Lock
The process to remove iCloud activation lock won't take much time. Please don't use your device during the removal process or disconnect it from computer.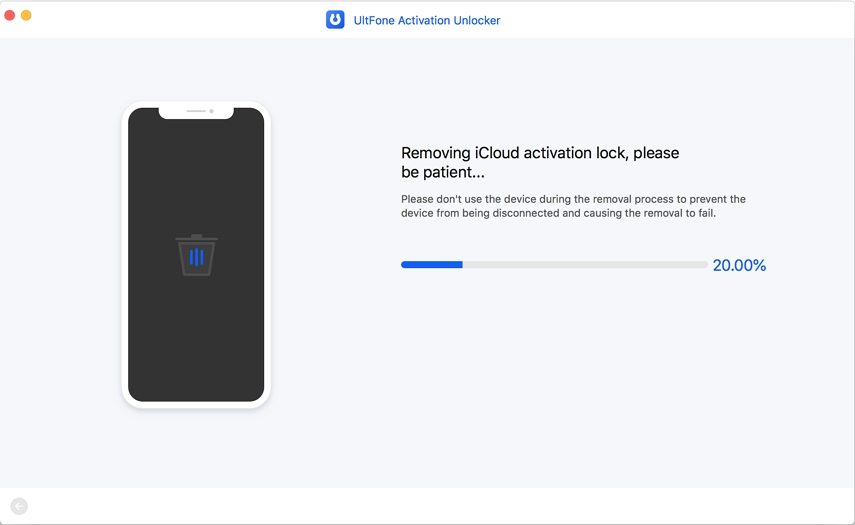 Step 6. Remove Successfully
After the iCloud activation lock has been removed successfully, you can log in to a new Apple ID through App Store or iTunes&App Store in Settings to download apps over Wi-Fi.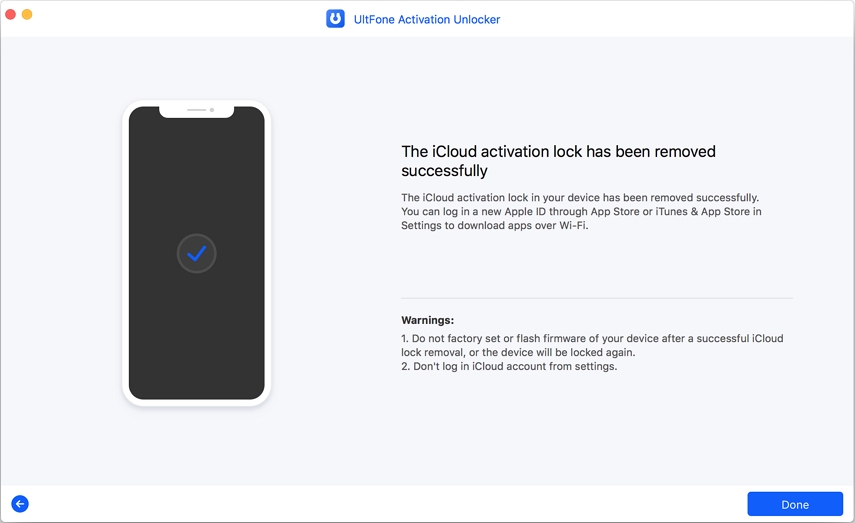 Important Notes:
Don't factory reset or flash firmware of your device after bypassing the iCloud activation lock, or the device will be locked again.
Don't log in to iCloud account from Settings.