How to Permanently Clear Data from USB Drive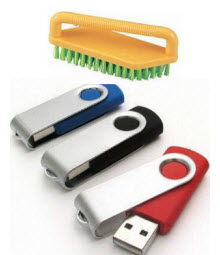 After deleting files on your USB Drive, when you open it up on your computer, it shows there is nothing in it. But when you look at the information on the disk, it says there is no free memory and will not allow you to add new files. Generally speaking, the easiest solution to this problem is to clear USB (format the drive).
USB drive is the easy to carry device for you to transfer information from one computer to another. USB drive acts like hard drives. You can connect USB drive to computer, right click and select "Format". Then select file system to begin erase. However, if there is private information in the USB drive and you fare somebody else will peep them, you had better use third party USB clear program for simple format or manually delete files doesn't mean wipe USB permanently. Those files can be recoverable with third party data recovery software.
Data Wipe is the excellent USB memory clean software. It allows users to completely erase data from USB drive. When data is wiped, the sectors of the USB drive where files and folders were stored are rewritten with zeroes. And the data can't be recovered contrast to ordinary deletion.
How to Empty USB Drive with Data Wipe?
Step 1. Install USB Data Wipe Program in the Windows PC
Download Data Wipe and install it on the Windows computer. This program can be compatible with all Windows platform including Windows8, 7, XP, Vista, 2003, etc.
Step 2. Connect USB drive to PC
Connect USB drive to PC with Data Wipe installed. Check whether you can see a removable media in "My computer". Only is detected by PC can you delete files in it absolutely.
Step 3. Select Data Wipe Modes and Import Data to Erase
You can erase data in USB drive all at one time or you can choose the specific files to delete them. To delete data in USB drive at once time, please choose "Wipe Partition" mode, in the next window, highlight the USB drive and click "Next" to begin erasing.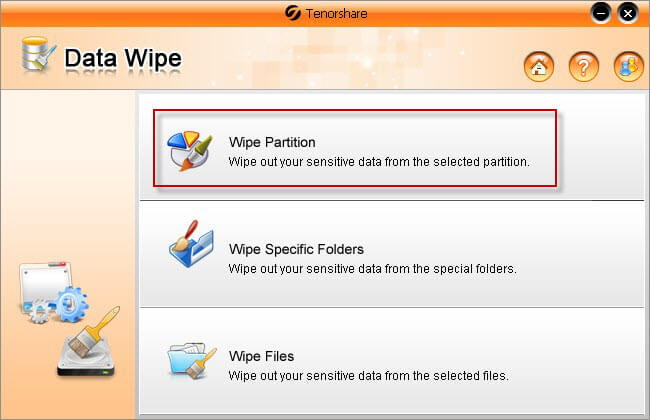 Step 4. Complete Data Erase and Keep a Record
The whole process of clearing data will take few minutes. After that, you can click "Save As" to preserve a record about which files and folders were deleted or just click "Close" to end up the operation.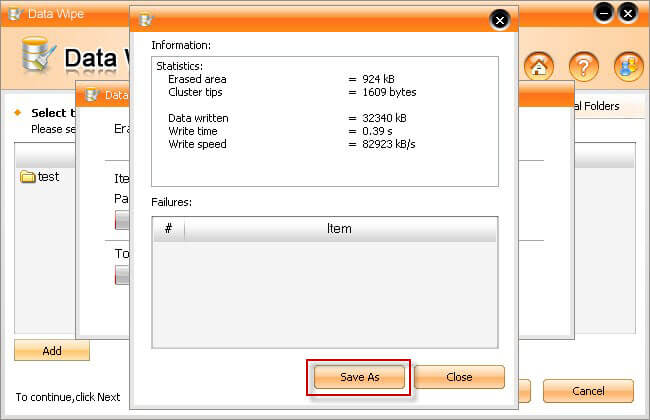 Tips: Besides USB Drive, you can also clear flash drive, pen drive, ZIP drive with the powerful Data Wipe program.