Fast Approach to Fix ntfs.sys is Missing Error
You are allowed to convert your hard disk from the FAT 32 file system to the NTFS file system. However, after the computer completes the conversion and you reboot Windows XP, you may receive an error message similar to the following error message: Windows could not start because the following file is missing or corrupt: System32\Drivers\Ntfs.sys. Ntfs.sys is missing error also occurs if a disk defragmentation process fails to complete. It can also be a symptom of hard disk failure.
If the NTFS.sys error is not a result of drive failure, there are several possible ways to resolve the issue. Of course, you can use Recovery Console to replace the missing or corrupted ntfs,sys file. However, repairing missing ntfs.sys with Recovery Console is often difficult and involves memorizing numerous -- and often very long -- DOS commands.
Alternatively, you can turn to find a Windows recovery program that helps you fix such a problem. Here we humbly recommend Fix Genius. It enables you to access your Windows XP system normally and fix both missing ntfs.sys and corrupt ntfs.sys.
Here is a guide of how to ntfs.sys error by using Fix Genius. I hope it will help you indeed.
Step 1: Burn a Start-up CD
When ntfs.sys corrupted or missing happens, you can't login into your Windows system, so utilize another workable computer instead to burn a bootable CD. Insert a blank or writable CD into your computer (You can use a DVD disc or a USB flash drive as alternatives). Launch Fix Genius, and you will enter the main interface like the pictures below. Click "Burn"to start burning a boot CD.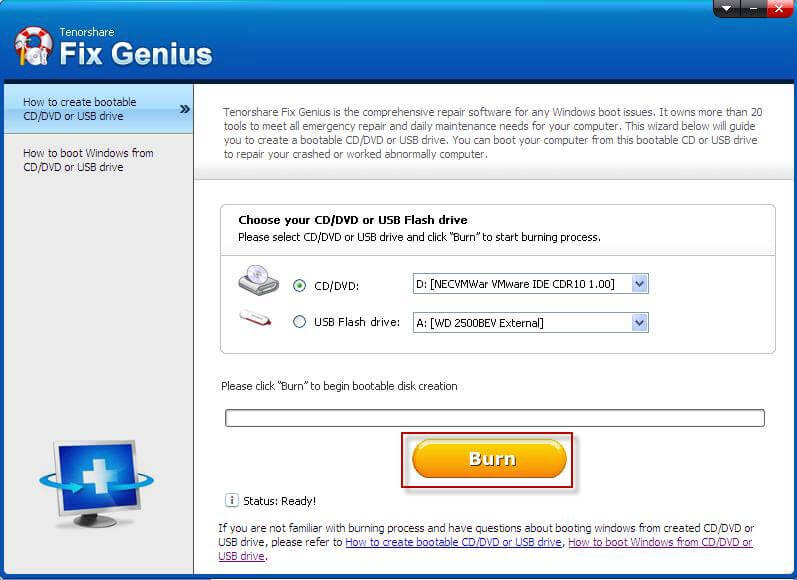 Step 2: Boot Your Frozen XP system from CD
The following steps are operated on the unbootable computer. Change the boot order in BIOS to make CD as your first boot device. Your computer will reboot automatically and attempt to access to CD.
Tips:
Don't know how to set BIOS to boot from CD?
Firstly, when your computer is powered on, check the boot-screen for setup key (i.e. DELETE key, F8 key, F2 key) to enter BIOS panel.
Secondly, choose BOOT option -> select Boot Device Priority ->set 1st Boot Device to [CDROM] & 2nd boot device to [Hard Drive]. Thirdly, Press F10 to save it.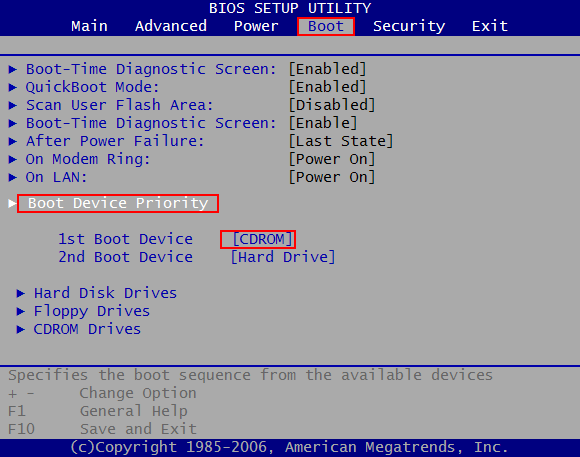 Step 3: Fix Missing ntfs.sys
After you boot your computer from CD, you will enter a WinPE system. Launch Fix Genius and go to "Windows Rescue" Menu, and then select "Boot File Recovery". Here you'll get a complete solution for your Windows XP botting issue. Just follow the method and perform the solution. Then unplug the CD and reboot your computer. You will enter Windows system normally and missing ntfs.sys error will disappear.