2 Methods to Help You Fix invalid boot.ini
The older Windows operating systems like Windows XP, 2000, 2003 contains their boot initialization settings in the boot.ini file on the system's hard drive. It tells your computer how to launch the Windows operating system when the computer is in the process of booting up. Although later editions of Windows discarded this file, it is essential for those who are using the previous Windows system to know how to fix invalid boot.ini if disaster happens.
When your copy of boot.ini becomes damaged, corrupted or is deleted, your computer won't be able to boot. During boot, you with bad boot.ini will receive the message "Invalid boot.ini."
Fortunately, boot.ini is easy to restore. Here we provided two different methods to fix boot.ini missing error as the following. Here we take Windows XP for example.
Method 1: Use Recovery Console to Repair Invalid Boot.ini
Using Recovery Console to fix invalid boot.ini is a bit complex for a computer novice. To easily fix this issue, you can directly go the Method 2 below to repair invalid boot.ini.
Start the computer from the Windows XP CD, start the Recovery Console, and then use the Bootcfg.exe tool to rebuild the Boot.ini file. To do this, follow these steps:
1. Configure the computer to start from the CD-ROM or DVD-ROM drive.
2. Insert the Windows XP CD-ROM into your CD-ROM or DVD-ROM drive, and then restart your computer.
3. Press a key to start your computer from the Windows XP CD-ROM when you receive the "Press any key to boot from CD" message.
4. Press R to start the Recovery Console when you receive the "Welcome to Setup" message.
5. Select the installation that you have to use from the Recovery Console, if you have a dual-boot or multiple-boot computer.
6. When you are prompted, type the administrator password, and then press ENTER.
7. At the command prompt, type bootcfg /list, and then press ENTER. The entries in your current Boot.ini file appear on the screen.
8. At the command prompt, type bootcfg /rebuild, and then press ENTER. Follow the instructions that appear on the screen to add the Windows installations to the missing Boot.ini file.

a. When you receive a message that is similar to "Add installation to boot list? (Yes/No/All)", press Y and Press ENTER
b. Type the name of your operating system, and then press ENTER. This is either Microsoft Windows XP Professional or Microsoft Windows XP Home Edition. Press ENTER.
c. When you receive "Enter OS Load options", type /fastdetect, and then press ENTER.

9. Type exit, and then press ENTER to quit Recovery Console. Your computer restarts, and the updated boot list appears when you receive the "Please select the operating system to start" message.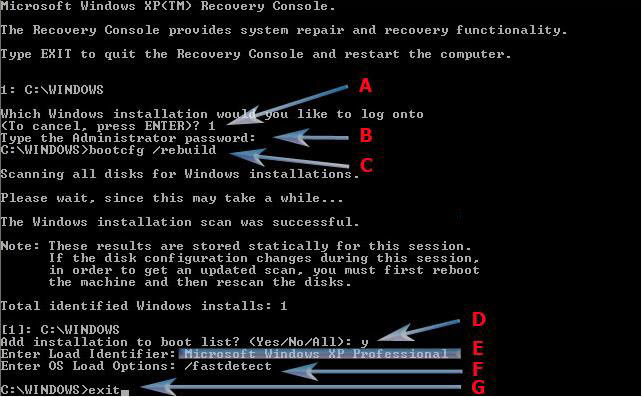 Method 2: Utilize Smart Fix Genius Program to Repair Invalid Boot.ini
Fix Genius provides an easy solution for each level of computer users including those with few computer skills to fix invalid Boot.ini, fix missing Boot.ini, as well as other Windows booting issues, repair crashed system, rescue lost data, and do much more.
Let's try this software together to see how easily it is, and the entire process should only take a few minutes from beginning to end.
Difficulty: Quite Easy
Time Required: Several Minutes
Things Required: Fix Genius, a bootable computer
Here's how:
Step 1: Create a Boot Disk
You need to use another workable PC to walk through this step. Connect a writable storage media, like CD, DVD, USB flash drive, onto your computer. Launch this computer, click "Burn"to burn a bootable disk.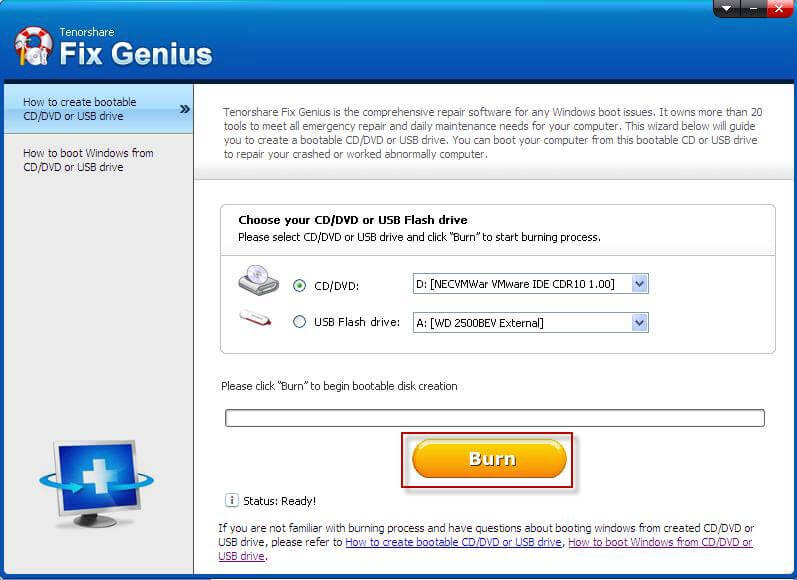 Step 2: Boot from CD/DVD/USB
For this step, you need to turn to the computer on which invalid Boot.ini occurs. Since this software use Win PE technology, you need to set your BIOS to boot your computer from CD. After settings, press F10 to save the changes. Your computer will restart automatically and login into the system which is burned on the bootable CD.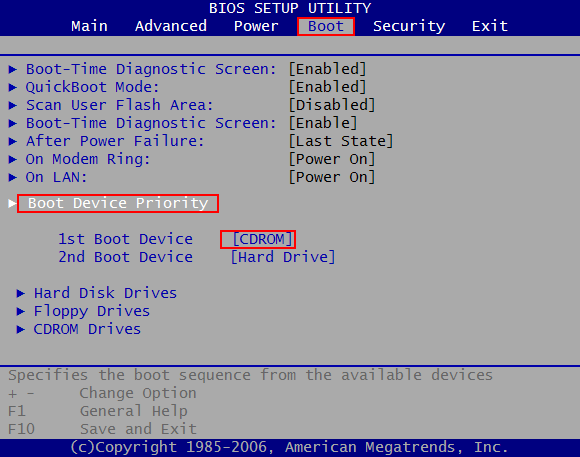 Step 3: Fix Invalid Boot.ini
After a while, you will load to the system. On the desktop, there is an icon of "Fix Genius". Launch it by double clicking it and you will enter the main interface. Choose "Windows Rescue". It provides a full range of all crash solutions: Select "Crash before Loading Bar". Try the tools provided under this solution one by one. Invalid Boot.ini has been fixed and Windows XP should start normally.