Completely Clean BlackBerry and Keep your Sensitive Data Safe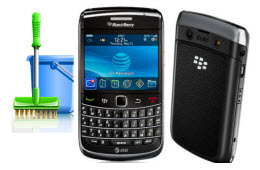 Selling secondhand BlackBerry is very normal in website. You can see there are old mobile phones are trading in eBay or other B2B websites. Before selling or gifting your BlackBerry, to prevent others from seeing what you were using your phone, it is necessary to make BlackBerry memory clean and wipe out all private information completely.
Why Clear BlackBerry is Necessary?
BlackBerry is very popular among business men for the easy to use address book function. It makes you keep up speed with all of your business correspondence while on the move, as well as keep in touch with all our important contacts. Also, you may have any applications, movies, photos or songs there. If you don't erase BlackBerry Bold permanently before throwing away it, others may steal the data in the mobile phone and doing something harmful. It is really a great loss if something like trade secret leak to others, isn't it?
How to Completely Delete Data from BlackBerry?
Data Wipe is the trustworthy and secure BlackBerry data erasure program. It can shred E-mail, contacts, user installed apps in the internal memory as well as movies, photos, songs stored in the external media card permanently. Once purged the data, no one can view your personal information again. Here is the detailed user wizard on how to permanently clean up BlackBerry.
Step 1. Connect BlackBerry to PC
Connect BlackBerry to PC with Data Wipe has already installed. Make sure the phone can be detected by your computer. Before doing a security wipe, you are highly recommended to backup your data in your PC. Because there is no chance to get back your deleted data with any data recovery program or data recovery service once it is wiped.
Step 2. Select Wipe Data Mode
Run Data Wipe, in the main interface, you can see three modes available. You can erase all data at one time, or select specific files or folders to be deleted. Here we take Wipe Partition for instance. Choose Wipe Partition mode.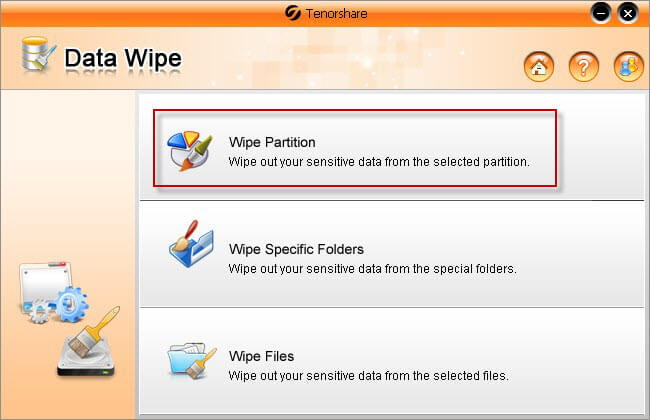 Step 3. Import Files and Folders to Begin Erasing Data
In this window, highlight BlackBerry drive and click "Next" to begin data erasing. The process will take you few seconds. The exact time depends on how large of your memory. The larger the memory, the longer time it will take.
Step 4. Save a record
You are allowed to keep a record of what files and folders you have deleted. After deleting data, please click "Save as" to keep a record or just click "Close" to end up operation.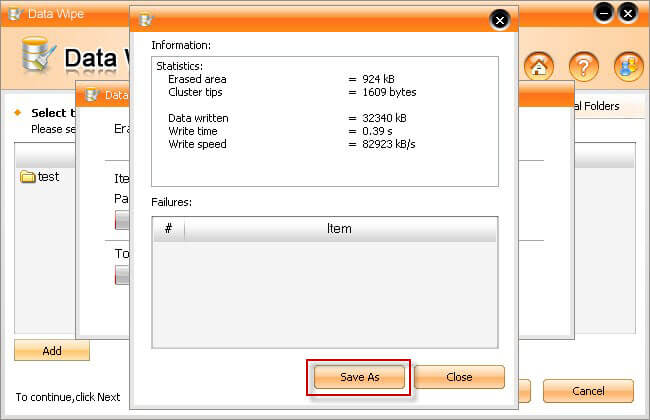 You can perform data destruction with Data Wipe for all Blackberry smart phones and tablets. Such as:
| | |
| --- | --- |
| BlackBerry Porsche Design | BlackBerry Bold |
| BlackBerry Torch | BlackBerry Curve |
| BlackBerry Style | BlackBerry Pearl |