Best 3 Flight Tracking Apps for iPhone/iPad
Air travel has now become much common than before as people nowadays fly almost every couple of days. With flying becoming more frequent, it's become a little difficult to manage the flights and their timings, especially when you travel a lot and you don't find the time to check updates for your flights.
Fortunately, there are a number of flight tracker apps out there that help you keep an eye on your flights. These apps show you information about the flights you choose so you always know where your flight is and where it is going to take off from, and so on.
With so many of these flight tracker apps available in the market, you may get confused as to what app will be suitable for you and it's kinda hard to pick one out of a dozen apps. To help you select an app for you, we have here compiled a list of the top three flight tracker apps for the iPhone.
These have been picked by us considering their quality information and we recommend you try these on your iPhone.
FlightStats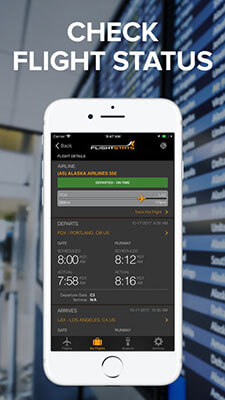 FlightStats ranks at the top, all thanks to the superb flight tracking features it provides to its users. It lets you search flights by flight number, airport, or the flight route. Once you have entered information for a flight, you can see it moving on the world map and you know exactly where your flight is.
It also shows departure and arrival times, delay indexes, and even gate numbers so you know what gate to head towards for your connecting flight.
With all of these features packed in a tiny app on your iPhone, you can really roam around anywhere you want without worrying much about your flights.
The app is available for free on the official App Store.
FlightAware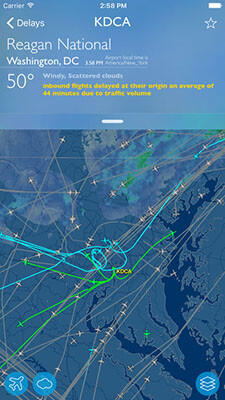 FlightAware is yet another free and powerful flight tracking app for the iPhone. The app lets you search for live flight status and track flights using various ways. You can search flights by aircraft registration number, route, airline, flight number, and so on.
It brings a full screen map for you to see where your flight is and has a NEXRAD radar overlay.
Not only does it show flight information when you ask but it can also send you push notifications so that you are always aware of your flight information.
The app costs nothing and can be obtained from the official App Store.
GateGuru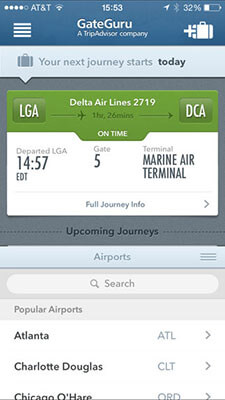 GateGuru comes from the leading travel company TripAdvisor and the app is more of an itinerary organizer that helps you keep your travel stress away so you can focus on your holiday fun moments.
After installing the app, enter in your itinerary and it will tell you all the essential information you need to know when you travel. It will let you know the terminal number, the weather information, the gate number, and so on.
If you don't like arranging tickets and flight information and all that stuff, then GateGuru can be really useful to you as all you need to tell it is your itinerary and it will do the rest of the things by itself.
You can download the app for free from the official App Store.
While many of the apps you download do not have advertisements in them, some of them do and it's really annoying, especially when you're checking last minute information for your flight and a pop-up comes up and shows you an ad that you are not interested in at all.
Unless there's an ad-free version of the app, you can't do anything but see the ads that appear on your screen.
Fortunately, though, there are now apps in the market that let you block ads in various apps on your iPhone. These ad blockers do not let any comes in your way while you are using an app on your iPhone. One of these apps is iCareFone.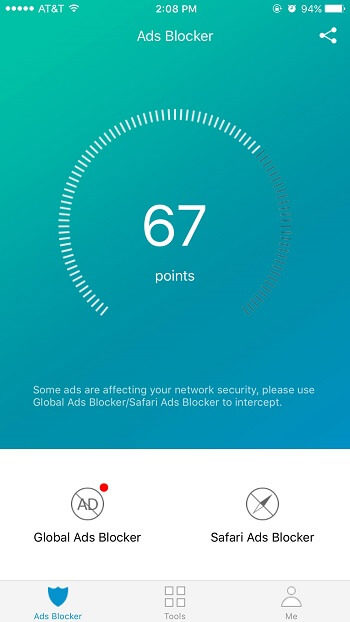 iCareFone enables you to block those annoying ads from showing up on your iPhone's screen. Once you have downloaded this app and have enabled ad blocking, you will no longer see any ads in the apps on your iPhone.
We hope this guide helps you with choosing a flight tracker app for your iPhone.