Files and documents get stockpiled in excess with the great usage of your computer. It becomes challenging to locate and delete unwanted files manually. Above all, these files take up the major part of your computer's hard drive and as a result, slow down your system.
Moreover, most of us think that deleting them permanently erases all the information from your computer. But, unfortunately, deleting or removing any file doesn't mean that it has been removed completely from your Windows computer. Instead, it stays on your computer until the space occupied by the deleted file gets overwritten by the new data. Then, how you can permanently delete files? That's when the file shredder role comes in.
Part 1: What Is Shredder Software?
File shredder software or tools are programs that let you delete folders and files permanently from your Windows computer. With the help of these programs, you can delete files/folders by overwriting the space occupied by the files to be removed on permanent bases. In short, file shredder software overwrites the existing and already erased files beyond recovery.
Part 2: 10 Best File Shredder Software
The internet is full of Windows file shredder programs. That's why we come up with the list of best 10 file shredder tools to help you make the right choice.
1. Eraser
Eraser is an advanced security utility for Windows. In fact, it is a well-designed file shredder software. When it comes to its advanced options, Eraser has no competition in the market. It enables you to complete deleted sensitive information from your computer hard drive by overwriting it numerous times with cautiously selected patterns.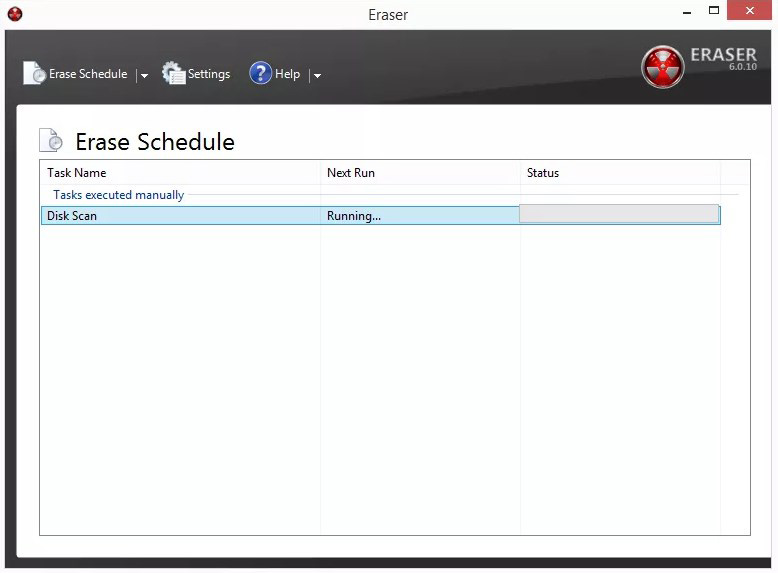 Pros:
Supports removing files, folders, and entire drives.
Let you delete files on a schedule.
Able to replace deleted files with custom files.
Supports Windows XP/ Windows Server 2003, Windows Vista, Windows Server 2008/2012/2016, Windows 7/8/10.
Cons:
Can't erase the drive that Windows is installed to.
2. Secure Eraser
Secure Eraser is another free file shredder software. It is more than a file shredder as it contains utilities like a registry cleaner. With the help of it, you can permanently delete files, folders and entire hard drives. It makes use of the most renowned ways of data disposal and overwrites the sensitive data in a way and multiple times that it can never be recovered.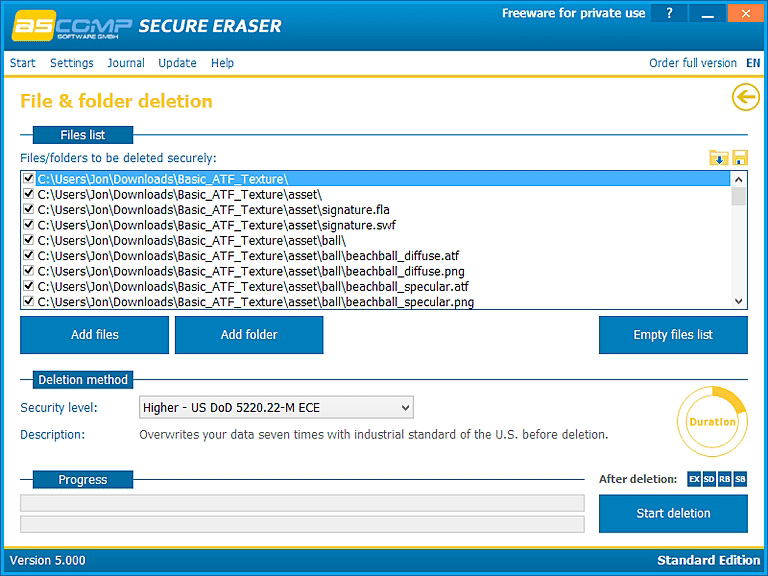 Pros:
Delete single files and whole hard drives.
Download size is small.
Supports to erase flash drives, mechanical drives, and SSDs.
Cons:
Requests to download and install another tool during setup.
3. WipeFile
If you're looking for a portable file shredder for Windows 10, then look no further from WipeFile. This software comes with some unique options and provides support for several data erase methods. The best thing about the software is that it let you save the file(s) and folder(s) you've queued up so that you can retrieve and erase them later.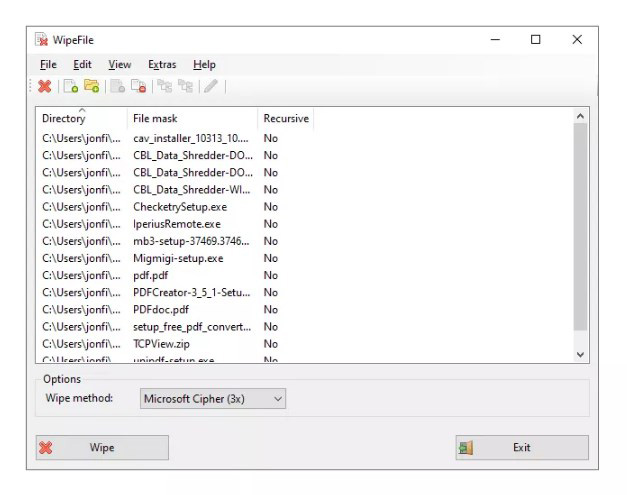 Pros:
No need to install (portable).
Extremely small download size.
Able to write to a log file.
Cons:
No confirmation when deleting files/folders from the queue.
4. Freeraser
Freeraser is recommended to those looking for easy-to-use file shredder software. The best thing about the software is that you can install it like a standard utility or operate it as a portable one. Moreover, it puts a Recycle bin-like icon on your PC's desktop you can use for a shredder, making it extremely convenient to interact with.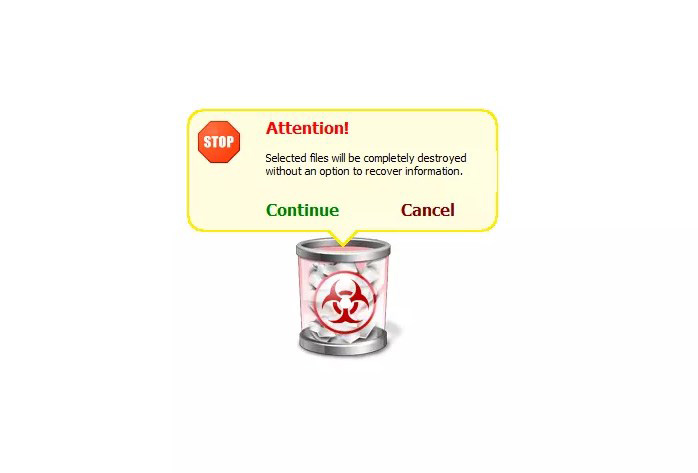 Pros:
Able to delete files, folders and USB drives.
Portable feature available.
Works with various Windows versions.
Cons:
Can't erase internal hard drives.
5. Free File Shredder
Another file shredder software that lets you delete files permanently with ease is Free File Shredder. With the help of it, you can either remove one folder at once or choose to delete multiple files at a time. Above all, you can use it to securely empty your Recycle bin. It provides additional options when it comes to deleting folders or hard drives.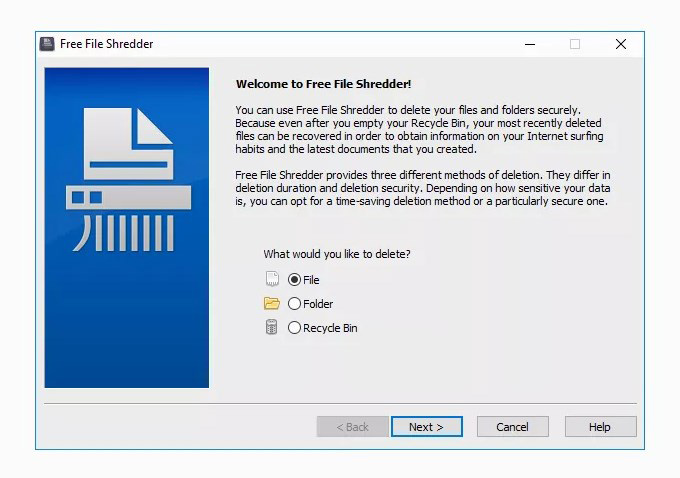 Pros:
Some advanced features are available.
Can empty Recycle Bin.
Lightweight software.
Cons:
Asks you to install another tool during setup.
Can't drag & drop drives or folders.
6. Hard Disk Scrubber
Hard Disk Scrubber is another advanced file shredder for Windows 10 you can try. With the help of this free file shredder tool, you can't only remove multiple files at a time, but also delete files you've already removed. The software has some adjustable advanced settings; for instance, let you create custom deletion methods.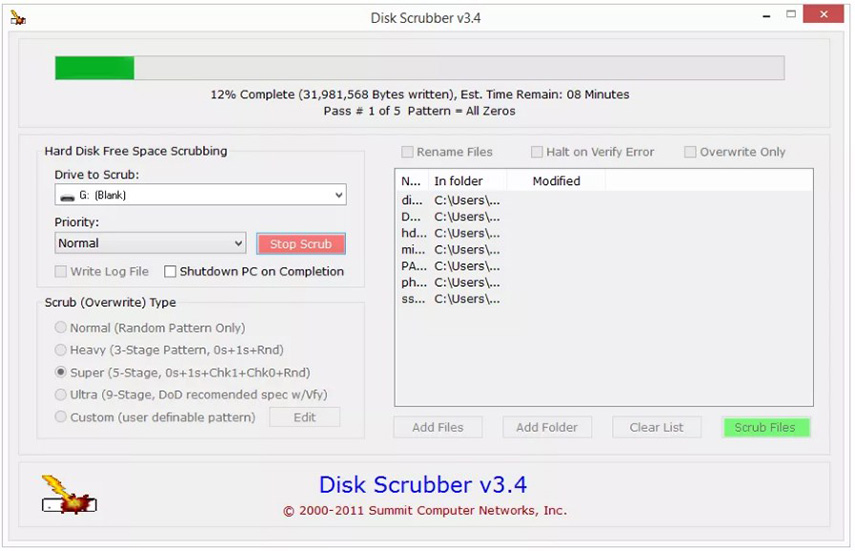 Pros:
No hidden options.
Able to overwrite the file(s) and free space.
Features some advanced options and custom erase methods.
Cons:
Can't remove folders.
No support for drag & drop.
7. Bitkiller
Bitkiller is the best file shredder that you can run it as a portable utility. Besides, deleting specific folders and files, you can even make use of it as a data destruction software by removing an entire hard drive at a time. It includes popular data erase methods and no hidden settings, making it easy to use. In short, Bitkiller is the right choice when it comes to privacy.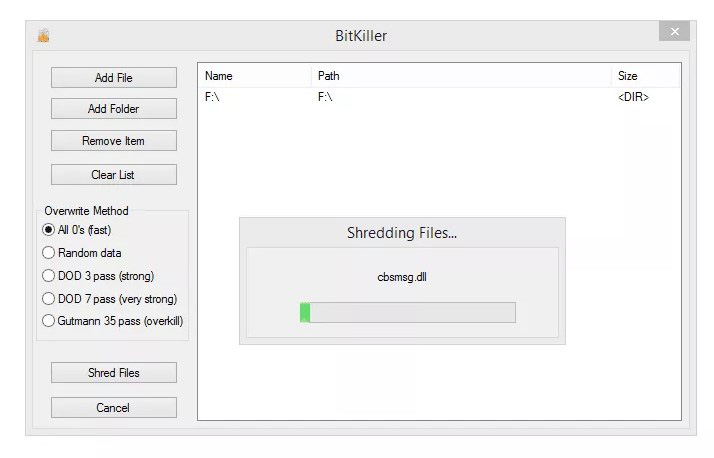 Pros:
Portable as doesn't require installation.
Small download size.
Supports Windows 10 and other Windows OS.
Cons:
No advanced features are available.
8. PC Shredder
PC shredder is also portable and small file shredder software that's easy to use. All you need to do is to browse a whole folder or single file to accumulate a list of items you would like to shred. Moreover, it is free to use and let you permanently delete folders, files and make them quite challenging to recover. The simple interface makes it convenient to use for everybody.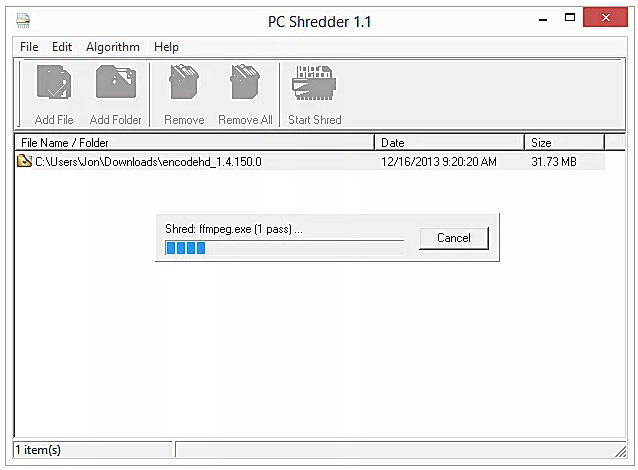 Pros:
Portable file shredder.
Easy to use.
Works for Windows Vista, Windows XP, and other Windows OS.
Cons:
Outdated.
Limited features
9. Remo File Eraser
With Remo File Eraser, you can securely delete multiple folders and files at a time. Moreover, you can schedule the deletion of anything you want on a weekly, daily, and one-time basis. It even features data sanitization methods to empty the Recycle bin. You can take advantage of its advanced shredding patterns for data security.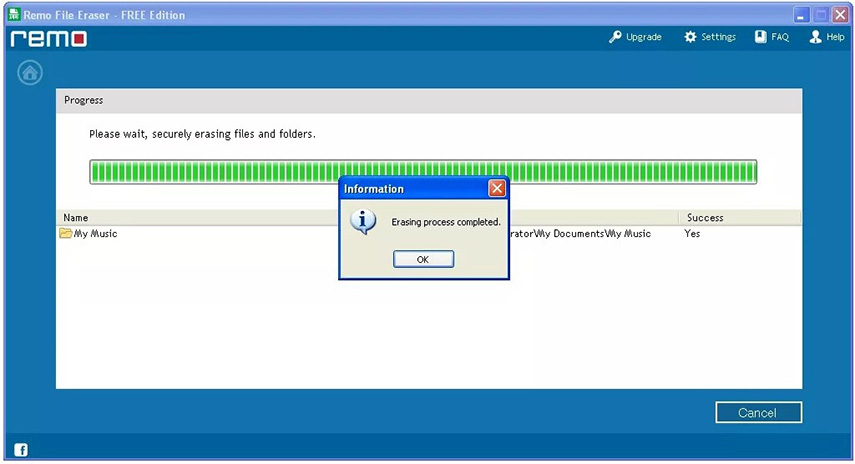 Pros:
Delete confidential folders and files permanently.
Able to wipe out free disk space.
Can erase whole drive or partition data.
Cons:
Outdated.
With its free version, you can access only three erase methods.
10. CyberShredder
CyberShredder is a file shredder utility that operates a little bit like Recycle bin. Above all, it is a tiny program that lets you drag and drop folders/files you would like to shred. You can also change the data sanitization or erase method. You can either choose a regular installer or portable version from its download page to use it.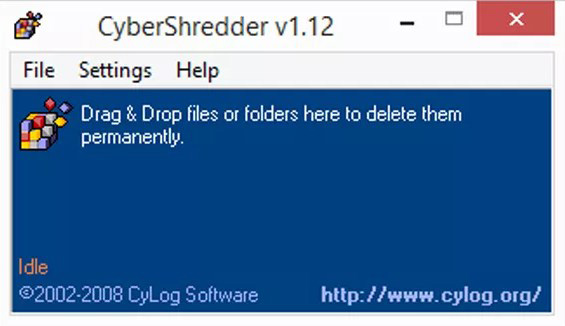 Pros:
Safe and quick file shredder program.
Small size.
Both a regular installer and the portable version available.
Cons:
Limited features are available.
Conclusion
That's all on the best file shredder software available out there. When you know about the pros and cons of the foremost file shredder programs, you can simply choose the one that attracts you to the most. If you ever found yourself in a situation where you need to recover your lost files on Windows or Mac, UltFone Windows Data Recovery comes quite in handy to rescue your important files.