Repair Windows System: Create a Windows 7 Recovery Disk
Computers are prone to suffer from errors and system failures, sometimes resulting in crashes. These crashes can result in a non-functioning computer. If this is the case, you need a System recovery disk. Normally, computers are shipped with a system recovery disk. However some computer manufacturers don't provide ones. One of the first disaster recovery steps you can take is to create a system recovery disk by yourself.
Fix Genius, a Windows system recovery tool that provides a means for recovering the Windows operating system in the event of system failures due to virus, malware or hard drive crashes. It saves you both the time of having to reformat and reinstall your system from scratch.
If you are encountering a computer boot issue, or if you just want a Windows recovery disk set to have on hand in case Windows fails, you can create a Windows 7 recovery disk using Fix Genius. Of course, it can be used as Windows 8 recovery disk, Vista recovery disk, or XP recovery disk. Here is the detailed guide.
How to Create a Windows 7 Recovery Disk and Troubleshoot System Errors?
Step 1: Burn Windows 7 Recovery Disk
Fix Genius is able to help you create a boot CD or USB. Connect a CD/DVD disc, or a USB flash drive into the computer. If you can't access to Windows system already, use another workable computer to finish this step. Click the "Burn" button will automatically launch ImgBurn to attempt to burn the "_Fix_Genius.iso" file. After the progress bar reach 100%, your Windows 7 recovery disk is created successfully. If you just need to prepare a recovery for prepare before disaster happens, you can stop here.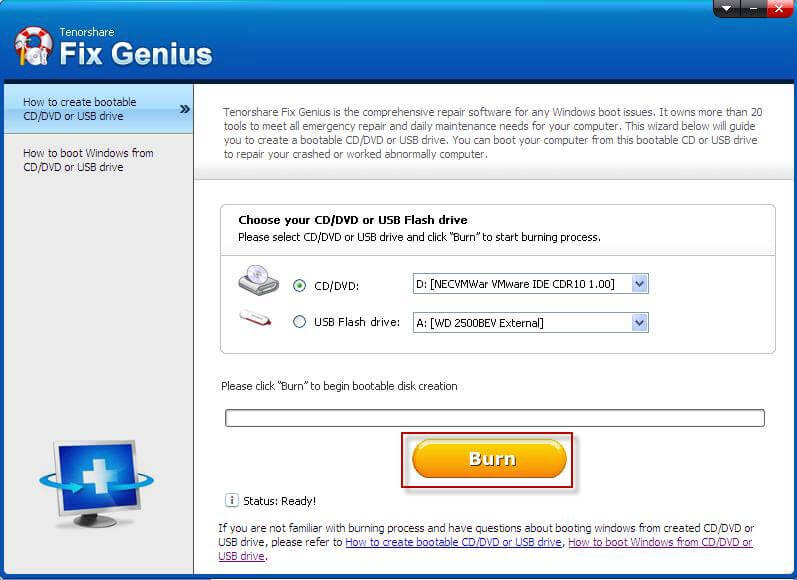 Step 2: Boot Computer from CD
To fix system issues, you need to go ahead. Insert newly burned CD to the computer you would like to fix problems. Boot this computer, and set the BIOS to set the CD as the first boot device. Press F10 to save the settings. Then your computer will reboot automatically and attempt to access to CD.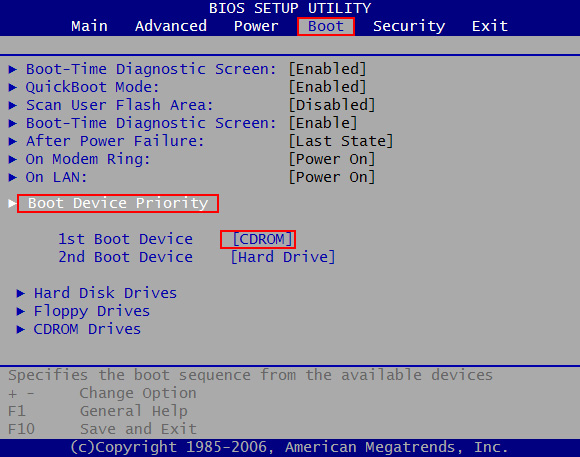 Step 3: Fix Computer Problems If You Have
Go to the first tab "Windows Rescue". Whenever a Windows computer is unable to boot up, it can be caused by many reasons. This XP recovery disk offers 3 crash solutions for amateur users which is boot, loading and random that has explanations to the symptoms. If you're a more advanced user and want to fix it on your own, there are a few useful tools to recover boot file, boot sector, MBR and registry.