Quick Solution to Fix Invalid Partition Table
Computer uses had disk drive to store data. These drives are divided into sections called "partition". Each partition is regarded as a separate drive by the operating system, and the properties of each partition are stored in a special file called a "partition table". If the partition table is damaged or missing, the drive will not function properly. And if the drive with an invalid partition table installs the computer's operating system, the computer may not boot.
At times, you might find that your partition is inaccessible, invisible or lost. When you boot your computer, you just find a black screen with an "Invalid Partition Table" error.

To fix invalid partition table, you need to utilize a third-party program to rectify this error. One tool in particular is Fix Genius. It is a boot disk utility to enable you to boot up your computer that appears Invalid Partition Table error, fix blue screen error on boot, and repair crashed Windows system, and do much more if necessary: rescue lost data, find Microsoft Product keys, and manage your hard drive and partitions.
Following you can find a step-by-step tutorial of how to fix invalid partition table using Fix Genius.
Step 1: Create a Boot CD/DVD/USB
After purchasing this software, you will receive an Email with registration information and download links. Download and install Fix Genius on a bootable computer. Prepare a blank CD/DVD or USB and connect it to this computer. Run this software, you will get an interface like the picture shown below. It will check your the CD/DVD drive or USB drive automatically (If not, specify it manually). Just click "Burn"to burn a bootable disk to help you boot up crashed computer.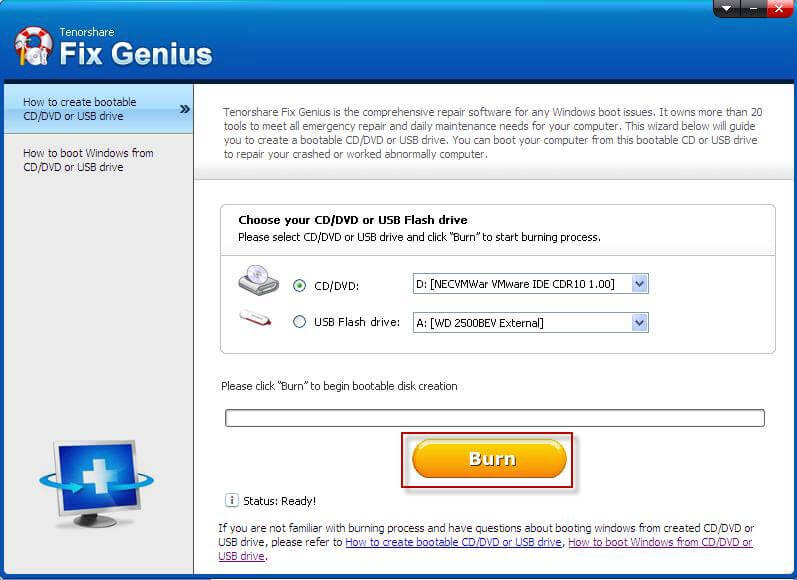 Step 2: Boot Your Computer from CD/DVD/USB
Then insert CD/DVD/USB into the computer that appears invalid partition table error, and set your CD drive as the first boot device in BIOS (Go to see how to set BIOS to boot from CD/DVD/USB). The computer will auto-restart and access to the Windows system burned on the boot disk.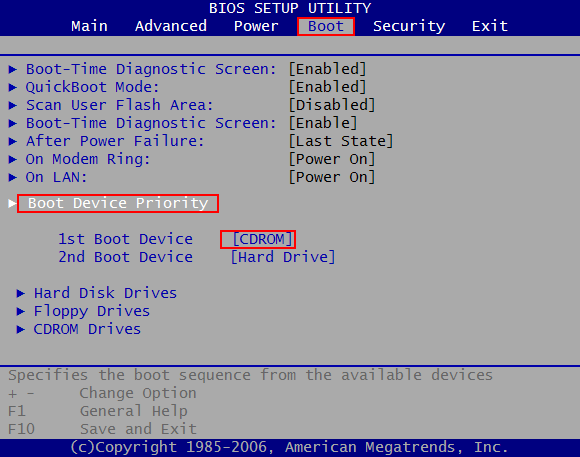 Step 3: Fix Invalid Partition Table
It'll take you a few minutes to load into the system. When you're in, run Fix Genius and go to the "Windows Rescue", choose "Crash before Loading Bar", and you'll get a full solution to Invalid Partition Table. Just try the tools it provides and get your issue solved.
An invalid partition table can bring you many issues, especially making it difficult to boot your operating system if this error occurs for your system installed partition. Therefore, next time, when see the "Invalid Partition Table" error with a black screen, consider trying Fix Genius to resolve this error.