How to Solve the Blue Screen of Death
You are working on an important project, but suddenly your computer's screen filled with a seemly incoherent against a blue background. You have nothing to do but reboot your computer to hope it will work normally then. Rebooting your computer sometimes works. What if it still keeps freezing or crashing after you restart it? You should fix computer blue Screen as soon as possible.
Firstly let's dissect Blue Screen of Death in detail before fixing.
I: What is Blue Screen of Death?
Blue Screen of Death, abbreviated as BSOD or BSoD, is the popularized name for that is technically called STOP message or STOP error. It is the blue screen after a serious system crash.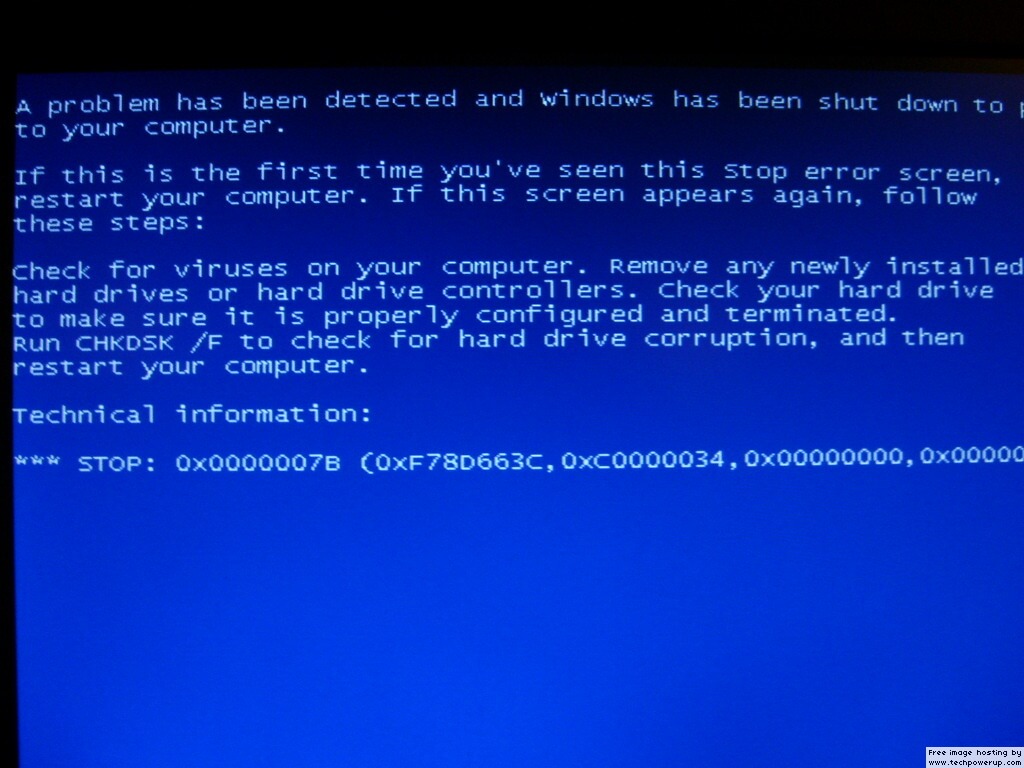 II: Causes of Blue Screen of Death
1. Hard drive corruption is the main cause of the blue screen on startup.
2. Registry damage will cause Windows to shutdown suddenly and the Windows blue screen occurs.
3. A corrupted program will cause the blue screen of death as long as you run it.
4. Viruses or malware will damage the system components and cause blue screen.
III: Types of Blue Screen of Death
Bad Pool Header: when your hardware device or its associated software has become corrupted, the Blue Screen of Death will indicate a "bad pool header".
Kernel Data Inpage Error: When Windows can't read data into the computer's memory, "kernel data inpage error" occurs. It is caused by faulty hardware, a virus, or even a failing RAM chip.
NMI Hardware Failure: It is hard to figure out the exact reason of the Blue Screen Death due to "NMI hardware failure". It is a way for computer to protect from losing data.
The NTFS File System: This type of Blue Screen of Death occurs when the NTFS driver file is unable to interpret data on the hard drive. A corruption in the file system or on the hard disk itself may cause this error.
IV: How to Fix Blue Screen
To fix blue screen, you need to utilize a reliable program that assists you. Fix Genius is one of the best PC emergency rescue solutions that helps fix blue screen (including fix Windows 10 blue screen of death, Windows 7 blue screen, Windows 8/Vista/XP blue screen), repair corrupted Windows system, and do much more, like recover lost data, find Microsoft Windows password, product key and Office product keys, and etc.
Here are easy steps on how to fix blue screen error using this software:
Step 1: Create a Bootable CD
To burn a bootable CD, you need to use a computer that works correctly and a blank CD (Here you can use a DVD or USB as an alternative). Inset it into this computer and launch Fix Genius. Click the big "Burn" button on the central of the interface. A bootable CD will be created within seconds.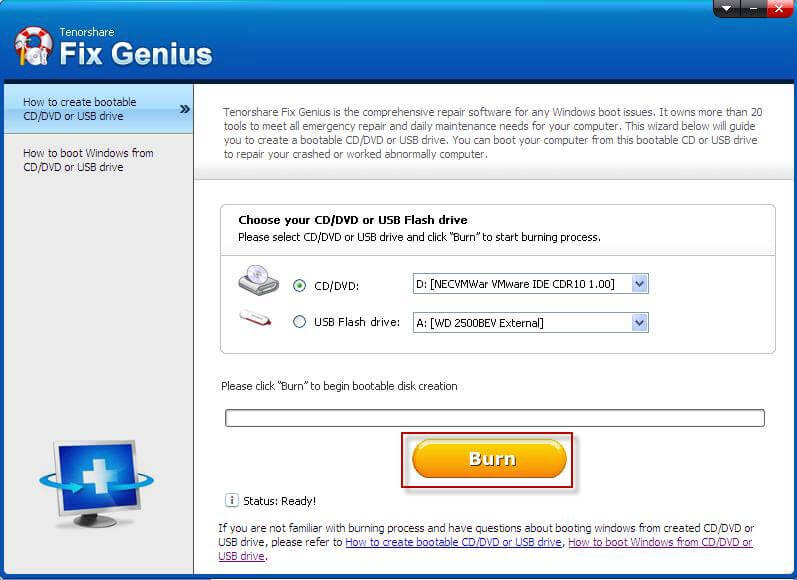 Step 2: Boot Your Crashed Computer from CD
The following steps are operated on the crashed computer. Insert the burned CD into this computer, and set your BIOS to let your computer boot from CD.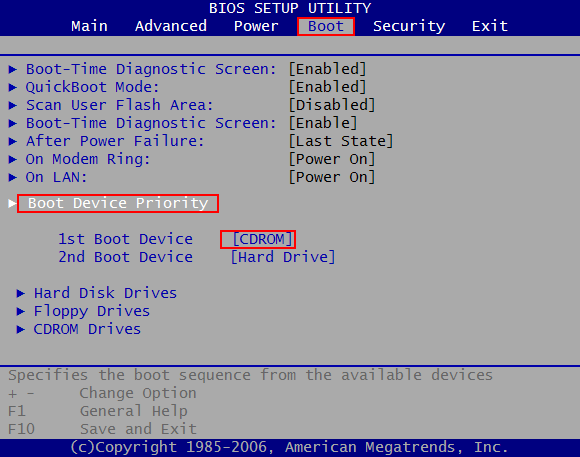 Step 3: Fix Blue Screen with a Handful of Tools
Then you will enter a WinPE environment under which there is an icon of "Fix Genius". Double click to launch this software. Go to "Windows Rescue" and select the rescue solution according to your scenario: "Crash before Loading Bar", "Crash on Loading Bar", or "Crash before Loading Bar". Then follow the fixing tools one by one until your fix blue screen of death.