Top 3 Free iPhone VPN Apps You Should Have
When you use your iPhone on public networks, cellular networks or Wi-Fi hotspots, you invariably expose yourself to multiple security threats. Hacker can scan these networks to capture unencrypted data while the data is being transferred. Using a Virtual Private Network (VPN for short) is definitely the best way to secure your internet activities. In this article, we will list 3 best free VPN apps for iPhone 5S/5C/5/4S/4 that you can download in iTunes App Store, as well as some advantages of using VPN.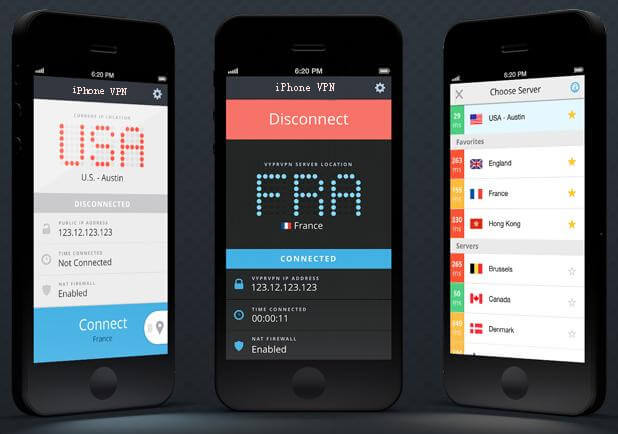 Why You Should Use VPN on Your iPhone?
You can end up leaking your personal information including the credit card data and other sensitive information through the Internet to hackers. Some of the most convenient benefits of using a VPN on your iPhone are:
Secure privacy over your internet activities.
Access to some websites that might not be available in certain counties.
Complete access and use of websites that might be region-locked.
Access to locked websites in places that have firewalls in place to prevent you from reaching them, like schools or cafes.
Avoid tracking.
Save money on your iPhone bill.
Make your networks fast and stable.
3 Best Free iPhone 5S/5C/5/4S/4 VPN Apps/Servers You Can't Miss
You can of course use your iPhone's VPN built-in support, but since entering all your login details takes much time and it is easy to make a mistake while doing so, you'd better use a VPN app on your device. Here are the top 3 iPhone VPN apps free to download and they can help you enjoy all the benefits mentioned above.
Top 1. Hotspot Shield VPN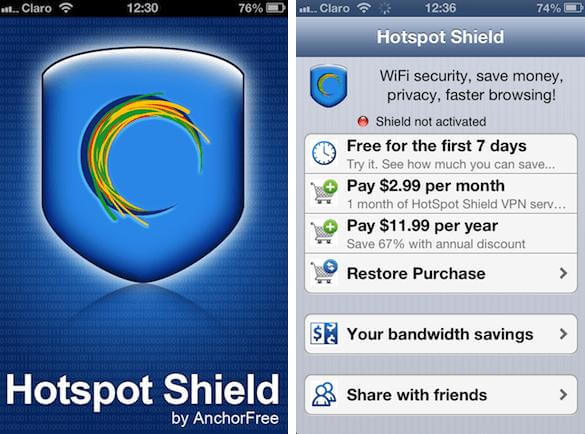 Hotspot Shield VPN ranks among the most popular iOS VPN apps and severs. It offers unlimited usage of their services for 7 days without cost. When the free period expires, you will have the option to choose from several different plans that starts from $0.99 a month to $9.88 a year. Hotspot Shield VPN is available for iPhone, iPad, iPod touch, Mac and Web and compatible with 3G, 4G or LTE networks.
Free download Hotspot Shield VPN here
Top 2. VPN Express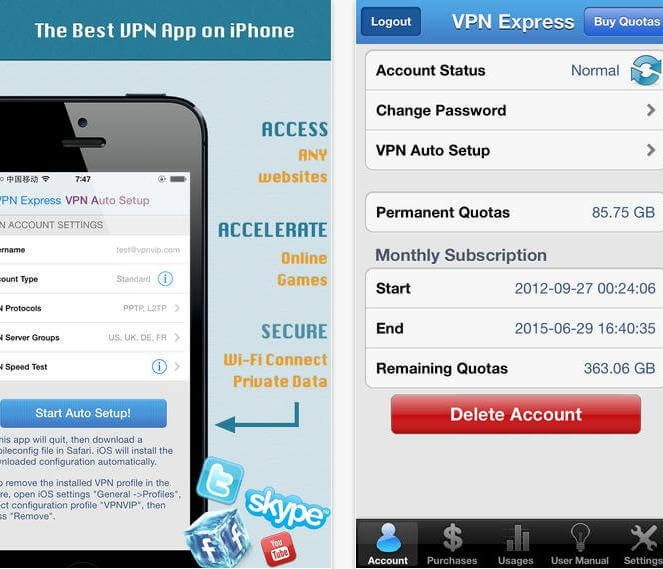 VPN Express is the alternative of Hotspot Shield VPN. It can also help you to enjoy a total internet traffic anonymous experience. There's no IP numbers to configure into the webapps. One of the main differences compared with Hotspot Shield VPN is that VPN Express allows 300MB VPN data for free, instead of time limitation. After that data volume used up, you can pay for more usage. Prices are varied.
Free download VPN Express here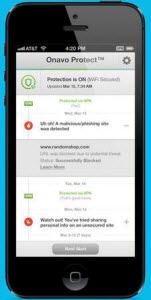 Top 3. Free VPN - Onavo Protect
Onavo Protect is another free iPhone VPN app or service. It helps keep you and your data safe when you are browsing and sharing information on the web. This powerful app stops you from malicious, phishing and unsecure iPhone websites. Your details such as bank accounts and credit card numbers can be secure.