Top 5 Free iPhone eBook Readers to Download
Good iPhone eBook readers should get some features like a good selection of modern and classic ebooks, lots of customizable features, a well-designed interface, etc. iBook, the native iPhone eBook reader, of course is a great eBook reader. But there are also many fantastic alternatives. In this article, we will introduce 5 best free iPhone eBook reader apps for your to download at Apple App Store.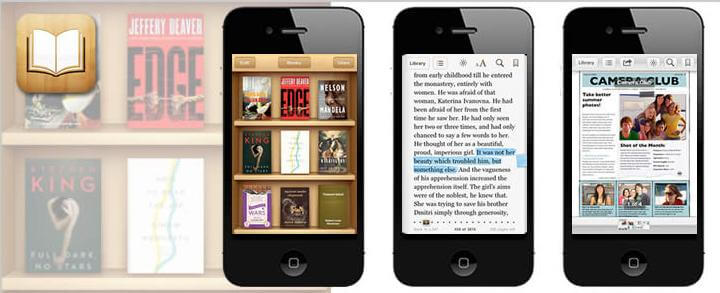 Note: eBook is known as electronic book, which is also called e-book, ebook, digital book, or e-edition.
5 Best Free iPhone 5S/5C/5/4S/4/3GS eBook Readers
All those free eBook reader apps apply to iPhone SE, iPhone 6s, iPhone 6s Plus, iPhone 6, iPhone 5S, iPhone 5C, iPhone 5, iPhone 4S, iPhone 4 and iPhone 3GS and work for iOS 10/9.3/9.2/9/8/7.

Stanza is quite famous as an iPhone eBook reader. It allows you to access over 50,000 contemporary titles in various partner stores, save the ebooks you like, organize your eboks, and even drag/drop your ebooks in ePub, PDF and more from your PC or Mac to the reader.

The Kindle app is optimized for iPhone, as well as iPad, and iPod touch. You can read Kindle books, newspapers, magazines, textbooks and PDFs on the beautiful, easy-to-use interface. There are more than 1,000,000 books in the Kindle Store plus hundreds of newspapers and magazines you can access. Amazon Whispersync automatically syncs your last page read, bookmarks, notes, and highlights across devices (including Kindle), so you can pick up your book where you left off on another device.
Nook is another great free iPhone eBook reader app for you. It can help you get incredible reading experience on your iPhone. You can access over 3 million books, including 1 million free titles, plus magazines, newspapers, comics, and more.

iPDF is a free iPhone PDF and ebook reader. It has the search function to help you search and save whatever book or PDF online. You are able to rename the books in the download list. It also supports landscape and portrait.

It would be toilsome for you to read books on the white background color for a long time. Moreover, it hurts your eyes. With Reader Lite, you can change the background and choose any color you like. Another merit of using this free iPhone eBook reader is that if you don't know some words, you can search it in the built-in dictionary of the app.
In our test, all these free iPhone eBook readers are the best ones. You can pick out the one or the ones you like. Last but not least, if you would like to recover data from iBooks, you may try UltData.