UltFone iPhone Backup Unlock, a professional iTunes backup password recovery tool, which is specially designed for iOS users to quickly remove iTunes backup encryption settings and unlock forgotten iTunes backup password. Its leading recovery rate, wide compatibility, fluent user experience make it come to the top 1 iPhone backup password recovery on the market. Follow the guide below to start using iPhone Backup Unlock.
To get started, download this software and install it on your computer. Then launch it. You will see the main interface.
Part 1: Remove Backup Encryption Settings
Step 1: Choose and click "Remove backup encryption settings" from the two options shown on the main interface first after launching the program.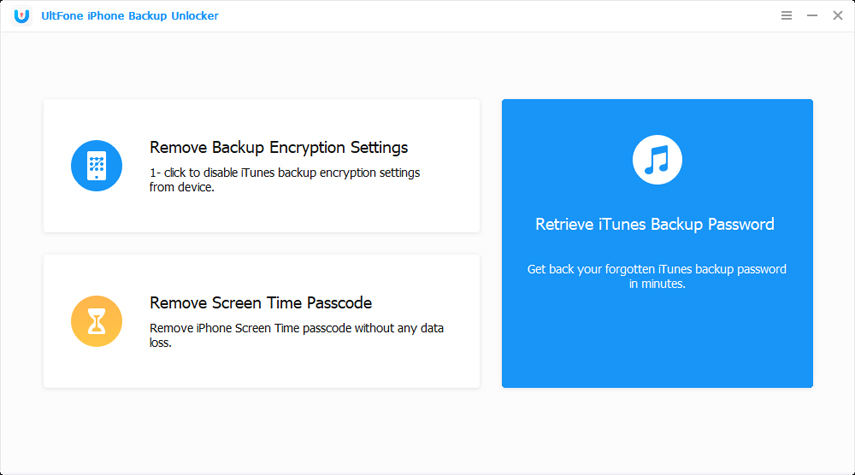 Step 2: Connect your iPhone or iPad device to computer with USB cable.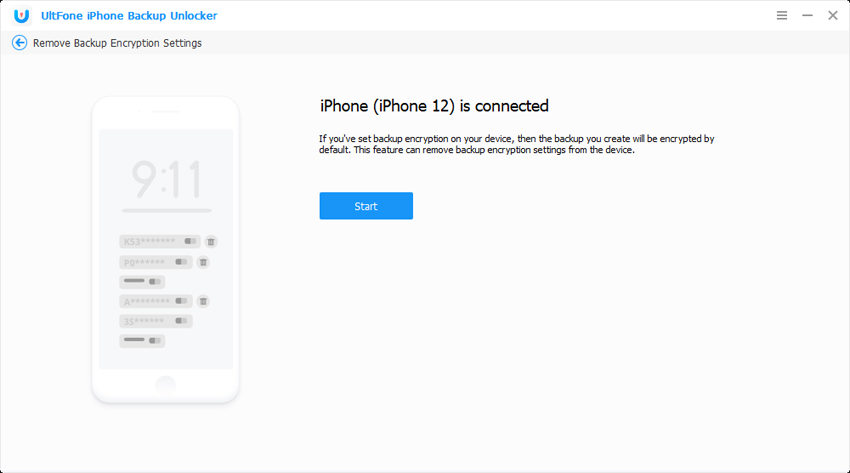 Step 3: Next, hit the Start button to start backup encryption settings removing process.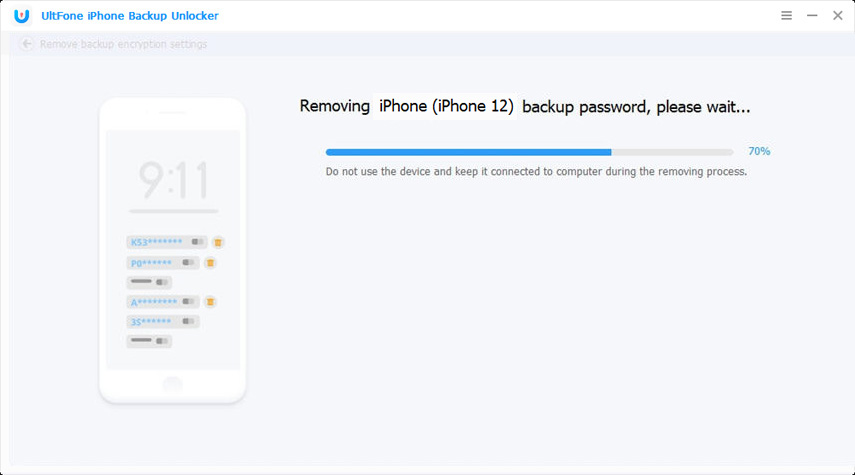 Step 4. Wait a few seconds, the encryption setting you've set will be removed successfully.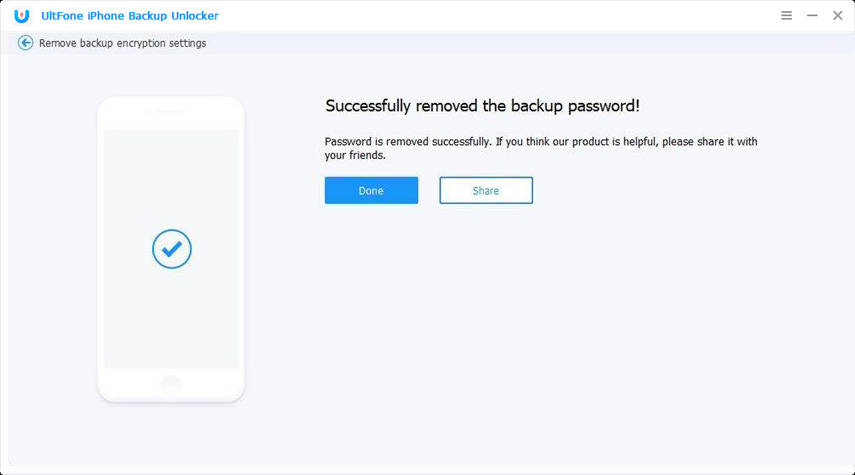 Part 2: Retrieve iTunes Backup Password
To recover the lost or forgotten iTunes backup password, just do the following:
Step 1: Select "Retrieve iTunes backup password" from the interface.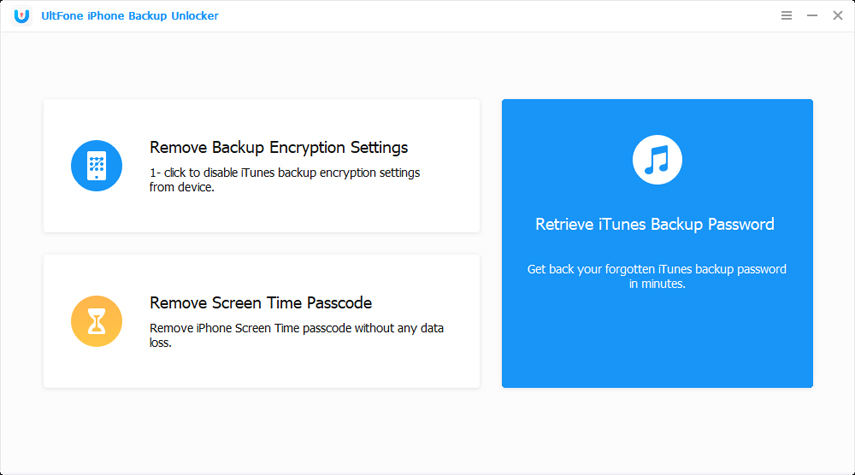 Step 2: All backup files on your computer will be loaded automatically. If the backup file was not listed in here, choose the "import back files" button to select the backup file location you know. Then choose the target backup and click Next button to proceed.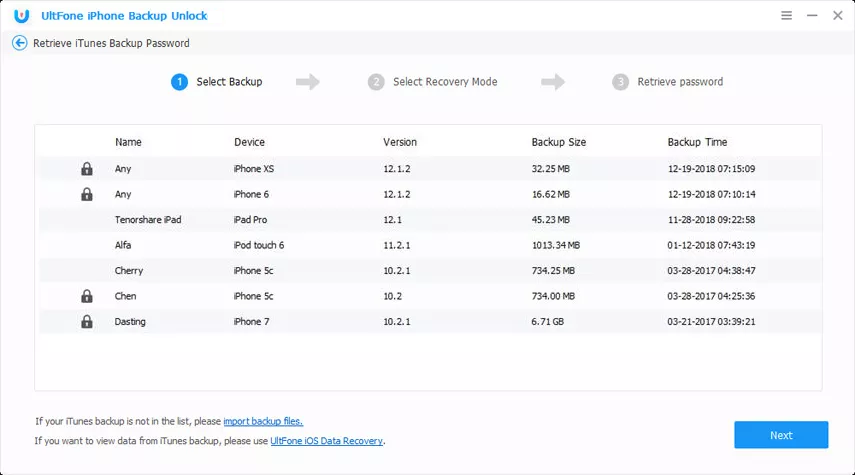 Step 3: After that, you can see 3 attack modes built in the program for your choice, including Brute-force Attack, Brute-force with Mask Attack and Dictionary Attack. Simply select any one of them based on your situation.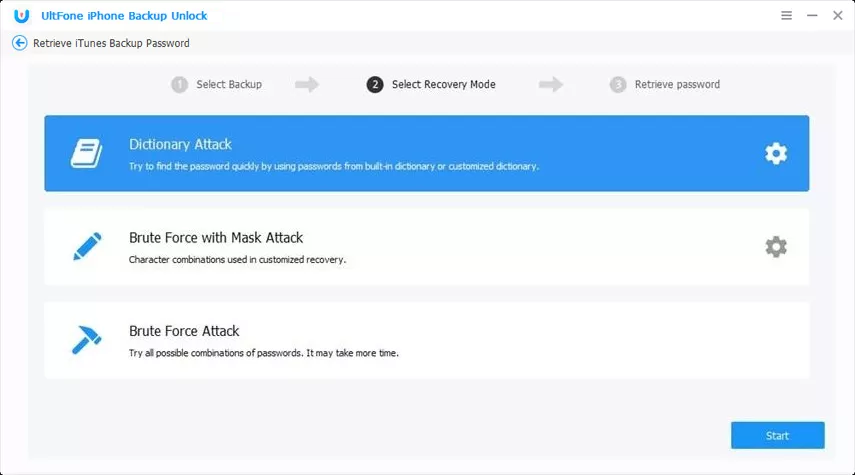 Brute - force Attack: When you have no clue what the password may be, you can choose this option to try every possible combination of password. However, this method will take longer time to find the password.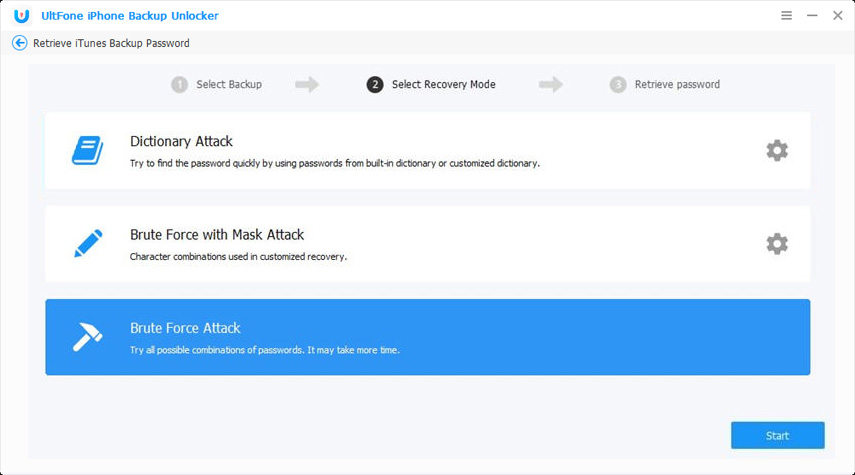 Brute - force with Mask Attack: If you still remember something about the password, such as password length, character range or affix, this option will be the best one. It allows you to use these parameters to crack the password much faster.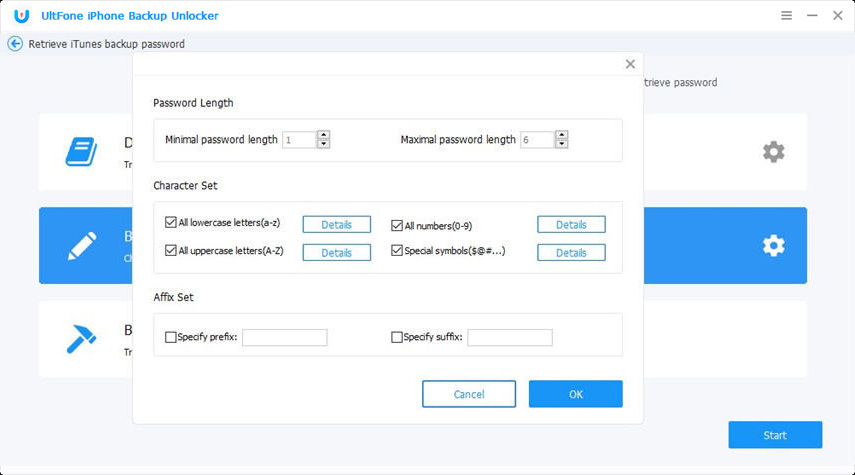 Dictionary Attack: If the iTunes backup password is one of your frequently used password and you are not sure which it is, choose Dictionary Attack. You can set a text file with all possible passwords and import this text file to the program. Along with this text file, there will be a default dictionary, both of which are for the reference of the program.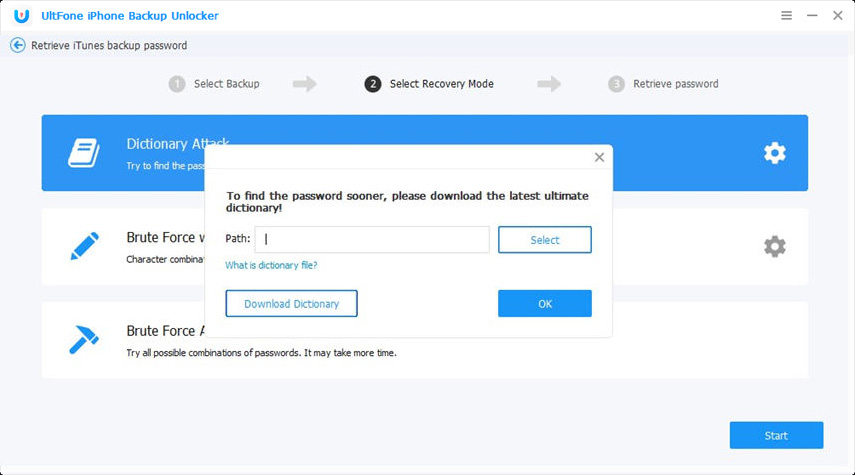 Step 4: Click Start button to start the recovery process.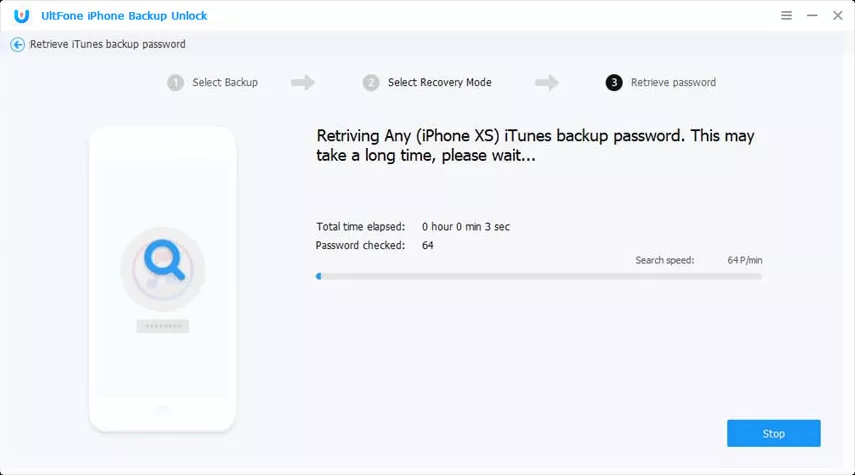 After a while, you will get your lost iTunes backup password by a pop-up window.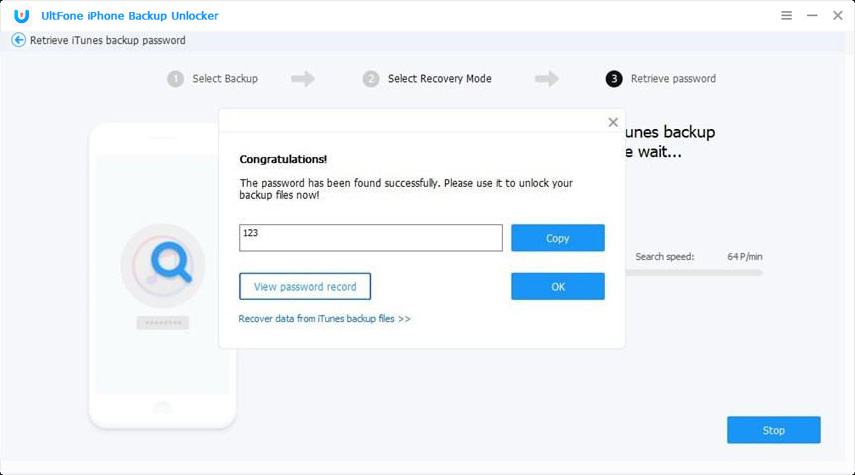 Part 3: Remove Screen Time Passcode
This feature helps to remove screen time passcode without a change in settings or erasing data.
Step 1: Connect your iOS device to computer with a USB cable, then select Remove Screen Time passcode from the 3 options shown on main interface. If prompted, please unlock the device and Tap Trust on your device.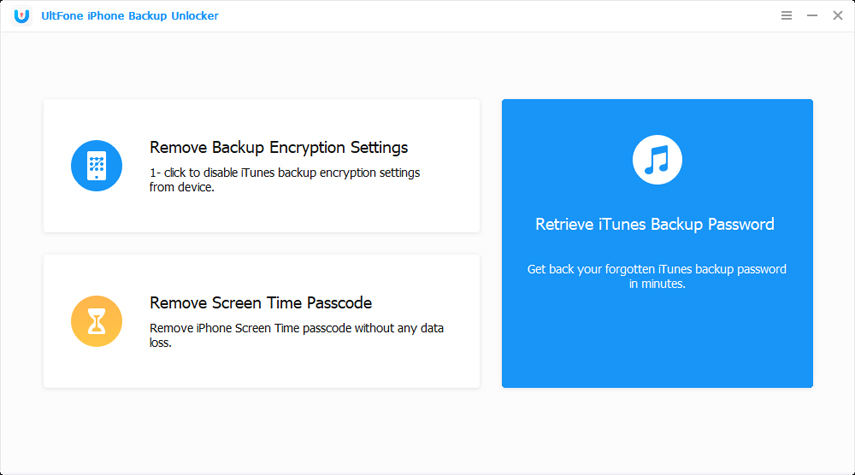 Step 2: Next, hit the Start button to commence the removal of Screen Time Passcode. This process will take a few seconds.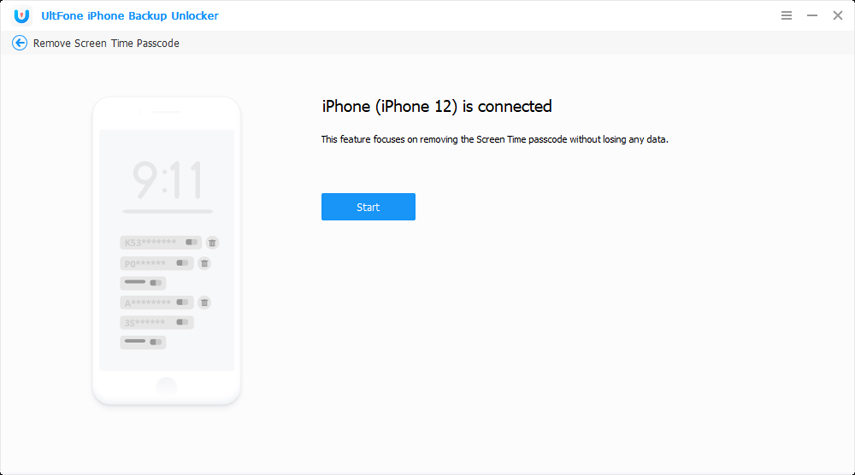 Step 3 : After a while, the Screen Time passcode will be removed successfully from your device.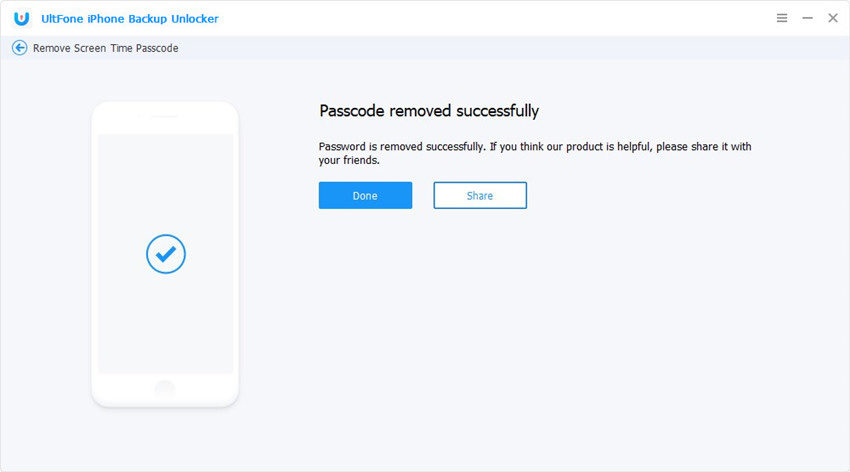 Step 4: Once the passcode being removed successfully, you need to set up your device by following the on-screen instructions.