How to Fix MBR Error within Minutes?
What is Master Boot Record?
The Master Boot Record (MBR) is the first sector of a hard drive which contains 512 bytes of information that tells the BIOS (basic input/output system) which is the primary hard disk partition, where the operating system is located on the hard disk and how to start the operating system. After the BIOS checks the primary hardware systems, it then looks at the master boot record so it can properly execute the instructions to start the computer.
What are the Symptoms of MBR Error?
When you start your computer, it stops booting. It displays "Error loading operating system", "Missing operating system", "Invalid partition table", "NTLDR is missing" or "Master boot record corrupted".
Why Appears MBR Error?
MBR Error occurs due to three different causes:
A virus infection: Many viruses target MBR since it is the most important part of your hard drive.
A drive failure: If the area of the hard drive where the MBR is located contains a few defective clusters, the MBR is rendered unreadable.
An MBR overwrite caused by a program: Sometimes some programs overwrite part of the MBR, which will cause the MBR get corrupt.
How to Fix MBR Error with MBR Recovery?
According to Microsoft, if such errors occur during computer booting, it is necessary to repair MBR. To repair MBR error, you'll need a utility such as Fix Genius and follow the instructions to fix MBR. By using this tool you can save yourself hours of frustration and a decent amount of money on repairs.
Following you can find a step-by-step tutorial of how to fix MBR (including fix MBR Error 1, fix MBR Error 2, fix MBR Error 3).
Step 1: Create a Boot CD/DVD/USB
After purchasing this MBR Recovery, you will receive an Email with registration information and download links. Download and install it on a bootable computer. Prepare a blank CD/DVD or USB and connect it to this computer. Run this software, you will get an interface like the picture shown below. It will check your the CD/DVD drive or USB drive automatically (If not, specify it manually). Just click "Burn"to burn a bootable disk to help you boot up crashed computer.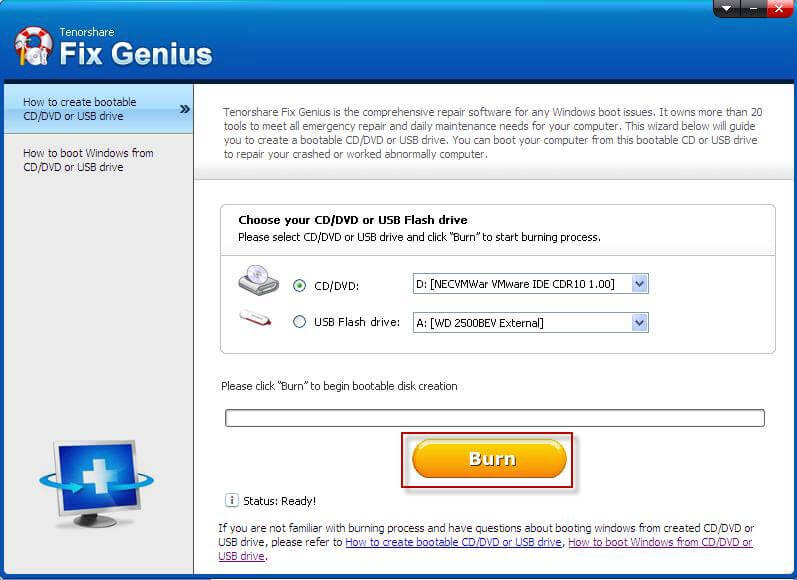 Step 2: Boot Your Computer from CD/DVD/USB
Then insert CD/DVD/USB into the computer that crashed with the blue screen, and set your CD drive as the first boot device in BIOS (Go to see how to set BIOS to boot from CD/DVD/USB). After settings, the computer will automatically restart and login to the Window system burned on the bootable disk.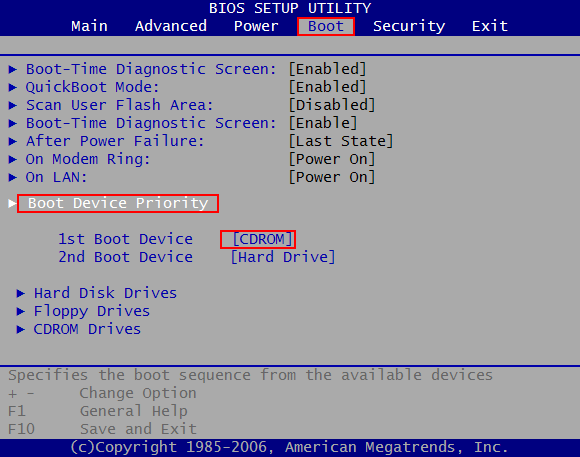 Step 3: Repair MBR
It'll take you a few minutes to load into the system. When you're in, run this MBR Recovery and go to the "Windows Rescue", choose "MBR Recovery", and you'll get a full solution to MBR errors. Just follow the wizard step by step until it finishes the fixing.