Guide of Pokemon Go Spoofing iOS 2023
As an augmented reality mobile game application, Pokemon Go demands users to continue moving in order to catch more Pokemon or beat their competitors. Without any doubt, a player who lives in a city is probably to gain a benefit over the one who lives in rural areas. That's the reason why many iOS users fake or spoof location in Pokemon Go in order to catch more Pokemon. This post will help you with how to spoof on Pokemon Go iPhone in numerous ways.
Part 1. What Is Pokemon Go Spoofing?
Pokemon Go is a location-based game that monitors your current location that further influences the Pokémons availability in your neighborhood. Spoofing Pokemon Go is all about tricking your device's GPS tracker (and so location-based app – Pokemon Go) to believe that it's in another location. It implies that the Pokemon Go app will generate or show Pokemon associated with that new region. This, in turn, you can take part in gym battles and special events on the basis of spoofed location.
Part 2. Risks of Pokemon Go GPS Spoofing
When it comes to the risks of Pokemon Go Spoofing, the only one that you would encounter is a ban. Niantic may ban you if you end up being caught. It is the biggest risk associated with Spoofing Pokemon Go. However, if you rely on a reliable way for spoofing, then you can spoof your location to play secure and safe.
Part 3. How to Spoof Pokemon Go iOS?
Well, Pokemon Go spoofing on iOS is indeed possible thanks to the below ways. Go through them and figure out which one helps to get the job done with ease.
Way 1. UltFone iOS Location Changer - Spoofing Pokemon Go on iPhone without Jailbreak
Most of Pokemon Go spoofing apps for iOS demands jailbreaking your device. We all are very well aware of the risks of jailbreaking an iOS device. Thanks to UltFone iOS Location Changer, there is no need to jailbreak your device in order to spoof Pokemon Go on your iPhone. This software comes in very handy to change the current location or simulate GPS movement. You can now play your favorite Pokemon Go game without walking or simulate a path without leaving the comfort of your home between two or multiple points.
So, ready to learn how UltFone iOS Location Changer can help you simulate GPS movement? Follow the below steps on your computer:
Step 1

Get the software from its official website on your system. Connect your iPhone/iPad to the system.

Step 2 On the main interface, you can switch to the Single-Spot Movement tab. Thereafter, click on the "Enter" button.

Step 3 The start point indicates your current location. To select your destination location, click on the map, or else enter the target address in the software's search bar.

Step 4 Now, drag the speed bar in order to modify the movement speed. Finally, hit the "Start to Move" button and that's it. You can now begin moving along the two spots with the chosen speed. Click the "Stop" button to end the process.
If you want to try out the multiple-spots movement, then the Multiple spots work in a similar fashion just like a single-spot movement. Select the Multi-Spot Movement from the main interface, and then tap on different spots on the Map. This software will generate a path automatically according to the order.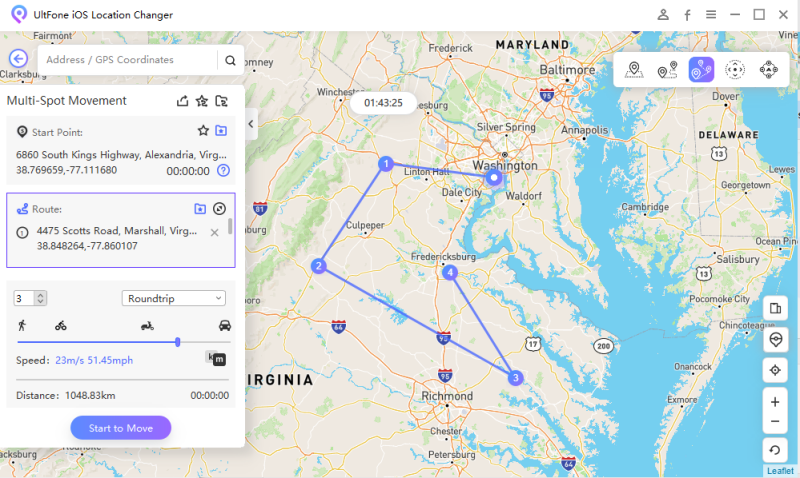 Way 2. Spoofing Pokemon Go on iPhone using iTools
iTools from ThinkSky can help you spoof Pokemon Go on iPhone without jailbreak. This method also involves downloading iTools on your PC rather than your iPhone. The good news is that the software is available for both Windows and Mac.
Follow the below steps to learn how to spoof Pokemon Go on iPhone using iTools:
Step 1: Get iTools on your system and connect your iPhone to the system.
Step 2: Run the software and tap "Toolbox".

Step 3: Click "Virtual Location".

Step 4: Select "Developer Move" on the next screen. In case you don't see the screen, move to the next step.
Step 5: Enter the fake location you want into the text box located at the map's top and press "Enter".

Step 6: Click "Move here".

Step 7: Launch the Pokemon Go app on your iPhone and confirm you have moved to the fake location.
In order to get your current location back, restart your iPhone.
Way 3. Spoofing Pokemon Go on iPhone using iSpoofer
Another way to fake GPS on iPhone without jailbreak in Pokemon Go is by using iSpoofer. It is also Mac or Windows software available for free to use for 3 days. It works quite well with iOS 8 to iOS 13 and very straightforward to use.
Follow the below instructions to learn how to use iSpoofer:
Step 1: Get iSpoofer on your system.

Step 2: Connect your iPhone to the computer, run iSpoofer, and choose "Spoof. Choose "Continue Trial" if you get a message about the 3-day trial. You may have to hit Ok on a message about getting an iOS Developer Disk Image file.

Step 3: Look for a location or you can browse the map. Thereafter, click where GPS should be spoofed.

Step 4: Choose "Move" to move there and that's it.
Way 4. Use Fake GPS Pokemon Go App Pokemon Go++
Pokemon Go++ is none another than an advanced version of the original app accessible for jailbroken devices. However, it isn't developed by Niantic. To use Pokemon Go++, you should jailbreak your device beforehand. The app comes with many benefits including a fake location for Pokemon Go on iPhone, walk faster, etc. As Pokemon Go++ isn't available to download from App Store, so you have to rely on a 3rd-party installer such as Tutu App or Cydia to get it.
Below is the guide to learn how to change location in Pokemon Go using Pokemon Go++:
Step 1: Get the Tutu App latest version on your jailbroken device.
Step 2: Once installing the Tutu App, open it, and search for the Pokemon Go++ app. Before doing that, ensure that the usual Pokemon G0 is uninstalled from your device.
Step 3: Install the Pokemon Go++ app and give access to all the permissions the app asks.

Step 4: Sign in to your Pokemon Go account. To spoof the location, navigate to its settings, and enable the "Fake Location" feature. You can use the radar feature in order to pin your fake location on the map and that's it.
Final Words
So, as you can now see that spoofing Pokemon Go on iPhone is not a challenging thing to do. There are many tools or apps out there that can help you get the job done. Our top recommendation is UltFone iOS Location Changer as it doesn't require jailbreaking your device and works for all iPhone models. Give it a try and know yourself.