How To Hack Pokemon GO in 2023?100% Working Guide
If one thing we know about Pokemon Go is that the game requires a lot of skill and dedication to make progress. The players need to move around regularly to achieve higher levels in the game. But what if you don't want to leave your house or spend hours finding your favorite Pokemon cards?
That's why we are here with the best Pokemon Go hack for both iOS and Android users. Give it a read and catch unlimited Pokemon items without moving an inch.
Part 1. Can you still Hack Pokémon Go in 2023?
Even though Niantic has strict anti-hack measures and policies, you can still hack Pokemon Go. And one proven Pokemon Go hack is spoofing your device's location using a third-party GPS spoofer.
There are apps available that empowers you to explore different geographical locations while sitting on your comfy sofa. Of course, it comes with added risk of getting detected or caught by Niantic developers.
But with right information and tools, players can stimulate fake movement in the game. To make it easier for you, we have shortlisted the user tested-and-tried apps for Pokemon Go hack iOSand Android in 2023.
Part 2. Can you Get Banned for Using Pokemon Go Hacks?
Unfortunately, using third-party location spoofers or similar hacks can land you in trouble. The player may face soft ban or even permanent restriction for relying on Pokemon Go hack APKor iOS.
But fret not as we are not going to leave you high and dry. Follow the below rules to reduce the risk of getting banned in Pokemon Go:
When changing your location within the country, account the for the real-world transportation time. For instance, you can't move to California to New York in 3 hours. So, wait longer before making that happen.
When you wish to move around between countries, it's best not to do it directly. First, exit the game, change your location on your computer using the app, and launch the game again.
Most importantly, use the reliable and professional location spoofers that are often paid. On the flip side, using Pokemon Go hack iOS freetools might land you in trouble.
Similarly, avoid relying on location spoofing apps that are directly installed on your iPhone,as it is likely to earn a ban from Niantic. Always go for the application that works on your phone via a computer.
And lastly, restart your iPhone or Android after using the location spoofing app.
Having said that, the next section will introduce a few simple location spoofers to Pokemon Go hackon both Android and iPhone.
Part 3. How To Hack Pokémon GO without Jailbreak on iPhone Safely
Want to Pokemon Go hack iPhonewithout any hassles? Here are the two most sought-after tools that you can try to get the job done.
3.1 Use an iPhone Pokémon GO Spoofer
When it comes to the most reliable software to spoof your iPhone Pokemon Go location, UltFone iOS Location Changer stands out. Having millions of active users, this tool boasts of its high security and wonderful efficiency.
All it takes is just 3 clicks to change your iOS location to anywhere in the world. Now, you don't need to wander aimlessly in Pokemon Go to catch more Pokemon Stops and Gyms. Just download this Pokemon Go hack iOS tool and and teleport to your favorite destination which increase the chances of participating in Pokemon battles and events.
Another key advantage of using UltFone is it doesn't need you to jailbreak the iPhone. And anyone wondering how to Pokemon Go hack iOS no jailbreak, UltFone iOS Location Changer is the answer.
To spoof your iOS location using UltFone iOS LOcation Changer, you need to:
Step 1

Run UltFone iOS Location Changer on your computer. Be sure the "GPS Change" icon is selected on the left tab and hit Enter.

Step 2

Now, connect your device to the computer and hit Next to get going.

Step 3

The program will show the world map on the screen. Enter any location or move your mouse manually to get any location you wish.

Step 4

The program will hardly take a few seconds to move your iPhone's location to that spot.
Why Choose UltFone iOS Location Changer to Hack Pokemon GO?
Here are several top reasons that convince you to use this location spoofer:
Pros:
Fake iOS/Android GPS location to anywhere in the world instantly.
Guarantees super-high accuracy in changing your phone's location to the desired position.
Thanks to its advanced stealth technology, little risk of getting soft banned.
Compatibility with all the location-based apps like Pokemon Go, Tinder, and more.
Use a virtual joystick to control your movement.
Compatible with All iOS & Android versions.
3.2 Use Pokémon Go++
Think of Pokemon Go++ as a modified version of the original Pokemon Go game. This tool allows you to apply several tweaks on the game including location spoofing. This way, it acts as a reliable Pokemon Go hackfor iPhone.
But there's a catch. You can download Pokemon GO++ via Cydia Impactor as it's not available in the App Store or on any website.
Here's how to use this tool:
Step 1. Uninstall the original Pokemon Go from your iPhone.
Step 2. Get the Pokemon Go++ app from the Cydia Impactor. Launch it and give all the necessary permissions to proceed.
Step 3. Login with your Pokemon account credentials and choose any place on the map using the "radar" feature.
Step 4. It will instantly bring you to the new location where you can start hunting for Pokemon.
Pokémon Go++ is not available in the App Store, so you have to get it via Cydia Impactor. And it might slows down your device, so please think twice before you use it to hack Pokemon GO.
Part 4. How to Hack Pokémon Go without Moving on Android Devices?
If you want to use the Pokemon Go hackon an Android phone, consider the below tools.
4.1 Using Free Fake GPS Go Location Spoofer
Wondering how to hack Pokemon Go Androidfor free? Look no further and install this amazing Fake GPS GO Location Spoofer Free on your Android phone. As this tool is available in the Play Store, you can quickly install it and start faking your Android location right away.
Here's how to hack Pokemon Go on Android phones:
Step 1. Install the app on your Android phone and launch it.
Step 2. On the map, choose any location where you want to move.
Step 3. Now, open Pokemon Go and it will show the new location.
Pros:
Allows you to manually select a fake location.
The procedure is free to use.
Compatibility with many Android phones.
The app is light in weight and doesn't slow down your phone.
4.2 Fake GPS Location Using VPNa
Another proven way for Pokemon Go hack Android is using a VPN service like VPNa. This tool, like all VPNs, changes IP address of your phone and reroutes its location to wherever you want.
Once you choose the desired location on the app, it automatically applies the new location on all the location-based apps including Pokemon Go.
Using this program is as simple as it can get:
Step 1. Install VPNa on your phone and launch it.
Step 2. Navigate to the location where you want to spoof and tap the Play option.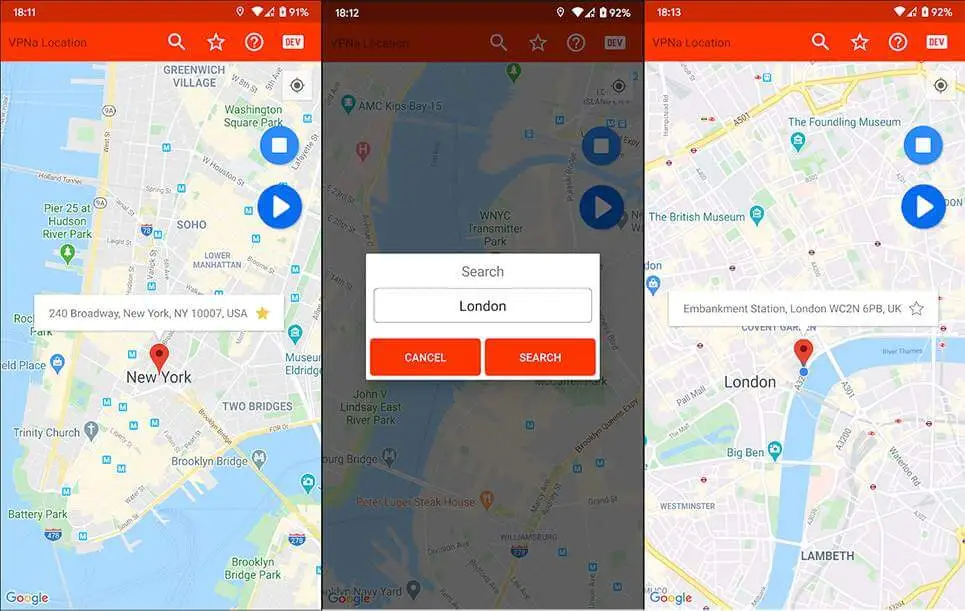 Step 3. And that's it. Now you can enjoy Pokemon Go from this fake location.
Pros:
It guarantees high pinpoint accuracy.
You can play and pause the fake location with a single tap.
It supports many location-based apps on Android.
Conclusion
And that's all the information you need to know about Pokemon Go hackon Android and iOS in 2023. The article shows that UltFone iOS Location Changer is the best location spoofing app for iPhone.
It offers the safest and quickest way to change your Pokemon Go iOS location to anywhere in the world. Click here to download Pokemon Go hack apk on your computer and start exploring new places on your iPhone.