How to Change Location on Tinder -Ultimate Guide
Tinder has become the first choice for people who want to experience the online dating scene. Like other apps with the same functionality, Tinder facilitates a convenient platform for people wanting to build connections with ones in their local region. However, what if you would like to look outside of your local community? That's when the concept of Tinder fake location comes into the picture. So, read on and learn how to change the Tinder location on your iPhone.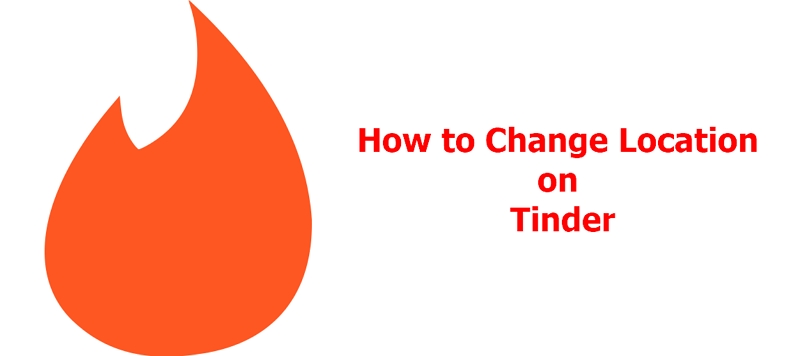 The Fun of Tinder Fake GPS
Believe it or not, changing the Tinder location can be true fun because changing the Tinder location allows you to:
Connect with people from different communities: Tired of looking out for that person who doesn't even exist in your local community? No worries!! One of the biggest advantages of Tinder Fake GPS is to surf and connect with people from different nations, continents, and regions. Indeed, it is great fun to meet people with different religions, cultures, and values.
Hide your current GPS location: What's the point of revealing your location in the very first place? When you can have fun, make new friends and have an amazing gala time. Using your own location for the purpose of finding a good connection doesn't work for all. Therefore, to bring adventure, spoofing location can help you. Consequently, you can hide your current or actual location from anyone as well.
Isn't, it fun? If yes, then continue reading to learn methods on how to fake GPS Tinder on iPhone.
Method 1. One-Click to Fake GPS on Tinder for iPhone
If you want no hassle in the process of changing the Tinder location on your iPhone, use UltFone iOS Location Changer. This software can help you change or spoof location without jailbreaking your device and in just a few clicks of a button. On top of all, you can do much more than just changing the location using this software. For instance, you can simulate a path between multiple points. No matter which iPhone model you're using, you can rely on this tool to get the job done.
Here's the quick guide on how to change Tinder location on iPhone using UltFone iOS Location Changer:
Step 1 Open the software, the default mode is Change Location. Tick the disclaimer and click on the "Enter" button.

Step 2 Connect your iPhone to the system with the help of a digital cable.

Step 3 Enter a fake address or GPS coordinate and hit the search icon. Verify the entered spoof location on the left panel and tap "Start to Modify".
That's it. Now, the Tinder app on the iPhone will use the fake location.
Method 2. Use Tinder Passport to Spoof Tinder Location
Tinder Passport is a feature available to users with Tinder Plus or Tinder Gold subscription. With this feature, you can change your geographical location in Tinder. This, in turn, you can swipe and connect with people in any region you want.
How to Use Tinder Passport?
To spoof Tinder location using Tinder Passport, follow the below steps:
Step 1: Go to the "Settings/App Settings" screen, click "Location".
Step 2: Click the option to "Add new location".
Step 3: Enter the region you would like to swipe into the search bar.
Step 4: Choose it from your search results.

Step 5: Click the blue banner in order to change the location.
Advantages:
Your Tinder profile gains an instant "new user" boost, giving you more views initially.
Easy and reliable way to change your Tinder location.
Disadvantages:
It isn't a free way to change the location.
Method 3. Use a VPN to Fake Tinder Location on iPhone
You can also take advantage of a VPN in order to spoof your Tinder location on the iPhone. With the assistance of a VPN, you can hide your current location online as well as unblock restricted access. Use a VPN to access the Tinder from anywhere while protecting your data. There are many options available out there but NordVPN is recommended to use.
Below is how to use NordVPN to fake Tinder location:
Step 1: Look for NordVPN in the App Store and get it on your iPhone.
Step 2: Open the app and enter your login details or register.
Step 3: Upon successful login process, click on the QuickConnect.
Step 4: The app will automatically connect you with 5000+ servers.

Step 5: In order to connect to a specific location, scroll down, and select the nation.
Method 4. Tinder Fake GPS by Jailbreaking
Some apps can help you fake Tinder GPS. But these apps require jailbreaking the device. So, after your device is jailbroken, you can use a GPS spoofing app to change the location and in accordance with that, Tinder will work.
Below is how to change your location on Tinder after jailbreaking:
Step 1: Get GPS spoofing "tweak" from Cydia. It contains a lot of downloads for jailbreak iPhones. For example, you can download LocationFaker.
Step 2: Once getting the LocationFaker app, open it.

Step 3: Choose the location you want in the app, enable the switch and that's it.
Now, the Tinder app on your iPhone will pick the fake location.
Last Thoughts
That's how to change location on Tinder for iPhone. We have covered every plausible way that can help you fake Tinder location on the iPhone. So, which one you find most hassle-free? If you ask us, then look no further from UltFone iOS Location Changer.