How to Fix iPhone 11 Reboot Loop
Recently, an iOS user reported that his iPhone 11 rebooting randomly ever now and again. Well, we understand how maddening that situation can be. So, if you're going through this same problem with your newly bought iPhone 11, then you have come to the right place. In this post, we'll first discuss what could be possible reasons for iPhone 11 randomly restarts. Also, we'll walk you through all possible methods to help get the problem
Why Does My iPhone 11 Keeps Restarting?
Well, iPhones that keep rebooting come into two categories:
Your iPhone 11 randomly restarts: You can enter the home screen and use your device for a while with no issue at all, and then your device suddenly restarts.
iPhone 11 suck in restart loop: Your device continuously restarts and it's entirely unusable, so it means that your device won't turn or stuck in a reboot loop.
If your iPhone 11 falls into the second category i.e. iPhone 11 stuck in restart loop and you can't use it, skip ahead to solution 5. It's impossible to do the first few steps if you're unable to enter your iPhone home screen even if it's for a while.
Solution 1. Update iOS
iOS updates always entail a lot of fixes for software glitches and other problems. Sometimes, a software update gets rid of problems that are hindering your device to restart.
To check if any updates are available for your iPhone 11, follow the below steps:
Go to "Settings">" General".
Click "Software Update"

If any updates are available, then download and install.
Solution 2: Update Apps On iPhone 11
Is there any app on your iPhone 11 which requires an update? If so, then simply updating apps can help you fix iPhone 11 Pro keeps restarting issue.
Go to the "App Store" on your device.
Click the "Updates" button.
Click the "Update" button for apps that require an update.
Solution 3: Check If an App is Causing Your iPhone 11 Restart Randomly
Well, it is not common for an app to cause an iDevice to restart. Mostly, the software on your iOS device is protected from problem apps. Considering that, there are almost 1.5 million apps available in the App Store, and not all are perfect.
If you have installed an app just before your iPhone 11 began restarting, then simply uninstalling that app may fix your problem.
But, how to ensure which app is causing the problem?
Go to "Settings">" Privacy".
Click on "Analytics".

Tap on the "Analytics Data".
Here, you can check for problem apps. Quickly scroll through the list and check if there is an app that's listed over and over again. If you locate one, then uninstall that app.
Solution 4: Reset All Settings
Try resetting all of your device's settings to factory defaults. It's worth giving a shot to this solution as it won't erase any of your data or apps.
Go to "Settings".
Click "General">" Reset".

Choose "Reset All Settings" and that's it.
Solution 5: Force Restart iPhone 11/11 Pro/11 Pro Max
To fix the iPhone 11 restart loop problem, try force restarting your device. A force restart won't lead to a data loss on your device. So, you must give a shot.
Quickly press and release the Volume Up button.
Quickly press and release the Volume Down button.
Press and hold down the Side button until you see the Apple logo and then release it.
The screen will temporarily turn to dark as the device shuts down and restarts. Continue holding the button until you see the Apple logo.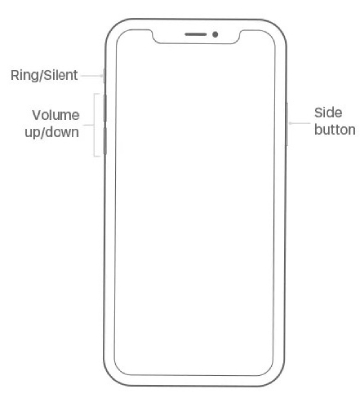 Solution 6: Remove Your SIM Card
iDevices can get stuck in a reboot loop if there is an issue with your device's connection to your wireless carrier. Your SIM card connects your device to your wireless carrier, thus removing it is a quick way for iPhone 11 reboot loop fix.
There's no need to panic while removing your SIM card. Your device will immediately connect to your carrier as soon as you place it back in.
If removing the SIM card resolves the problem, then put back the SIM card in your device. If the issue comes back after putting your SIM card back in, then you'll need to either restore your device or replace the SIM card. Otherwise, continue with the following solutions.
Solution 7: Check Battery
When a battery wears out or is damaged, the iPhone keeps rebooting when charging. So, check if the battery of your iPhone 11 can work properly.
To do so, connect your device with the help of an original Apple cable to the power source. If a device doesn't restart over and over, then try another cable or charger to check again. If the problem still exists, then it means that the battery gets damaged and you need to change the battery.
Solution 8: Fix iPhone 11 Reboot Loop without Data Loss
If you want a fix for iPhone 11 keeps rebooting problem without losing any data, then UltFone iOS System Repair is a way to go. Use this reliable iOS system repair software; you can fix your iOS to normal in a hassle-free manner without leading to a data loss.
Here is a simple guide to help you learn how to use the software to fix iPhone 11 keeps restarting. To get started, please firstly download and install this program to your PC or Mac computer.
Step 1 Run UltFone iOS System Repair, connect your iPhone 11 to the computer and select Repair Operating System section from the main interface.

Step 2 Click Fix Now and download the recommended firmware package for your device.

Step 3 After downloading a firmware package, click on Repair Now button and then let the software fix your iOS system to fix keep rebooting problem on your iPhone 11.
Solution 9: Restore iPhone Using iTunes (Data Wipe)
Restoring your iPhone using iTunes will erase and reload your device's software and it can eradicate a slew of software problems at the same time. This could eradicate the possibility that a software glitch may be causing your device to restart.
Your device must be connected to a computer to restore. We recommend doing a special kind of restore that Apple techs do known as recovery or DFU restore that goes deeper than a standard restore and can fix more problems.
To fix the iPhone 11 reboot loop problem with DFU restore, follow the below steps:
1. Run the latest iTunes version on your system and then connect your iPhone to the computer with the help of a digital cable.

2. Now, you need to put your iPhone 11 into DFU mode:

Quick-press the Volume Up button.
Quick-press the Volume Down button.
Press and hold down the Side button until your screen turns to black.
Release the Side button once your screen blacks out.
Quickly press and hold down both the Side button and Volume Down button at the same time.
After five seconds, release the Side button but continue holding the Volume Down button until you see a recovery prompt screen in your iTunes.

When you let go of the Volume Down button and check your iPhone's display. If it is black, then you are now in DFU mode.

3. Once successfully booting up your device into DFU mode, you can proceed further to restore the device in iTunes. After a successful restore, your iPhone will automatically exit DFU mode and let you set up your device.
Solution 10: Check A Hardware Problem
Hardware problems are a quite common reason why iPhone 11 restarts itself. If you're using a phone case on your device, then remove it first before you proceed further.
Closely look at the charging port of your device and see if any debris is stuck inside. If it doesn't look great, use a toothbrush and softly brush out the charging port. Debris inside the charging port can lead to all kinds of problems with your iDevice.
A Last Word
That's everything you can try for iPhone 11 keeps restarting fix. However, if you're looking for a quick solution that leads to no data loss, then look no further from UltFone iPhone iOS System Repair. Indeed, we highly recommend trying this software over other solutions because after all, it is specially designed to fix iOS related problems with ease.