iTunes has stopped working Error How to Fix It
iTunes is an application developed by Apple, which is used to play, download and organize digital audio and video on computers running the OS X and Microsoft Windows operating systems. Through the iTunes Store, users can purchase and download music, music videos, television shows, audiobooks, podcasts, and movies. Recently, many people complain they are unable to access iTunes as before and often receive "iTunes has stopped working" report. This essay provides you the reason as well as tips to deal with the "iTunes has stopped working" error.
Reason 1: iTunes Conflicts with QuickTime Software
Sometimes iTunes may stop work since the Direct3D video acceleration of QuickTime conflict the function iTunes. In that sense, you need to undo the function of QuickTime and see if it works.
1. Open QuickTime, on the toolbar, click Edit -->Preferences --> QuickTime Preferences.
2. Select Advanced tab and remove the tick in Enable Direct3D video acceleration, click OK to save the settings.
3. Restart the computer and access iTunes to see if you can watch a video now.
Reason 2: iTunes uses an incompatible language with the computer's operating system
Sometimes it happens that the language iTuens uses is different from the language your operating system is using. For that reason, iTunes cannot work cause it has problem to coordinate the process.
1. You need to open iTunes, and press Preferences button.
2. When the Preferences dialogue box opens, select General tab, you will find that there is one selection about Language change, choose a suitable language then.
3. Click OK to save the settings.
Reason 3: QTMovieWin.dll file is Missing from the Computer
QTMovieWin.dll is a type of DLL file associated with WebKit developed by Apple Computer, Inc. for the Windows Operating System. The latest known version of QTMovieWin.dll is 531.22.7, which was produced for Windows. iTunes may also stops to work if it misses from the computer.
1. Search on the Internet and download "QTMovieWin.dll" file to the computer (or users can download QTMovieWin.dll here http://goo.gl/zG6UTM).
2. Copy QTMovieWin.dll file and put it in iTunes setup folder. Here we recommend you the place to set it in.
- Windows 7: C:\Program Files (x86)\Common Files\Apple\Apple Application Support
- Windows XP: C: \ Program Files\ iTunes
3. Open your iTunes application see if it is ok now.
The last warning is that you may risk losing your iPhone data, and in that case, you can use iPhone Data Recovery Software to restore your data no matter you have synced your iPhone with your iTunes or not.
Reason 4: iTunes Is Not Installed Properly or Corrupted
This is an important reason that iTunes won't work properly, you need to repair iTunes and it will boot normally. Speaking of how to repair iTunes, we sincerely recommend you a free utility - TunesCare. It is expert in fixing iTunes not working, update/install/restore error, slow performance and other kinds of issues. Download this program and fix corrupted iTunes immediately.
Run TunesCare on your computer and then click "Fix All iTunes Issues" on the main interface.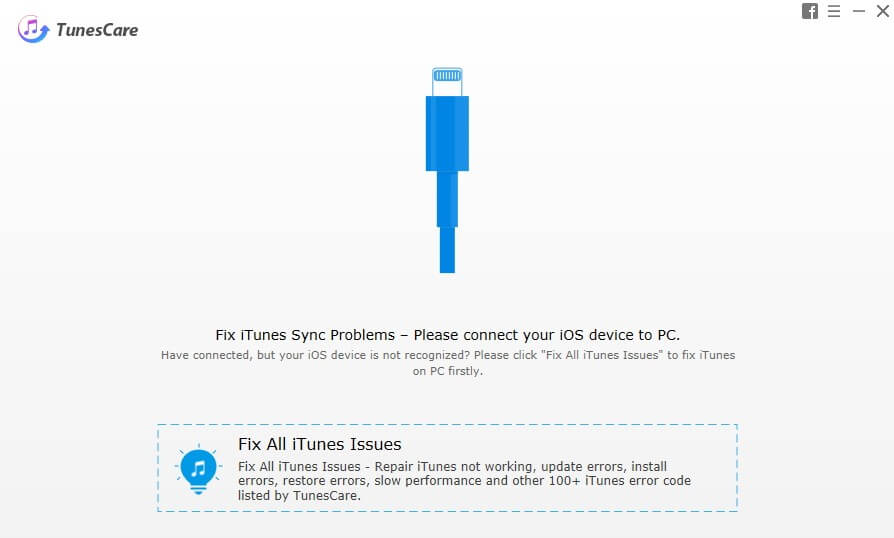 If iTunes performs abnormal, click "Repair iTunes" to download repair drives to repair iTunes quickly.
By far, you must have fixed iTunes not working issue successfully. Any questions about this post or TunesCare are warmly welcomed. If this article really helped, don't forget to share with your friends!