How to Recover Deleted Photos from Samsung Galaxy Series
Can You Retrieve Deleted Photos from A Samsung Galaxy Phone?
When you are engaged in taking photos with your Samsung Galaxy smartphone, tragedy happened: accidently deleted your baby's photos, or lost your vacation photos when your mobile phone crashed. There are many users asking questions like "can I recover video Android gt i9000?", "hidden photos on samsung s3 permanently disappeared how to recover", "Can pictures be retrieved after Samsung Galaxy exhibit has been reset factory settings". Is there any way to recover photos from Samsung phone? Can you retrieve the pictures from your Samsung Galaxy S7/S7 edge?
Yes, you can. Android phone stores the photos on a type of storage which is friendlier than iPhone ."Photo disappear from Samsung Galaxy" is never serious. The deleted photos are not permanently erased. Hence you can recover deleted photos from Samsung Galaxy unless the space is re-occupied or overwritten.
Samsung Galaxy Photo Recovery is a smart, easy, quick solution for you to recover deleted photos from Samsung Galaxy, as well as other media content: contacts, audio, video, etc. All to be good, it can work on the latest Android 6.0 OS. Samsung Galaxy Photo Recovery for Mac will help you if you are using Mac OS X.
Get this professional Android data recovery tool on your PC and see how it works to retrieve deleted photos from Samsung Galaxy. The "accidentally deleted pictures in gallery of SamSung" can also be solved and find missing photos back.
2 Ways to Recover Deleted Photos from Samsung Galaxy Series on WIndows/Mac
Part 1: How to Recover Deleted Photos from Samsung Galaxy in Windows
Step 1: Connect Your Samsung Galaxy Device
Launch Samsung Galaxy Photo Recovery tool and you will get the interface like below. Then connect your Samsung Galaxy phone to PC with a USB cable. If you don't have a USB availble, try Wi-Fi connection.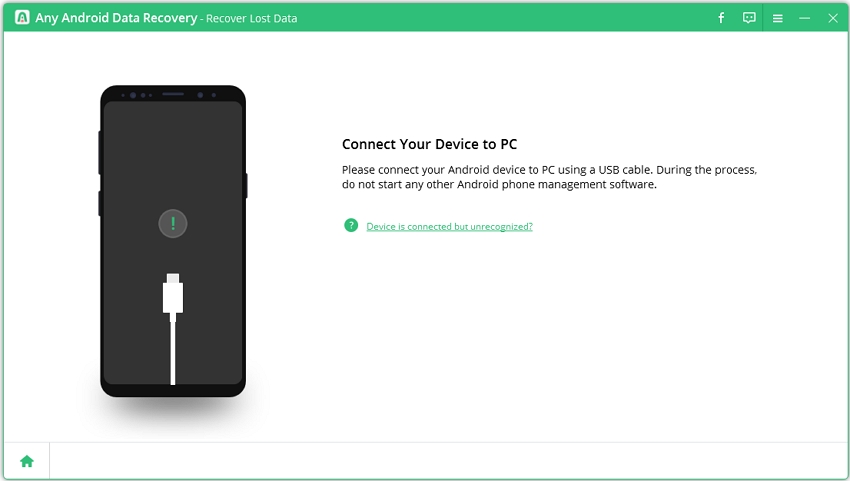 Step 2: Enable USB Debugging and Turn on USB Storage
Before scanning, you should enable USB debugging and turn on USB storage. The steps for different Android vary, so follow the instruction correctly shown on the software screen.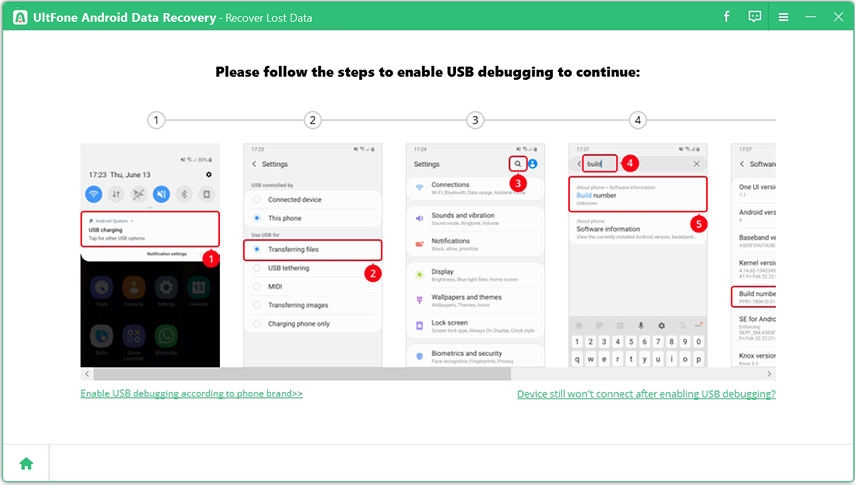 Step 3: Start Scanning Samsung Galaxy Photos
After PC detects your device, on Samsung Galaxy you can retrieve photos. Click "Next". Click "Allow" on your Samsung Galaxy to allow the program super user authorization. Then click "Start" on the software screen to start scanning.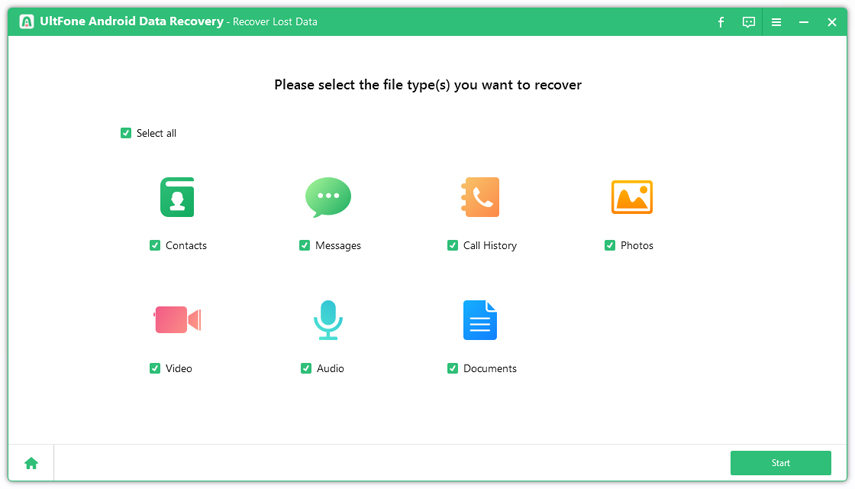 Step 4: Recover Samsung Galaxy Photos
All the photos will be listed after scanning. Select the photos you need to recover by ticking the boxes before file names. Then click "Recover". Done, you have recovered deleted photos from Samsung Galaxy already.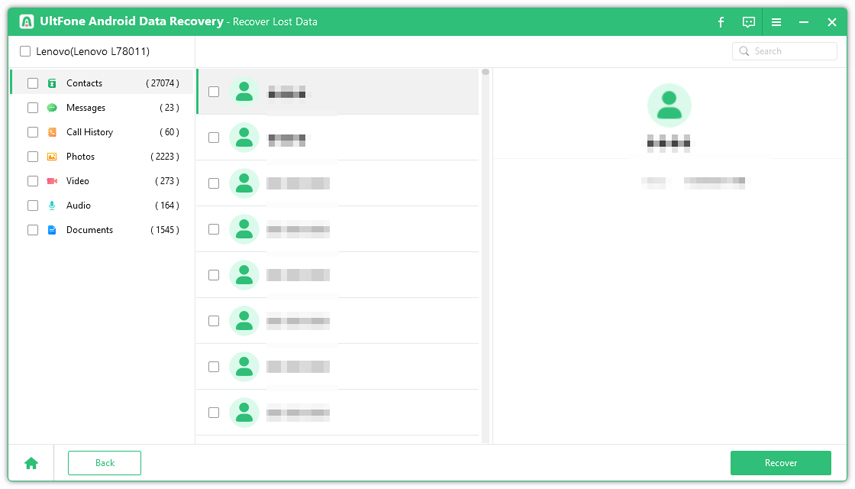 Have a free trial of this sofrware to retrieve deleted photos for Samsung Galaxy phones or even tablets.
Part 2: How to Recover Deleted Photos from Samsung Galaxy on Mac
This Samsung Photo Recovery also works perfectly on Mac OS X 10.10, 10.9, 10.8. 10.7, etc. You can directly download it on your Mac and follow the steps mentioned above.
Part 3: Photo Recovery for all Samsung Galaxy phone models
| | | | |
| --- | --- | --- | --- |
| Samsung Galaxy Reverb (SPH-M950) | Samsung Galaxy XCover (S5690) | Samsung Galaxy S Duos | Samsung Galaxy K |
| Samsung Galaxy Note II | Samsung Stratosphere | Samsung Galaxy Victory 4G LTE (SPH-L300) | Samsung Galaxy Ace (GT-S5830i) |
| Samsung Galaxy Rush (SPH-M830) | Samsung Galaxy Note | Samsung Exhibit 4G | Samsung Galaxy Fit (S5670) |
| Samsung Galaxy Express (SGH-I437) | Samsung Galaxy Nexus (i9250) | Samsung Galaxy Z | Samsung Galaxy SL (GT-I9003) |
| Samsung Galaxy Rugby Pro (SGH-I547) | Samsung Galaxy Y Pro Duos | Samsung Galaxy S Plus (GT-i9001) | Samsung Galaxy Gio (GT-S5660) |
| Samsung Galaxy S III Mini (GT-I8190) | Samsung Galaxy Ace Plus | Samsung Galaxy R (I9103) | Samsung Galaxy Mini (GT-S5570) |
| Samsung Galaxy S II Plus (GT-I9105) | Samsung Galaxy Ace 2 | Samsung Galaxy W (I8150) | Samsung Galaxy Prevail (SPH-M820 |
| Samsung Galaxy Grand (GT-I9080) | Samsung Galaxy Mini 2 | Samsung Galaxy M | Samsung Galaxy Pro |
| Samsung Galaxy Xcover 2 (GT-S7710) | Samsung Galaxy Beam (i8520) | Samsung Galaxy Y (GT-S5360) | Samsung Galaxy Neo |
| Samsung Galaxy S4 (GT-I9500) | Samsung Galaxy Pocket | Samsung Galaxy Precedent | Samsung Galaxy S II (GT-I9100) |
| Samsung Galaxy Fame (GT-S6810) | Samsung Galaxy S Advance | Samsung Galaxy U | Samsung i7500 |
| Samsung Galaxy Mega 5.8 | Samsung Galaxy S III (GT-I9300) | Samsung Galaxy 551 | Samsung i5700 |
| Samsung Galaxy Mega 6.3 | Samsung Galaxy Appeal (SGH-I827) | Samsung Galaxy 3 (i5800) | Samsung Galaxy Note 3 |
| Samsung Galaxy Grand Quattro | Samsung Galaxy [email protected] (GT-B5330) | Samsung Galaxy 5 (i5500) | Samsung Galaxy S5 |
| Samsung Galaxy Core (GT-S8262) | Samsung Galaxy Stellar (SCH-I200) | Samsung Galaxy S (GT-I9000) | Samsung Galaxy S6/S6 Edge/S7/S7 Edge |